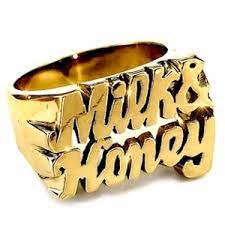 Thank you Crowder Music for sending us a digital album to review!
I first heard of David Crowder Band when they played for the youth group (I was a leader) at Harvest Bible Chapel. This was around the time of their Can You Hear Us album which I highly recommend if you haven't listened to it yet. Their music ranged from alternative rock to bluegrass and everything in between. I was heartbroken when the band broke up, but am happy to hear that the members are still making music. Since the breakup, I have bought albums from the previous band members, The Digital Age, along with David Crowder's records that go by Crowder Music.
Crowder Music's latest album Milk & Honey is pure gold as there are no bad tracks in my opinion. The first song, "Good God Almighty", has a title that I'm so used to hearing as a blaspheme but it's wonderful to hear it in a good context. This is a very uplifting and powerful hymn. "In the House" has a pop feel to it, but it's got a great message about God's love and peace that He offers. "He Is" has a nice blend of piano and a tiny bit of country. The title song "Milk & Honey" has bluegrass roots and is quite catchy.
Higher Power is something I would expect to hear at a Christian dance club. Sweet Jesus takes things in a whole different direction with a smooth pop vibe that reminds me of something Usher would sing. God Really Loves Us is a beautiful piano ballad praising God's love for us. Who's Gonna Stop The King is a pop hymn that gives God the glory He deserves. Better Than Sunshine has a melody that reminds me of something that I would hear on a paradise island. Glory, Glory (God Is Able) has a 1920's sound to it that's bound to get your foot stomping to the beat. Hallelujah For Every Broken Heart sings about seeking God when all else is lost. This song mostly consists of piano and clapping. The final track, The Anchor is another piano-driven tune that sings about God being our hope in tough times.