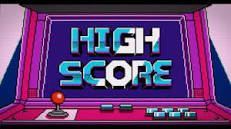 Thank you Netflix for supplying us with complimentary access to review this series!
High Score is a new video game documentary series offered exclusively on Netflix. The first episode titled Boom & Bust opens with Howard Scott Warshaw who created E.T. for Atari in five weeks. That game is known as one of the worst in history and 728,000 copies of it were dumped into a landfill in New Mexico. Before that disaster, this documentary begins with Space Invaders which launched in 1978. A couple of funny tidbits learned from this series is that the developer, Tomohiro Nishikado, cannot get past level 2 in his own game. Another fun fact is that this title was so popular in Japan's arcades that it caused a shortage of 100 yen coins.
In the West, Space Invaders was quite popular and there were tournaments hosted in the United States. Rebecca Heineman is interviewed recalling her memories of winning the first championship in 1980. When she won the tournament, she was a guy and her dead name is William.
Other games featured include Missile Command and Pac-Man. It's funny how Pac-Man was aimed at female gamers. According to the developer, Toru Iwantani, his design came from a pizza missing one slice. Ms. Pac-Man was enhanced by a bunch of college drop-outs who Atari sued (and later hired) for altering Missile Command to be more profitable for arcade owners.
The advent of cartridge-based home console systems like the Channel F and Atari 2600 are discussed as well. The rise and fall of Atari is also brought up as the classics it produced were overshadowed by shovelware that turned many gamers off.
So far, this series is well researched and entertaining to watch. There is some language (sh*tless) and sexual references to take note of before letting kids watch it. If you're interested in learning about how video games grew from arcades to home consoles to eSports 7, tune in to High Score on Netflix!