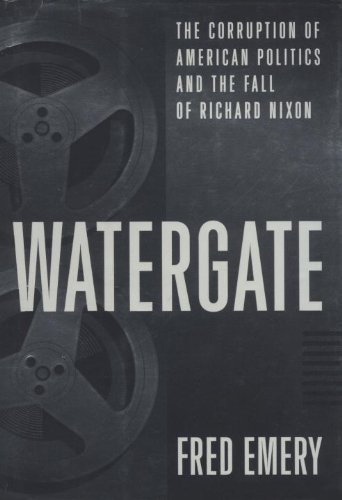 Some events in history have become memetic. Just mention the name, and you instantly get people to comprehend what you are talking about. The Watergate Scandal is one of those events. It's been discussed at length many times by many people, but Fred Emery's narrative of the events of that time is still an excellent, albeit very slightly dated accounting.
Fred Emery was a reporter for the New York Times London branch office at the time of the story and notes his reactions several times throughout the text. He also writes his account in a narrative-like format, but the events and people are real, which makes the format brisk and easy to follow. With some edits, one could easily make a miniseries or two-part historical movie out of his writing, just to give an idea of the text.
Like most writers who cover Watergate, Emery focuses on three things. Richard Nixon, the president who was at the center of the entire scandal. The inner workings of the people Nixon had around him who planned, engineered, and later were caught for the Watergate break-in and related abuses of power and violations are also detailed at length. Finally, after the Watergate Hotel capture, Emery details in intricate detail the coverup, the differing accounts by all parties involved, the legal and political environment that complicated the matter, and continues until Nixon's resignation after he was found worthy of an impeachment he narrowly avoided.
Emery proceeds based on three overarching themes. One, while it's clear Nixon did not directly have a hand in Watergate, he is adamant Nixon's paranoia of political enemies and his hands-off command to stop them by any means necessary were responsible for the event and why he had to work so hard to try and cover it up. Second, he examines the immediate and long-term impact of the scandal on American politics, specifically how the event seriously damaged the credibility of the federal government, the office of the President of the United States, and the trust of the common citizen in the safeguards against abuses by elected officials. Finally, Emery draws a line between the "sheep and the goats" of the event, with the former being those who honorably served the American public and/or chose to admit their wrongdoing without expecting more than atonement for their crimes. The latter group includes those who lied and defied the legal system and abused the trust of the public and those who turned the state's witness merely to save themselves.