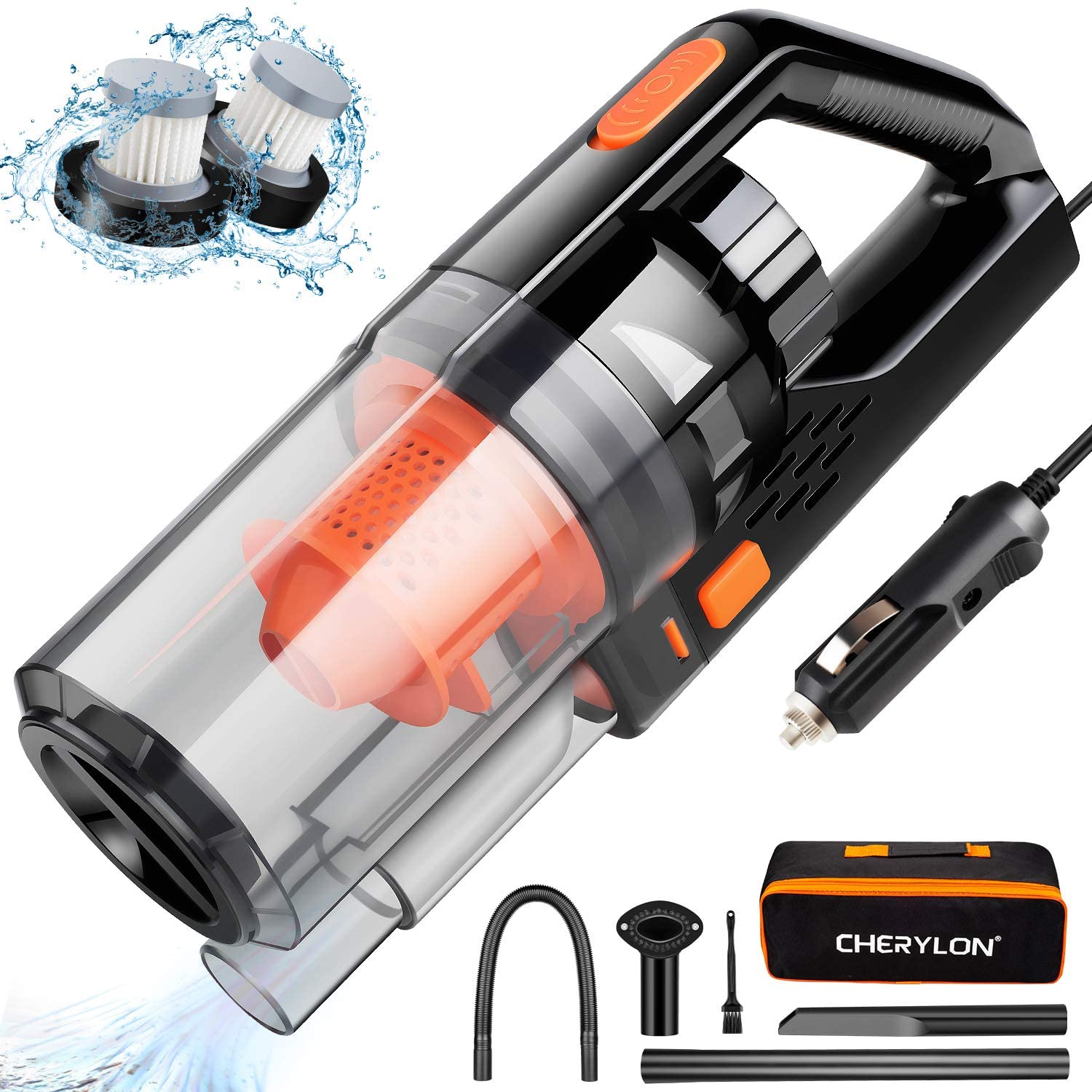 Specifications:
High Power 150W motor
Works on wet or dry dirt
14.7 foot cord
Connects to 12V in-car DC outlet
Includes bag and five attachments
Spare filter included
MSRP: $29.99
(Amazon Affiliate Link)
Strong Points: Decent suction; included bag is handy; good selection of included attachments; very nice cord length; spare filter
Weak Points: Can always use an even stronger suction; can only be used in a car; it's sometimes hard to tell how to fit the accessories together

Thank you CHERYLON for sending us this product to review!
We recently decided that on our next road trip, we were going to bring our new puppy. Knowing how much of a mess our kids make by themselves, with a puppy, I could tell that our van was going to experience a whole new level of mess; hence the need for this vacuum.
When unboxing this item, I was pleased to see that it came in a decently functional case – not one of those that are so tight you can't get the stuff back inside, but a usable one. It's made of a canvas material that gets the job done. The vacuum is made out of cheap-feeling but perfectly functional plastic.
The included accessories work fine, and include an extension tube, a flexible long tube, a brush, and a slot tool. Slotting them together is kind of unintuitive, as the thin end slots into the vacuum. After I figured that out, I was able to use what I needed.
Once I plugged it in, I found that the 14 foot cable is long enough for what I need it for, and the suction is good enough. It's nowhere near as powerful as my home vacuum, but given the price and portability, it's more than powerful enough. It wasn't able to dig out the most stubborn embedded dirt, but anything on the surface came off pretty easily. If you're looking for an affordable car vacuum that has the basics covered, you can't go wrong with the CHERYLON. And how many times can I say that this vacuum literally has my wife's name on it?