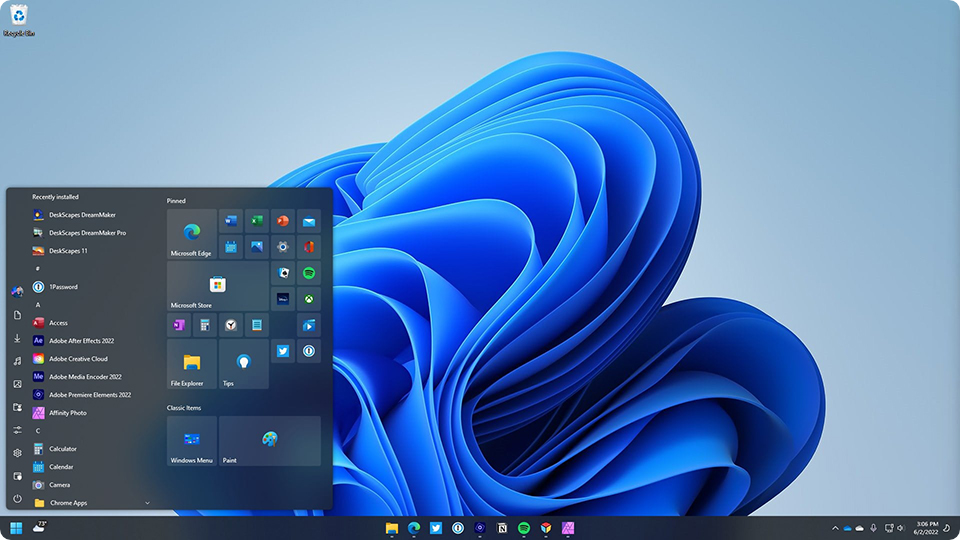 I start up Windows 11, and a horrifying sight that would make Lovecraft's skin crawl greets my eyes. A depraved mockery of a user interface that looks like the illegitimate child of GNOME, macOS, and a knockoff touch phone has replaced a sensible Start menu. What was once understood by the human brain has been replaced by a horrifying nest of icons and poorly tiered menus with drop-downs as a belated afterthought. What used to be comprehensible to find programs to use is now an aggravating mess. As I see what Microsoft hath wrought, despair almost creeps upon me and strangles all hope in my heart.

But then, I found replacers for these horrific searing mockeries of a good interface, and angels begin to sing as the ability to purge this offense from God's world saves my sanity and thus my soul.


.....Okay, in all seriousness, the Windows 11 Start Menu is horrible. What was originally straightforward and sensible has, over the years, become a worse and worse-looking way to access common programs. Even the Windows 10 Start Menu looked horrible, but at least that was navigable and rendered to the left side of the screen with a scroll-down menu I could read. Windows 11, in Microsoft's questionable wisdom, was them deciding to rip off some of the worst ideas from the GNOME desktop, macOS, and some bizarre interpretation of a touch phone to make their worst menu yet.

Thankfully, there are solutions to these eye-searing horrors to restore a menu that is not a center-aligned mishmash of bars, icons, and poorly selectable menus into something that makes actual sense. Note, in one of the latest updates they finally let you put the menu back to the left, but all the other flaws remain. Read on for the potential fixes.



1. Start11

Price: 5.99 USD (single user), 14.99 (multi-device license), 39.99 (Object Desktop combo), business prices variable depending on need

Start11 by Stardock is a great way to fix most of the agony that is the horrible Start Menu UI. It allows the start menu to be left aligned, can be much more readable like the Windows 7 and earlier versions, and I found it very easy to install and configure.

Best of all is that its features work great alongside the rest of Windows 11 and it's very easy to customize it, the taskbar, and the search feature and replace them with nicer versions that are less clunky.

The only downside is that, unfortunately, it does cost money, but for a single user it's not a large price to pay. Even the multi-computer license is far from unreasonable. It can be downloaded from Steam or Stardock's own website, with a free trial, home and business pricing solutions, and full support for all versions.

While not required, a companion program they also offer is WindowBlinds, which allows remaking the rest of the interface not touched by Start11. They have an Object Desktop suite that offers even more options for remaking the entire Windows 11 interface however you like, but Start 11 already injects a huge dose of much-needed sanity for the worst of it.


2. Open Shell


This is a free and open-source program not meant for Windows 11 at this time, but it can be used regardless due to overlapping UI code between 10 and 11. This is the ideal "quick and dirty" fix, but far from ideal.

Open Shell will have all features work fine on Windows 10, but on 11, it will be limited. You will need to do some tweaks to make the left-aligned start menu show up (enable a custom icon, it provides one already or you can supply your own), and the original is still there in the center of the Windows 11 taskbar.

The OpenShell Menu generally works the same as it did on Windows 10, but configuration options outside the Start Menu itself will be a coin flip if they work, most of the time silently failing.

There is still good support for this unofficially which makes it an acceptable fallback option if you want to spend nothing, but the other options mentioned here will be better for functionality beyond the bare basics.


3. Start Menu X


Price: Free (freeware version), 9.99 (Professional)


This is a somewhat more compatible free (though not open source) alternative to Open Shell. It does what it says remaking the Start Menu in the image of older Windows versions.

Interestingly, it comes in a freeware and "Pro" paid version. The free version is already pretty good, providing a lot of Start Menu customization features out of the box, with the "Pro" version only offering some marginal improvement.

Unfortunately, unlike Open Shell, which does have some other, non-Start Menu tweaks that can function on Windows 11, Start Menu X is strictly confined to modification of ONLY the start menu and nothing else. Essentially, you trade off features for compatibility between it and Open-Shell.


4. Start All Back

Price: 4.99 (1 PC), 8.99 (2 PCs), 14.99 (3 PCs), business price variable based on need

This is the last of the options currently available, and it's something like a potpourri of the good and bad of the other versions.

On the good side, it has great compatibility, can configure more than just the Start Menu like Open-Shell but with more working like File Explorer and Control Panel tweaks, and has a freeware version.

On the bad, it has a nagware screen after the 30-day trial expires (though the license price is fairly cheap), it is not open-source, and I found its support website, while better than Start Menu X, to be a bit hard to navigate for support.


Conclusions


If you want to have a good idea of what I consider ideal, these are my suggestions.

The worst but cheapest option is Open-Shell. While it will require some tinkering, you pay nothing and it still provides better-than-nothing improvements.

Start Menu X is somewhat better. The paid version can be skipped as the freeware version is more than acceptable, but its options for anything beyond the Start Menu itself are basically nil.

Start All Back is the second-best choice. Cheaper than Start 11 and offers more features, but support for it is not as transparent as Start 11. Freeware with a nag screen after the trial expires (with a very minor functionality hit) is still good even after the trial expires, but can still be annoying.

Of all the options, Start 11 is my recommendation for plug-and-play, fire-and-forget sanity to the Start Menu. It's for money, but it's lavishly supported by Stardock and can be further enhanced to tweak even the most minor parts of your UI to your preference, provided you'll pay Stardock for the extensions.