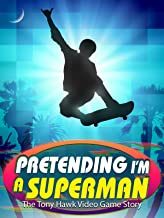 Thank you Wood Entertainment for sending us a screener to review!
Skateboarding has been around since the 1950s and its popularity has had its ups and downs. Skate parks would come and go and when they disappeared, underground and street skating took off. Pretending I'm A Superman – The Tony Hawk Video Game Story features many professional skaters like Steve Caballero, Rodney Mullen, Chad Muska, and Eric Koston who share their experiences with this sport and various milestones before it became mainstream.
The popular Thrasher magazine started circulating in 1981, and the following year Tony Hawk became a pro skater. In 1986 Atari released 720°, a skateboarding game followed by California Games and Skate or Die in 1987. In 1989 the movie Gleaming the Cube was released. In the mid 90s skateboarding started to become popular and was showcased in the X Games, which was founded in 1994.
In 1997, Sega released a popular arcade game with a moving skateboard called Top Skater. Once Tony Hawk's Pro Skater dropped in 1999, the sport would never be the same. Each new release would get better and when the fourth one came out, the other three were still in the top ten sales charts. Not only did this game revitalize the sport, but the skaters in the game became household names and the bands like Primus and Bad Religion got a whole new fan base. The inclusivity of minority and female skaters appealed to many people as well.