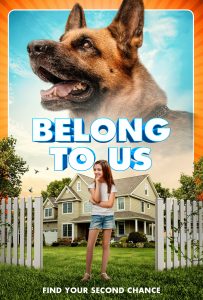 Thank you Rappstar Entertainment for providing us with a digital screener to review!
Belong To Us tells a story about a German Shepherd who escapes a dogfighting ring and chooses a broken family as his own. The father, Travis, is a businessman who bonds with his teenage son over baseball, but has no idea on how to raise his nine-year-old daughter, Paige. The father almost became a major league baseball player, and hopes that his son can make it to the big leagues in his stead. Paige feels neglected and quickly bonds with the stray dog that wanders into their yard.
With her sassy grandmother's help, Paige and her brother, Decklin, get permission to keep the dog and name him Duke. Unfortunately, the fighting lifestyle leaves behind some emotional scars on the dog. To make matters worse, the criminals that ran the dogfights are looking for their champion and endanger this family.
Throughout the movie, there is violence, and some blood is shown. In fact, when the dogs are fighting you'll only see their legs and human violence is shown through shadows (no special effects or stunt doubles needed). Smoking, drinking, and drunkenness is also seen. The grandmother sometimes uses colorful language (sh*t), and hand gestures. Not surprisingly, this film is rated PG-13.
Though there are some rough patches and acts of defiance, the overall messages are positive in this eighty-four minute movie. Dogs can be a wonderful part of our lives, but sometimes they come with some baggage. Family needs to love and support each other at all times and keep their promises.
This film should be releasing on DVD soon and I don't see it available for purchase anywhere quite yet. When it does come out, it's worth renting or buying if the price is reasonable.