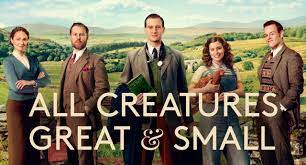 Thank you PBS for sending us the season one Blu-ray!
All Creatures Great & Small starts off in Glasgow, Scotland in the 1930s. The main character is James Herriot who wishes to become a veterinarian instead of having to do manual labor to make ends meet. Just when all of the nearby opportunities fizzled out, he receives a letter for an interview in Yorkshire Dales. After travelling hours by train and bus, he's coldly greeted by the owner of the practice, Siegfried Farnon. The housekeeper, Mrs. Hall, insists that Siegfried gives James a chance.
James almost loses his job on the first night as the townsfolk pressure him to try their local ale and discovered that he can't hold his liquor. Despite some blunders, James proves that he is hard working and more than capable of caring for the town's pets and farm animals alike. Throughout the seven episodes of season one, you'll see animals being born, operated on, and euthanized. If you're squeamish, you'll want to turn away during those scenes.
Siegfried has a brother, Tristian, who wishes to enter the veterinary field but is more interested in partying and pursuing women than studying. When Tristian is in town, both him and James try to earn Siegfried's favor which is no easy task.