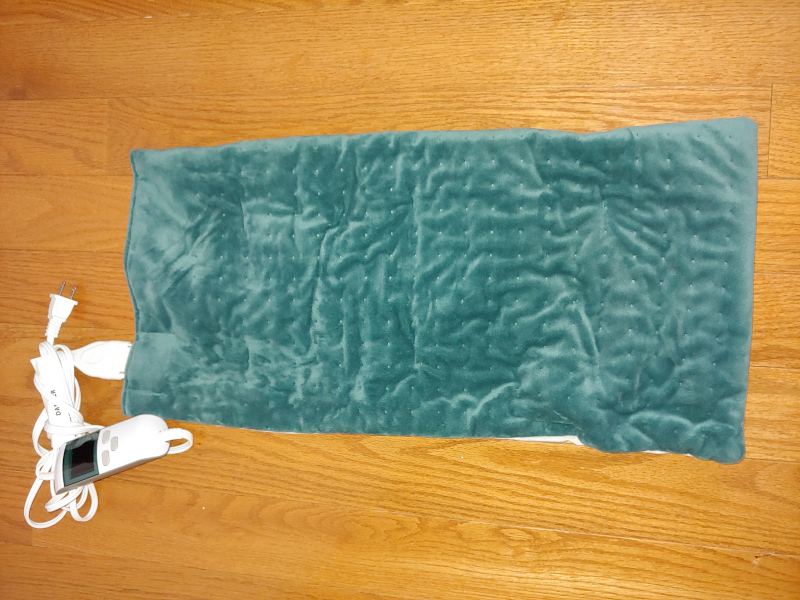 Thank you Dongguan Emily Trading Co., Ltd for sending us this heating pad to review!
Getting old isn't fun. I discover random aches and pains without origins other than my age. For example, my left hip started hurting the other day for no apparent reason. It's not like I ran a marathon or fell. Thankfully, I had this heating pad handy!
The device is simple to use with only three buttons to press. The power button is where you start or end to turn the device on or off. The other two buttons control the temperature and timer functions. The temperature starts at 95 degrees Fahrenheit and goes all the way up to 158 in 9 degree intervals. The timer can be set from fifteen minutes to two hours in 15-minute intervals. Setting the timer to one hour at night was perfect for my sore hip as the warmth felt good and it didn't have to be on after falling sleep. When I woke up in the morning, the pain wasn't completely gone, but it was much better.
The padding is super soft and very comfortable. With the detachable cord it's washable too! Another advantage of the detachable cord is that it can break away if accidentally tugged on or tripped over. This item is also covered by a five-year warranty so it's nice to hear that the manufacturer stands behind this product.
When it comes to cramps, the heat feels really nice and distracts from the pain significantly. Chocolate is another nice distraction, but I'm not allowed to eat milk chocolate on the keto diet. I'm not a fan of bitter dark chocolate either. I'm glad this heating pad will help ease the cramping as I'm waiting for the Ibuprofen to kick in.
As I get even older I'm sure I'll be using this heating pad more and more. I'm not looking forward to it, but I'm glad to be prepared for my next random ailment.

(Amazon Affiliate Link)