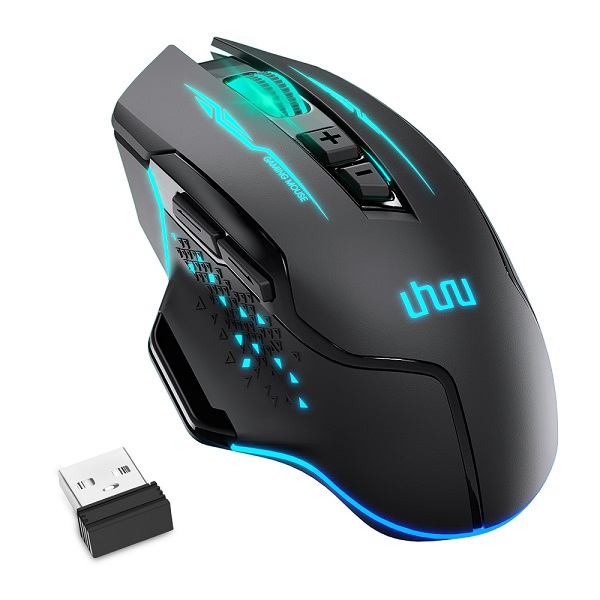 Game Info:
Uhuru WM-07 Wireless Gaming Mouse
2.4 Ghz mode and wired mode
7 mouse buttons
1200/2400/4800/7200/10000 DPI
125Hz, 250Hz, 500Hz, 1000H Polling rates
2.4G wireless
20-32ft range
MRSP: $35.99
(Amazon Affiliate Link)
Thank you Uhuru for sending us this mouse to review!

I've owned many mice throughout the decades. Most of them have been wired and it doesn't take long for the wire to get stretched and worn from day-to-day use. As monitors are getting bigger and bigger, having adjustable DPI rates is crucial for gaming performance. Until now, the only wireless mouse I had was a Logitech M310 which maxed out at 1000 DPI. It definitely feels slow compared to my other gaming mice. One nice feature of the Logitech is that it has a built-in area inside of the mouse where you can store the USB dongle when it's not in use. Uhuru WM-07 doesn't have a place to store the dongle, so if you're not using it, don't lose it!

Like most pieces of hardware, you'll need to download the driver software to unlock the mouse's full potential. The drivers are not signed so you'll have to tell Windows to "Run the program anyway" to install and upon start-up, you'll have to grant the software permission to run.
Highlights:
Strong Points: Very responsive and nice-looking mouse; long-lasting battery; reasonably priced
Weak Points: No built-in dongle storage
The software will let you know the battery level and lets you specify the DPI, Polling rate, and RGB light pattern.  You can customize what each of the seven buttons can do and save your configuration to five different profiles.  Lastly, you can record and configure macros.
To conserve on battery or look professional, you can disable the RGB effects completely.  Alternatively, you can select a static color, breathing, neon, cycling, wave, or flowing pattern.  When the battery drops to 40%, the mouse coloring will flash red occasionally to let you know that it needs to be recharged soon. 
With RGB lighting enabled the mouse should last about thirty hours and up to 50 with them disabled.  I noticed about a 10% battery drop after a good day's worth of use.  The included 6-foot USB-A to USB-C charging cable is a good length to use as a wired mouse when it comes time to charge.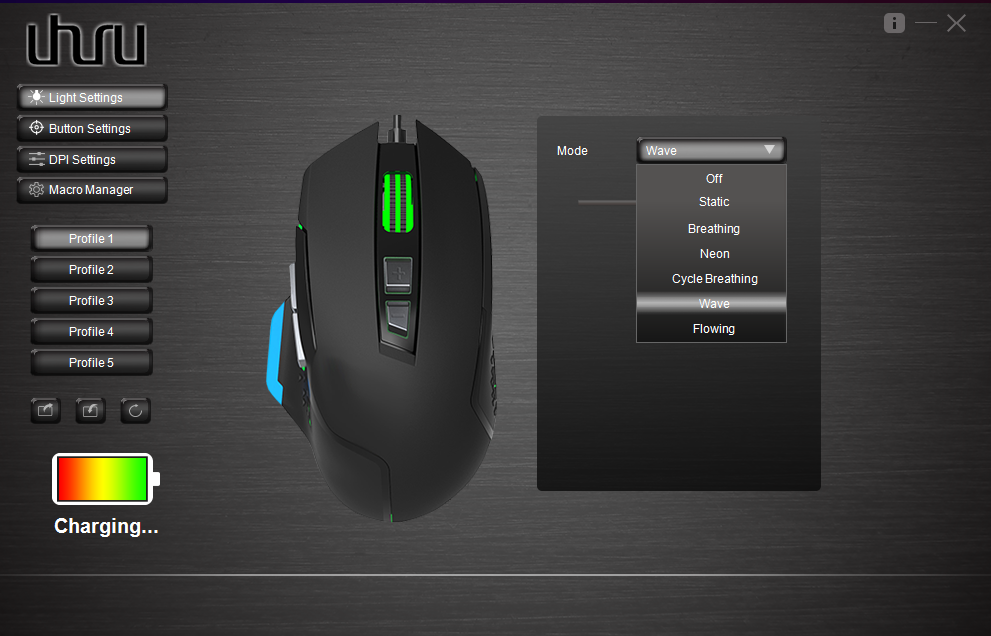 The Uhuru WM-07 is well-built and comfortable to use.  It's designed for right-handed gamers.  The mouse buttons are unobtrusive and easily accessible.  I like the textured sides and the lighting patterns look sharp.  The glowing dual rubber-treaded mouse wheel looks and feels good.  
This mouse is very responsive and is great for gaming.  I streamed and tested it with a variety of game genres from first-person-shooters (Hunt Showdown) to farming simulation (Harvest Days), and adventure games (Beholder 3).  I experienced no issues and don't feel that this mouse hampered my gameplay whatsoever.  In fact, the responsiveness comes in handy for FPS titles.  
The asking price of $35.99 is very reasonable.  While writing this review, it's currently on sale for less than $25 on Amazon. If you don't mind the software prompts and are careful not to lose the dongle this mouse is worth checking out!