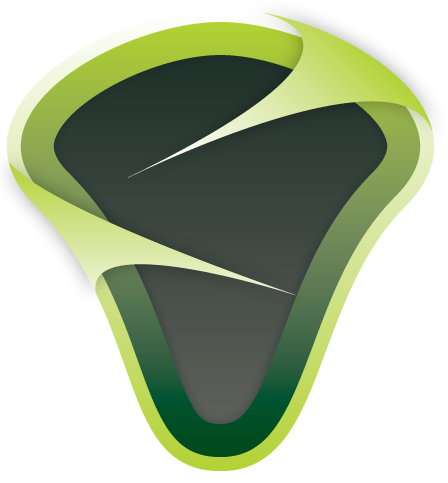 Hardware Info:
Mionix Avior 8200
Developed by: Mionix
Release Date: June 2, 2013
Price: $89.99
Thank you Mionix for sending us this mouse to review!
I fit into the right-handed majority and enjoy all of the gaming accessories available for righties.  Many of the south-paws I know use right handed mice for gaming.  Mionix plans to even the playing field by offering the ambidextrous Avior 8200 for $89.99.  That's a bit more than my Logitech G700 but it brings a lot to the table.
This mouse sports a 32 bit 72MHz ARM processor inside to handle all of its functions.  The build quality is great and does not feel cheap at all.  I like the added touch of the braided USB cord.  There are four layers of rubber coating to give you a decent grip.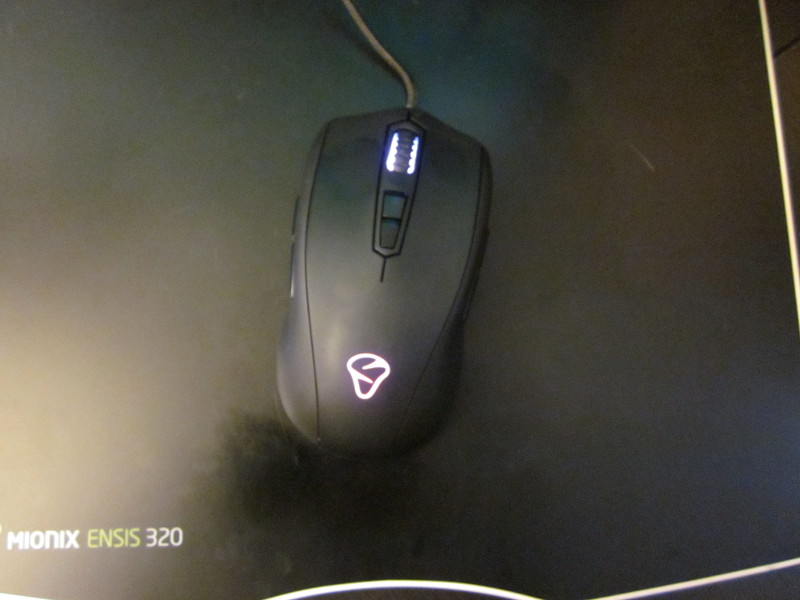 Highlights:
Strong Points: Great software with lots of features and light customization
Weak Points: You cannot hot swap this mouse, it must be plugged in before the computer is powered on

There are nine buttons in total including two on each side of the mouse.  Each button is customizable and you can program macros using Mionix's software.  The two buttons on the right hand side were getting in my way and caused me to inadvertently go forward or backward in my web browser.  Disabling them solved that annoyance.   
The software has lots of cool features including the ability to adjust the double click/scroll speed and the pointer acceleration.  The polling rate can be set from 125Hz to 1000Hz.  One of the best features of the mouse is the 8200 DPI laser sensor.  You can lower that if you are so inclined to do so.  One of my favorite features of the software is the illuminated logo customization.  You can hard set it to a color or have it auto change.  You can also make the logo solid, pulsing or breathing.  It's a mini disco-ball!
We previously reviewed the Mionix Ensis 320 mouse pad and the Avior 8200 works well with it.  The software has a surface rating feature and both the Ensis 320 and Rocket Fish mouse pad scored a 90%.  I wonder what a perfect surface looks and feels like.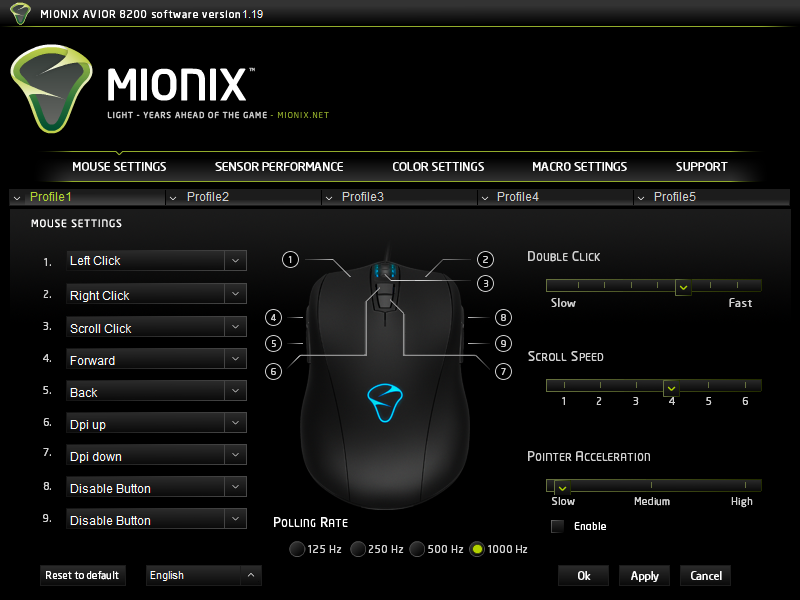 As expected, gaming was great and the mouse was very responsive in games like Fallout 3 and ShootMania.  The mouse is very comfortable to use in either hand and moves smoothly across the mouse pad.  The high DPI rate is ideal for big or multi-monitor setups.
I did discover one quirk with the Avior 8200: you cannot hot plug or swap this mouse in Windows.  If you try to do so, it will show as an unregistered USB device.  In order for this mouse to work properly you have to plug it in before or during the Windows boot up process.  Other than that, I have no complaints with this mouse.
If you're looking for a smooth ambidextrous mousing experience, look no further than the Mionix Avior 8200.  It's totally customizable and super responsive in fast paced FPS games.  The price isn't bad compared to other high end gaming mice out there.  Unfortunately I didn't see it less than the sticker price at the time of this review.