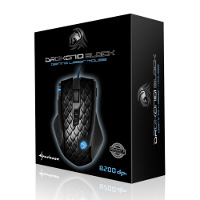 Hardware Info:
Sharkoon Drakonia Black Mouse
Released: September 13, 2013
Developed by: Sharkoon 
Price: $40
Thank you Sharkoon for sending us this mouse to review!
Shortly after reviewing the Mionix Avior 8200, I reverted back to using my right handed Logitech G700.  After using the Sharkoon Drakonia Black for a few days, I'm in no hurry to switch back.  The dragon design with a customizable LED logo looks slick and it is very comfortable to use.  Unlike the Avior 8200, it's geared for righties and my ring finger rests on the right hand side of the mouse where there is a button and my pinky finger fits under it.  
I have read reviews of people not liking the button placed on the right hand side, but it has not bothered me at all.  There are two buttons above the thumb and one below it.  There are 11 programmable buttons in total and that's including the scroll wheel and DPI switcher.  While this is suitable for FPS gamers, MMO gamer may opt for gaming mice offering more buttons.  
Spec wise, the Drakonia Black is no slouch.  It's an 8200 DPI Laser mouse with 12,000 FPS frame rate and 30 G acceleration.  The build quality is solid with rubber ridged side grips, and a braided USB 2.0 gold plated connector.    The added carrying case and replacement mouse feet are a nice touch.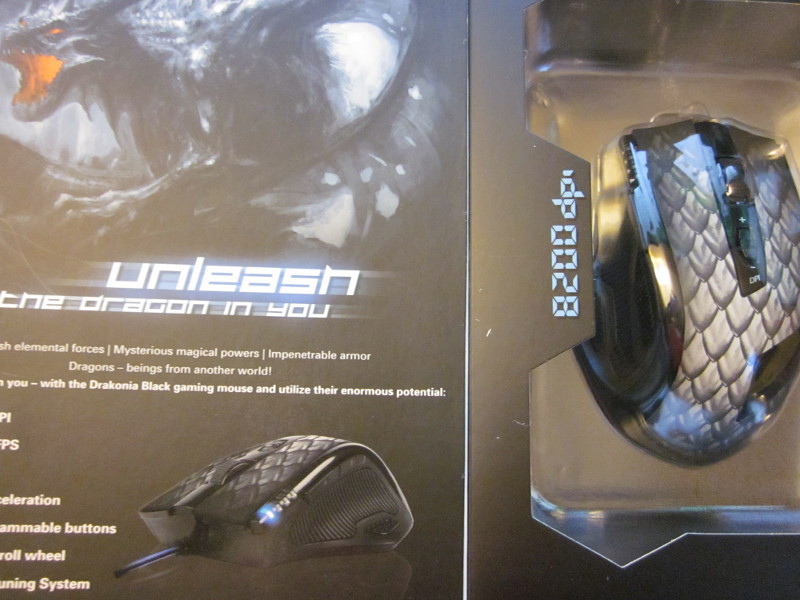 Highlights:
Strong Points: Comfortable and sturdy design, reasonably priced
Weak Points: The software is not as intuitive as other brands I have used
The software lets you configure the buttons and store up to five profiles.  The advanced settings lets you adjust the mouse and scrolling speed, sensitivity, DPI and double click speed.  The polling rate can be set to 250 HZ, 500 HZ or 1000 HZ.  The logo on the mouse can be set to one of twenty four colors.  You can change the light intensity and pulse rate too.    
We previously reviewed the Mionix Ensis 320 mouse pad and the Sharkoon Drakonia Black works well with it.  To further customize your mouse, you can adjust the weights inside of it, but I left mine at the stock configuration.
As expected, gaming was great and the mouse was very responsive in games like Fallout 3 and ShootMania.  The mouse is very comfortable to use and moves smoothly across the mouse pad.  The high DPI rate is ideal for big or multi-monitor setups.
Overall this is a comfortable mouse to use and it performs well.  The price is very reasonable at $50.  There are previous models (with lesser specs) of Drakonia mice to be had for $35 on popular sites like Amazon or Newegg.  The only online retailers I have found the black edition at are Frys.com and JR.com.