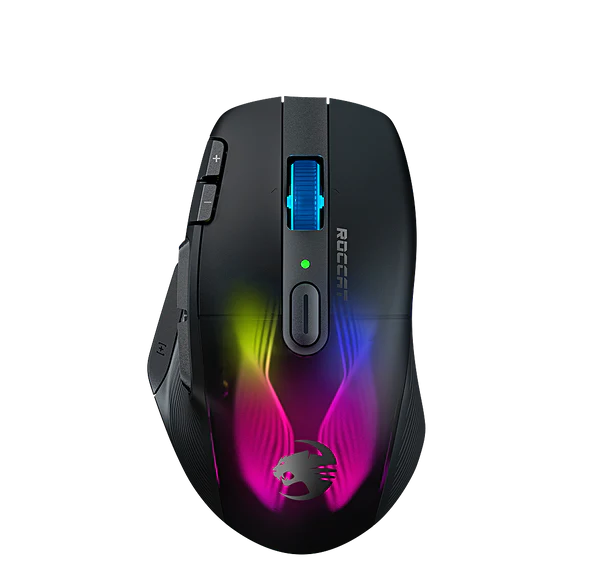 Hardware Info:
ROCCAT Kone XP Air Wireless Gaming Mouse
Specifications:
ROCCAT Owl-Eye 19k DPI optical sensor, with 50g acceleration and adjustable lift-off distance
Fifteen fully programmable buttons/actions, with up to twenty-nine functions available via Easy-Shift
2.4GHz Stellar Wireless via USB-A Adapter
Bluetooth Wireless Connectivity
USB Wired Connectivity via USB-C port
Charging Dock
3D RGB Lighting, with LEDs and light guides
On-board memory - stores button and RGB LED color settings
ROCCAT Titan Switch Optical switches for each button, lasts 100 million clicks
Ergonomic shape, with Krystal 4D mouse wheel
Fully customizable with ROCCAT Swarm software
Lightweight, at only 99g (I measured 97g without the cable or wireless dongle)
High-quality fabric 1.8 meter USB-C to USB-A cable
MSRP: $169.99
(Amazon Affiliate Link)
Thank you Turtle Beach/ROCCAT for sending us this mouse to review!

Since reviewing ROCCAT mice for the first time, I've come to really appreciate several things about them. Compared to my reference mouse from Razer, the Naga Pro, the wireless signal is much more reliable. (They call this Stellar Wireless, and while branding can sometimes be silly, in my experience it lives up to the name.) This is an area of major frustration with the Naga Pro for me. These ROCCATs are also much lighter, which I didn't realize I needed until I started using the lightweight Kone Pro Air - which I still use regularly because of this. It's so much easier on these aging wrists that comfort demands that I use it. And yet, I've also missed the crazy amount of buttons that Razer's mouse offers. Games with a skill bar, like some RPG games and most MMOs, really benefit from this. In an effort to address this, ROCCAT has the Kone XP wired mouse (that we reviewed here) and this new wireless version, the Kone XP Air.

It has to be said that I have been spoiled by wireless mice. That complete lack of drag resistance while moving it around really is great, even if I rarely actually need it to be wireless since my PC is close to the mouse. With that said, I have used this from a distance also, as I've used it as a wireless mouse on the couch. But 99% of the time, I just prefer using it wirelessly. Unfortunately, it's easy to forget to charge. After a solid five days or so of use (I use ROCCAT's mice for work and fun), inevitably one has to plug it in to charge it. This is why I've been secretly hoping they would release a wireless mouse with a dock. And here we are!

You see, never having to think about a wire is just one of those simple joys you don't realize you want until you have it. With other wireless mice, you might turn off the RGB lights to save battery life, or you might forget to plug it in for several days until you really need it. But with a dock? Just plop it on the dock. That's it. It takes half of a second, and no brainpower needed to find the cable, then make sure to plug it in correctly. You just pick up the mouse, and set it down. And it's included in this package - Razer charges an extra $50 for a dock like this. Though to be fair, this mouse does cost more than most others, so do factor that into the value equation. Nevertheless, that convenience certainly means something.

Outside of the fun 'wireless docked mouse' bit, the Kone XP Air is overall a very nice mouse, though not without its flaws. It also improves upon the other ROCCAT mice I've used in a few key ways.
Highlights:
Strong Points: High-quality charging dock; wireless connection is fast and solid; has built-in place to store the wireless dongle if you aren't using the dock, and it's redesigned to be easier to use; excellent sensor and button feel; super-smooth motion; comfortable; lightweight compared to similar mice; really nice mouse wheel; lots of buttons with excellent customizability
Weak Points: Easy-Shift works great, but four buttons cannot be reached while in use via the mouse alone
While I don't want this review to focus entirely on comparing against others in their product line, this does represent a new flagship, so it's important to note where it does make a step up from their other ones. Of the wireless mice, the Kone Pro Air is the lightest. The Burst Pro Air is the best value (and arguably best all-around choice as well). The Kone XP Air has by far the most functionality, but also the highest price. The Kone XP is the wired cousin that is a bit gaudier looking (with excessive RGB and clear plastic) but functionally very similar to this one. One other thing to note, is that this Kone XP Air is the first wireless mouse from them that I've seen that has a dedicated charging status light. Most of the others just glow via the normal RGB LEDs when plugged in. This is especially nice since it will glow red when the battery is critically low; the other mice from them just die without warning if the LEDs are disabled. It's a nice touch that I hope becomes a standard feature in the future.

As for the mouse itself, it retains the slightly right-leaning ergonomic tilt of the other Kone mice, which is definitely a good thing. After all, many hyper-ergonomic mice are tilted even farther in that direction, so it makes sense that some tilt would be good for the wrists. Nevertheless, as an aging gamer that also works a day job on computers, the extra weight does strain my wrists a bit more than the lighter ones. But at 99g, it's really not too bad - it's just 24g heavier than the super-light Kone Pro Air. It's also quite a bit lighter than the Razer, which is in the 115g range depending on what side panel is on.

The fifteen buttons are very well placed, and easy to access quickly. The new bottom thumb button, which defaults to the Easy-Shift function, is very easy to use, and is a comfortable additional support for your thumb. The only downside is that it's also very easy to trigger accidentally, so it's important to assign a relatively benign function to that button. Thankfully, the mouse stores all of the profile, macro, and LED color information on the mouse itself, which is one of my favorite aspects of ROCCAT mice. This means that you can plug the mouse into a Windows, Mac, or Linux machine and the settings still carry forward. As someone who regularly uses all of those computers/operating systems, this is really important to me - and a premium feature not to be understated.

The location and usability of all of the buttons on their own is very good, and they work great and respond well. The Titan Optical switches are very responsive and feel great during use. The only strange choice is that, like the Kone XP, the Easy-Shift button can't practically be used at the same time as the side buttons, despite that no doubt clearly being intended. It's an odd oversight, but it's something you can change if you want to. For example, the top button behind the mouse wheel defaults to Profile cycle. You can choose to set that to Easy-Shift in ROCCAT's Swarm software instead. This allows you to press that button while using the side buttons, though admittedly the scroll wheel can be trickier to use in its place. It's even possible to set both buttons to Easy-Shift if you really want to, though of course that prevents them from being used for other things.

The default button assignments make sense, and are optimized for productivity, but there are countless other ways to set it up, limited only by your imagination or dexterity, as long as you understand there is only one Easy-Shift function; there is no 'shift 1' and 'shift 2', just a single 'shift'. That said, if you use Windows and have another ROCCAT device like a keyboard, you can mix and match Easy-Shift settings with that device if you so choose, making the options nearly endless for macros and alternative button assignments.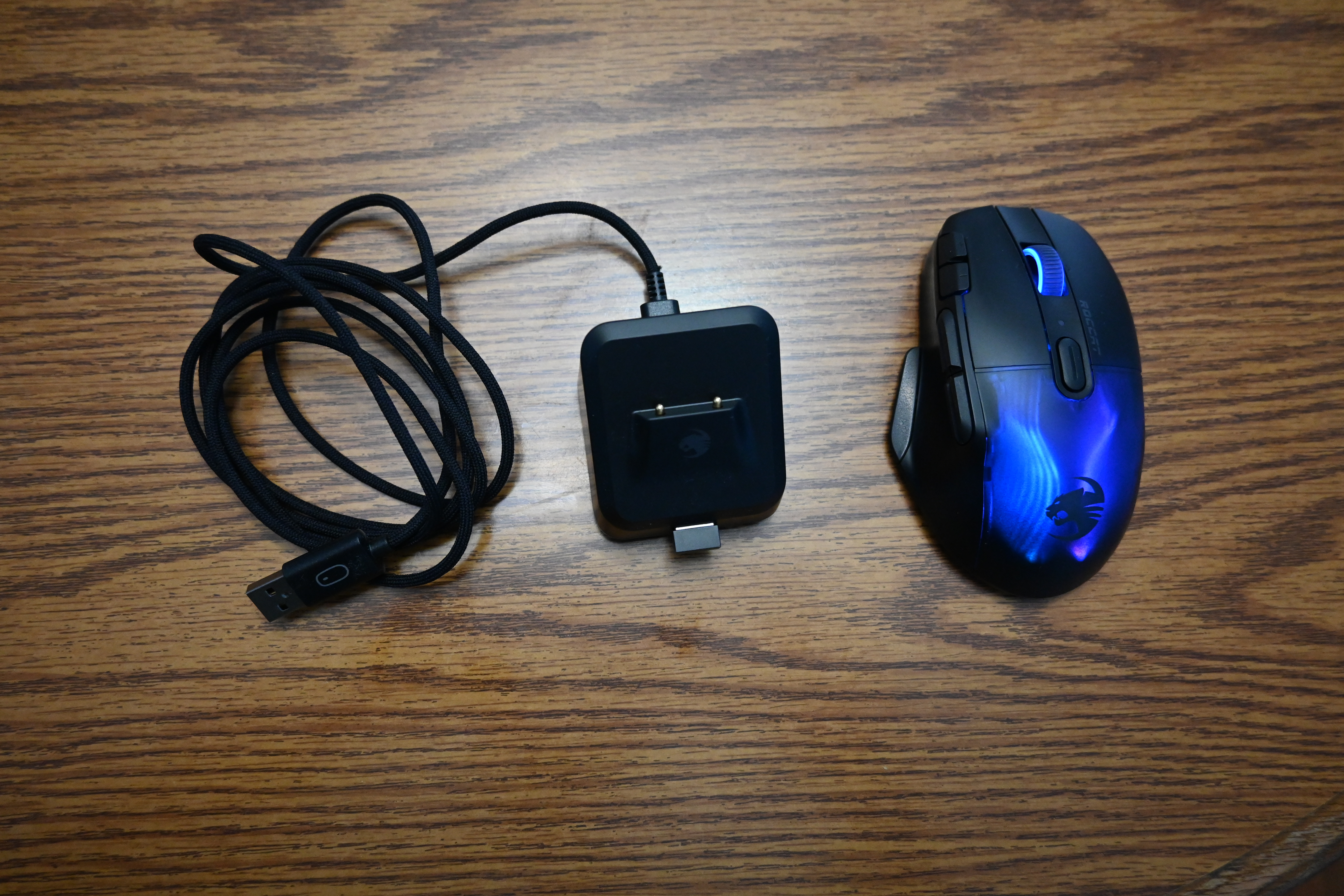 While Swarm is a little quirky at times, it's quite powerful and gives you tons of customization options, and not just for the buttons. If you want the rear of your mouse (along with the scroll wheel) to glow, you have tons of lighting options. You can change click speed, scroll speed, pointer speed (never change this for the best gaming experience; use DPI instead), and other more obscure things like debounce time. I never felt like it was short on options.

If you like LED RGB colors, you're in luck. I prefer subtle colors - –I keep my mice a single color, and keep the brightness low. And with wireless mice like this one, I usually turn the LEDs off, because it helps with battery life. But I know many, like my son, who love lots of colors. And this mouse is right up your alley if that's the case. There are five lighting zones, and light guides to spread that light all around. Unlike the Kone XP wired version, with it's twenty-two LEDs, there appears to be much less, which is preferable to me since each LED does impact battery life. Still, the colors jump out and can be quite bright. It should be noted that the front half of the mouse has thicker, darker plastic than the previously mentioned wired version that has see-through throughout; here it's only under your palm, and is overall a much more understated mouse. I did notice that whatever plastic they use is somewhat susceptible to wearing off the finish with skin oils over time; all do this to an extent, but it happened a bit sooner than I expected.

The mouse in action, outside of the Easy-Shift button reach issues I mentioned before, is really solid. The PTFE glides are great as always. The motion is wonderfully smooth on any surface I tested it on. The optical sensor is top notch; most modern sensors are so good that comparing one with another is splitting hairs, but I have been very happy with it while doing a test Unreal Tournament run. It also works great even on a wood table, which not all sensors can claim. I've also used it quite a lot over the last few weeks for work and other 'normal' uses as well, with it performing admirably. The Titan Optical switches are great like always, and I don't expect problems as they have performed well on my other ROCCAT mice that I use on a daily basis.

The ROCCAT Kone XP Air is ROCCAT's new flagship mouse, and it shows. I hope they will consider relocating (or adding, as the bottom button is still usable) the Easy-Shift button to another location in a future revision; perhaps near the pinky finger. Other than this functional issue that it retains from its wired cousin, the Kone XP Air is very comfortable to use, has perfectly implemented onboard memory, and has lots of customization available. It's also notably lighter than many other mice with that feature set. I also love that mouse dock - just put it on there at night, and you'll never have to worry about batteries again! It's a great mouse, and if you are looking for a hybrid MMO/FPS mouse, it's definitely an excellent choice. It is pricey though!