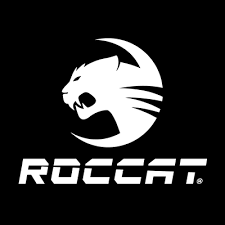 Game Info:
ROCCAT Kone XP Wired Gaming Mouse
Specifications:
ROCCAT Owl-Eye 19k DPI optical sensor, with 50g acceleration and adjustable lift-off distance
Fifteen fully programmable buttons/actions, with up to twenty-nine functions available via Easy-Shift
3D RGB Lighting, with twenty-two LEDs and eight light guides
On-board memory - stores button and RGB LED color settings
ROCCAT Titan Switch Optical switches for each button, lasts 100 million clicks
Ergonomic shape, with Krystal 4D mouse wheel
Fully customizable with ROCCAT Swarm software
Lightweight, at only 104g (I measured 100g without the cable)
High-quality fabric 1.8 meter USB cable
MSRP: $89.99
(Amazon Affiliate Link)
Thank you Turtle Beach/ROCCAT for sending us this mouse to review!
I love lots of buttons on my mice. For whatever reason, my feeble brain wants as many controls at my fingertips as possible, even if I rarely use them all. But when I do, I'm glad I have them, right? It's somewhat silly, but knowing they are there gives me a sense of comfort, and when I do play games with a skill bar like MMOs or some FPS or action RPG games, it's a great alternative to having to take my movement hand and do something other than move. Being able to avoid enemy fire and switch weapons or activate other skills at the same time can really make a difference.
Up until ROCCAT mice entered my consciousness, I used several MMO mice in a row. I used a Razer Naga for a long time, then went to a Corsair Scimitar - great mouse, terrible software and scroll wheel - and finally went back to a newer Razer Naga Pro. I honestly still love the mouse, but after ROCCAT sent over their Kone Pro Air, and I got spoiled by how crazy light it is, I use it for everything now but the occasional game with MMO-style controls. The ergonomic comfort is the main reason – these aging arms really appreciate the light weight. So this Goldilocks over here has been looking for that perfect mouse with MMO-style controls and lighter weight ever since.
Does the Kone XP fulfill this niche? As my kids like to say, yes but actually no. Or more accurately, almost - but it's still solid, despite some small missteps. It also corrects some of the flaws of the Kone Pro line, while adding a ton of functionality.
On a basic level, it retains the same general shape of the Kone Pro, and this is absolutely a good thing. It's a very ergonomic shape, and feels very natural in your hand. It's also quite light for a mouse with so many buttons; I measured it at one hundred grams, though the official spec is one hundred and four. The additional buttons are very well placed, and easy to access quickly. The new bottom thumb button, which defaults to the Easy-Shift function, is very (ahem) easy to use, and is a comfortable additional support for your thumb. The only downside is that it's also very easy to trigger accidentally, so it's important to assign a relatively benign function to that button. Mapping a macro like Ctrl+A, Delete to that button could easily lead to a very bad day. (Please don't troll a user in this way. The potentially lost productivity is staggering.)
Highlights:
Strong Points:  Super-smooth motion; very comfortable; really nice cable; fairly lightweight compared to other similar mice; quite nice mouse wheel; onboard profiles are excellent and work with any OS, including the default side-tilt (some other brands don't do this!)
Weak Points: Easy-Shift works great, but four buttons cannot be reached while in use via the mouse alone
And the best part of this mouse is that you could totally do that – and the mouse stores the macro on the mouse itself! Even without ROCCAT Swarm running, you can Ctrl+A, Delete your friends – even if they use another operating system. I tested this by setting up the macro in ROCCAT Swarm, applying the configuration, then unplugging it and plugging it into another computer using Linux, and the troll macro still worked! This is a mighty impressive feature that few mice can replicate. Another thing to note: while my Razer Naga Pro also supports onboard profiles, the Scroll Left and Right features require Synapse, their mouse software, to be running. Not so with ROCCAT! If you want your tilt wheel to behave as it should all the time, even in Linux and macOS, then this is your mouse.
As someone who uses every major operating system on a daily basis (Windows, macOS, Linux) this is invaluable. Having the mouse store not just single button presses, but full-blown macros is something that few competitors can boast – at least in my experience. Razer only stores single button presses (and sideways scrolling doesn't work). My older Corsair didn't store anything for the numbered side buttons, and required iCue to always be running. I haven't used a Logitech in quite a few years, so I can't say – but this is a feature that needs more awareness. Respect ROCCAT, Respect.
The default profiles are honestly pretty good out of the box, with Navigate Forward/Back/G/R on the side buttons, DPI adjustments on the +/- buttons, and profile switch in the middle. Honestly, the only head-scratcher is the Easy-Shift button. I mean, Easy-Shift is a neat feature, and it's also stored onboard – which is awesome. Being able to control your volume and media using Easy-Shift and the scroll wheel is also a nice touch. The location of the default Easy-Shift button is at the bottom of the thumb area, and it's decent with one major flaw: you can't hold that button and use the other four thumb buttons at the same time. Well, maybe if you have two thumbs on your right hand, but most of us aren't so lucky. While pushing down on that button, you can reach the other ten functions, but those four are pretty much off-limits. On the other hand, if you would prefer to use that button as a sniper button, where you adjust the DPI while holding it down, it would work great in that way. Another way to use it would be in concert with a ROCCAT keyboard, so you can have Easy-Shift go across devices. This probably requires Windows with Swarm running, though.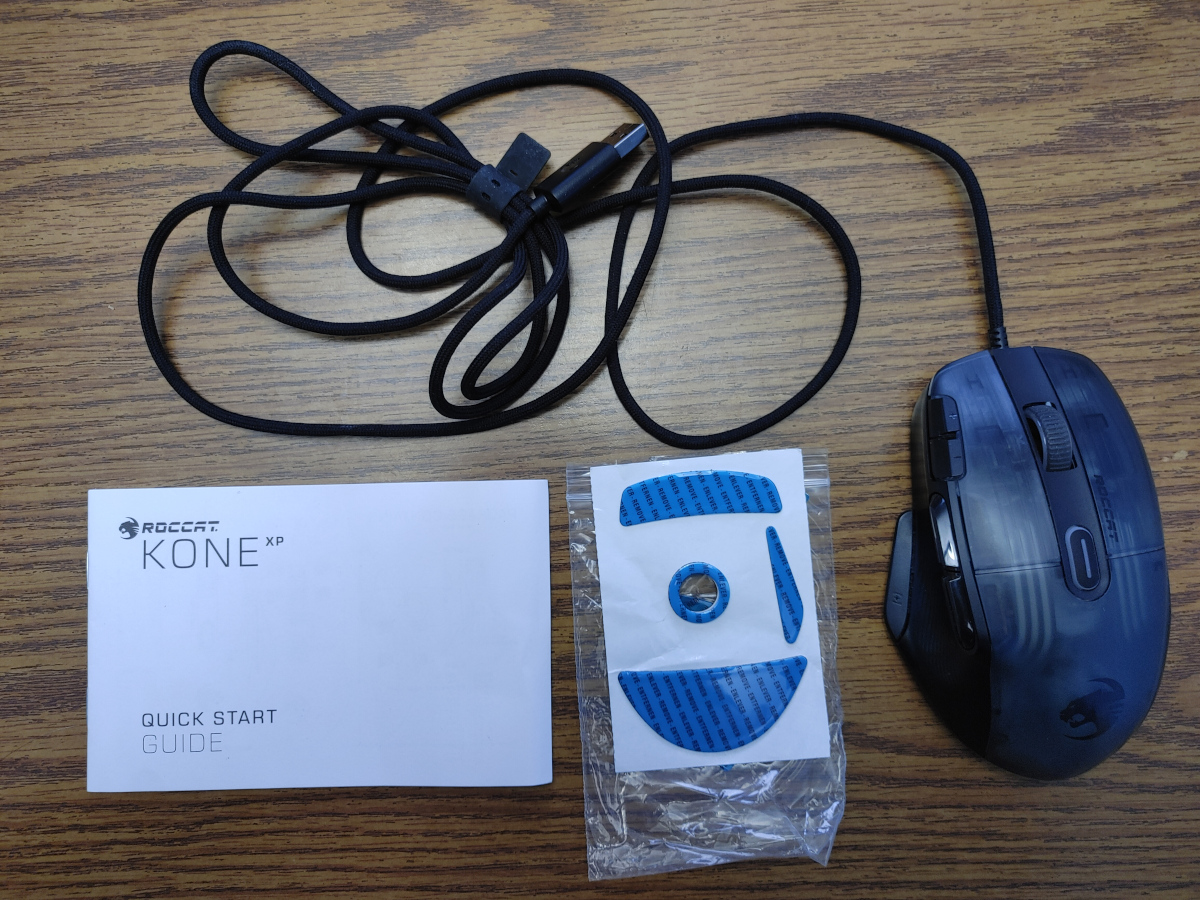 If you like LED RGB colors, you're in luck. I like subtle colors – I keep my mice a single color, and keep it low on the brightness. But I know many, like my son, love all the colors. And this mouse is right up your alley if that's the case. I can't say I've seen mice with light guides before; these, along with the twenty-two LEDs, means that the colors jump out and can be quite bright. And while I'm not much for lighting effects personally, the new Photon effect is actually really neat. Instead of colors just being a wave – LEDs changing from one color to the next in a, well, wave – this one has each LED rolling across your device, with one LED being on at a time, with changing colors. I like it!
The mouse in action, outside of the Easy-Shift button issues I mentioned before, is really solid. While I've been spoiled by wireless mice, this wire is very nice – you can barely tell it's there, because it's so light and soft. The PTFE glides are best-in-class, and a spare set is even included in the box! The motion is wonderfully smooth on any surface I tested it on. The optical sensor is top notch; most modern sensors are so good that comparing one with another is splitting hairs, but I have been very happy with it while doing a test Unreal Tournament deathmatch. It also works great even on a wood table, which not all sensors can claim. I've also used it quite a lot over the last few weeks for work and other 'normal' uses as well, with it performing admirably. The Titan Optical switches are great like always, and I don't expect problems as they have performed with aplomb on my Kone Pro Air since I reviewed it last year.
The ROCCAT Kone XP is a really great mouse, that fills an important spot in ROCCAT's mouse lineup. I hope they will consider relocating (or adding, as the bottom button is still usable) the Easy-Shift button to another location on a future revision; perhaps near the pinky finger? Other than this functional head-scratcher, the Kone XP is very comfortable to use, has perfectly implemented onboard memory, including LED color profiles, and has lots of customization available. It corrects my main complaint with the Kone Pro – the profile switch button is on top now, instead of on the bottom – and has dedicated DPI switcher buttons, that you can assign to other things. It's also notably lighter than many other mice with that feature set. It's a great mouse, and if you are looking for a hybrid MMO/FPS mouse, it's definitely an excellent choice. I sure hope they make a wireless version!