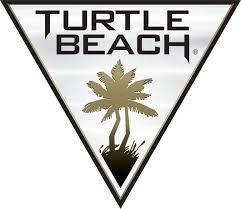 Hardware Info:
Turtle Beach Stealth 700 Gen 2 Wireless Gaming Headset
Specifications:
Over the ear headphones
50mm Nanoclear driver with Neodymium magnets
Frequency response: 20Hz-22,000Hz
Battery: 1000mAh Lithium Polymer
Connectivity: Wireless (Xbox One, Xbox Series X/S, Microsoft Windows with Xbox Wireless Controller Adapter, and more via Bluetooth)
Wireless range: 30ft
Microphone type: built-in flip-out microphone
Hybrid synthetic leather and fabric earpads with memory foam and gel cushioning
Volume wheel and customizable secondary wheel
Power, mode, and Bluetooth buttons
USB-C charging port
Expected battery life: 20 hours
Glasses-friendly design
MSRP: $149.95
(Amazon Affiliate Link)
Thank you Turtle Beach for sending us this headset to review!
You know it's funny; I was recently talking to a buddy of mine about Turtle Beach as a result of these headset reviews coming up in conversation, and I shared with him how impressed I was with how these sound. He reminded me that back when we were much younger, Turtle Beach was most famous for their sound cards; I believe we even owned one! While that is no longer a market that they participate in, it just made me laugh at how big of a part Turtle Beach has played in the computer and gaming audio market over the years. This Stealth 700 Gen 2 is their latest console gaming flagship; they have available both this Xbox version, and a PlayStation one as well. I only have the privilege of reviewing the Xbox version.
Gaming headsets often get a bad rap for how poor they can sound compared to equivalently priced headphones. While I can certainly relate to that point of view, and even shared it in the past, this Stealth 700 Gen 2 sets a new standard in audio quality and performance for gaming headsets. From a purely audio perspective, this is absolutely the best sounding gaming headset that I have ever had the pleasure of reviewing, even compared to similarly-priced headsets from other manufacturers. (The runner up in sound quality is surprisingly enough a weird-looking USB headset from Gamdias, the Hephaestus P1. I have reviewed several of their headsets and that one is head and shoulders above all of the rest, despite an odd appearance and some rather strange quirks.)
What makes this headset sound so good is the incredible driver control that it has. The technical term for what I am hearing is called 'damping'. A 'low damping' sound is where the drivers kind of move freely; this can often lead to impressive dynamics (bass slams can hit particularly hard) but on the flipside, you lose much of the detail and layers to the music to the most impactful parts of a recording. In other words you hear the loud bass/guitar/etc., but you might have a hard time hearing the percussive taps of the high hats, or the breathing of the saxophonist. A properly damped driver can bring those out - as long as the treble is also there support it.
These headphones really do have a fantastic default frequency response, and Turtle Beach's Signature Sound is really the best way to listen to these. I messed with custom equalizer settings, and you can definitely get some great results, despite the rather disappointingly limiting 3-band EQ. But I almost always came back to the Signature Sound - it's that good. Now, do these sound as good as my audiophile planar magnetic headphones? Of course not. Those are also open back - the sound radiates into the room, whereas these are extremely closed (which is good for most gaming situations, especially late at night). What makes open-back audiophile headphones so expensive (and sound so good) is how they can reproduce the dynamics and soundstage of lesser-damped designs, while keeping the details of the higher-damped ones. They also often cost several *times* what these cost. The downside of a closed headphone is that the soundstage isn't very open - they sound somewhat in your head. I don't consider this a real problem - it's just the way it is with closed back headphones, especially considering how well damped this particular one is. Cheaper headphones are often the worst of both worlds - closed in and poorly damped. These go above and beyond if you like a close, detail-oriented sound.
And while these Stealth 700 Gen 2s may not match my more expensive audiophile headphones in detail retrieval or soundstage, they are almost certainly good enough for most people, and nothing to be ashamed of. And the funny thing is, they are my best sounding pair of Bluetooth headphones.
Highlights:
Strong Points: They sound simply fantastic, and near audiophile level; very loud microphone; construction of the headset seems solid, with a nice plastic and metal hybrid construction; great feature set, and the EQ settings are genuinely useful; addition of Bluetooth + Xbox simultaneously is not only useful but something I didn't know I needed; mobile app customizations are remembered when the app is shut down
Weak Points: It has crashed/locked up twice, requiring a hard reset both times; some connection instability during regular use on both Xbox One X and PC; microphone is so sensitive that being overdriven is possible; mobile app software was difficult to get working, and requires location enabled to function; when connected to the Xbox Wireless Controller Adapter for Windows, volume range goes from loud to louder, as the Windows mixer doesn't work; earpads can't be removed; I really wish it has a 3.5mm jack for use with other devices because these sound so good
One of the interesting aspects of the Stealth 700 Gen 2 line (this applies to both the Xbox and PlayStation versions) is that they include Bluetooth functionality. What this means is that you can listen to your game at the same as that you listen to music or even take a phone call. It's honestly a really fantastic feature that I never realized I wanted before; with most headsets that offer multiple inputs, it's one or the other - rarely both. The biggest bummer with these is that they lack a 3.5mm jack - if they did, they would work with almost anything, and I'd probably use them with almost everything!
The build quality on these is also quite nice. They use a combination of mostly plastic and metal, with the headband being held together in part with metal, that gives it a much more premium feel than their other products I reviewed. The cushioning, on both the headband and earpads, is excellent and extremely soft and comfortable. I can (and have!) worn these headphones for many hours at a time, with only minor discomfort because of the unusually large ears that I have. If the pads weren't glued-on I would totally figure out ways to use them on other things.
Now with all of those nice things to say (and I mean every word of it!) I sadly have to report some rather unfortunate downsides, also. Fortunately, the vast majority of these issues can be addressed in a firmware update - and in my communications with them, they are aware and planning to address them with an upcoming update. (Sadly the lack of a 3.5mm jack is unlikely to be one of them.)
The worst of it is probably that they locked up twice on me. Thankfully, Turtle Beach did think of this, and on their website support section, there is a fairly easy way to 'reboot' the headphones, to get them back on track. You hold down the Bluetooth + Mode buttons for around 20 seconds, and they're back. It's a real shame that this happened to me, though. I've had these for around a month, if that gives you some perspective. The first lockup was within the first couple of days of having them, and the second time was late last week, so approximately three weeks apart.
If you are sitting fairly close to the Xbox or Windows PC using the Xbox Wireless Controller Adapter for Windows, which these can pair with for a low-latency connection (highly recommended for gaming usage scenarios), they sound great, but can intermittently drop at medium distances. When I am really close to the Windows transmitter at my desk, they rarely give my trouble - though I can't say never, it's not often. In my basement, where the Xbox One X is, however, we typically sit a bit farther apart, and my wife used them to stream a few times. She was very happy with the sound quality, but she had several drops, and another major issue: the mic was too hot.
She found out that, during her stream on Twitch linked above, sometimes her mic was so sensitive that it actually was overloaded - it would start crackling.  It was basically overdriving the inputs of the streaming software, exceeding maximum volume all together.  This can happen any time there are multiple gain stages, where volumes can be adjusted in multiple places; just ask any place with a mixer or auditorium (like a Church).  Nevertheless, this is really unusual with relatively simple home equipment, so turning the gain defaults down just a notch would likely really help.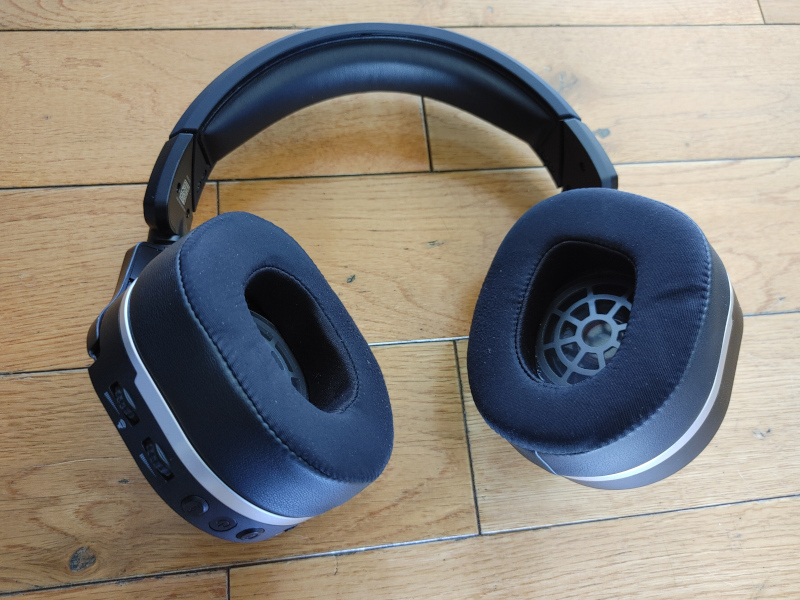 Speaking of loud, when connected to the Xbox Wireless Controller Adapter for Windows, which is a supported configuration in Turtle Beach's documentation, it has a rather unfortunate bug currently. The way it works is that in Windows, the headset shows up as headphones connected to a Xbox Controller, similar to if you connected a wired set to the bottom of your controller; most people don't realize that works on Windows, just like on a console. There is the Windows mixer, where you can adjust the volume of the headset, in addition to a volume wheel on the headset itself, so you can somewhat control it in two places. The only problem is, that the Windows volume doesn't work - at all. It's always at 100%, even if you try to mute it, nothing happens. What this means practically is that the headset's volume only lets you change it from loud to louder - you can never silence the headset, nor can you bring it below deafening for lots of content. If your game or music player has a volume slider you might be okay; otherwise, please don't hurt your ears! Thankfully this is something that Turtle Beach can hopefully fix in a future firmware update. Also, when I tested the microphone on Windows, it sounded a bit bassy compared to a typical microphone, and certainly loud - but it otherwise worked just fine.
Another quirk (it's hard to call it a bug) is that if you want to use these as a Bluetooth headphone, they will pair with most common devices, including your PC (though the Xbox Wireless Controller Adapter is preferred for latency reasons, assuming they fix the volume control issues) but - and this is a biggie - you may find your Xbox turning on when you may not otherwise expect it to. Since this headset pairs to your Xbox One like a controller does, with the same protocol, it also acts like a controller when you turn it on. I would prefer it if they did not do this, as I know some people may want to use these for more than just games - it's a great headset after all. On the flipside, when you turn it on, it instantly connects to both at the same time - the Xbox/Windows PC as well as the last connected Bluetooth device (which is often your phone). It does make sense and is useful - it's just a strange quirk to be aware of. That reminds me - if you are near the edge of the Xbox's connectivity range, you might find that the voice prompts for 'Connected' just might drive you up the wall.
The main reason for the Bluetooth functionality, outside of purely connecting to two things at once, is so that you can control your headset with a mobile app. When you get it working, honestly the app is really great - you can customize what the bottom wheel and Mode button do, you can control all kinds of modes and sliders, like chat level, toggle various listening or EQ modes like Superhuman Hearing, turn on and off the Noise Gate feature, and more. What I don't like about this app is how finicky it was to get working the first time - and that you must have your GPS Location on while using it. Excuse me? You want my location why exactly? To me, this is an unacceptable application permission for almost any app outside of maps, and it's doubly unacceptable here. I sincerely hope that they patch this requirement out. Connecting to the phone via Bluetooth should be more than enough.
The Turtle Beach Stealth 700 Gen 2 is really an excellent headset with some notable flaws, mostly in execution. I sincerely hope that they are able to put out a firmware update that addresses most if not all of these issues. If you are planning on using these primarily on Xbox, as they are intended, then I expect you will have an excellent experience, as long as you aren't too far away from it. If you are like me and enjoy using your favorite things in all kinds of places, and suspect you'll want to use them on your PC more often than on Xbox (or perhaps even primarily on PC), then perhaps the PlayStation version of this headset would be better - if those are anything like the PS4 version of the Stealth 600, I suspect they will be plug and play on PC, or most anything else that accepts a USB connection, like Nintendo Switch. Either way, if you are looking for a fully wireless headset with excellent sound quality and some truly unique features like simultaneous Bluetooth support, then please take a good look at these Turtle Beach Stealth 700 Gen 2 headsets. I am confident that you will be pleased with them - if they fix the bugs, which our contact at Turtle Beach has promised is coming in a future update.