Game Info:
Maono AU-PM461TR USB Microphone
Developed by: Maono
Release date: August 18, 2020
Specifications:
Microphone-core: 14mm diameter condenser
Polar Pattern: Cardioid
Frequency Response: 20Hz-20kHz
Sensitivity: -13.5dBFS ~0.5dBFS (3dB, 94dB SPL at 1kHz)
Maximum SPL: 93.5dB
S/N Ratio: 60dB
Sampling Rate:192kHz/24bit Max
Cable: USB-A to B
Cable: 1.5m
Price: $27.00
(Amazon Affiliate Link)
Thank you Maono for sending us this microphone to review!
With many people staying home these days, there's a significant demand for nice microphones. Virtual meetings are becoming more commonplace and having a nice microphone is essential for people to hear you clearly. Streamers and podcasters also need high-quality microphones to deliver crisp audio without any feedback.
We have had the pleasure of reviewing a few microphones from different brands and we're happy to check out the latest cost-conscious offering from Maono. In April we reviewed the $80 Maono AU-A425Plus which has a desk arm along with a portable tripod. If you don't need a desk arm, this model is significantly cheaper, but it also has less impressive specs.
My biggest complaint with this model is the low 60dB signal to noise ratio. If you constantly have background noise, it won't be a big deal. However, if you have silence the microphone will contribute some background noise on your behalf. I recently did a stream using this microphone and you can
.  Since the Jackbox Party Pack 7 game was providing background music, this was not an issue.
Highlights:
Strong Points: Easy to install and use
Weak Points: The low signal to noise ratio produces background noise
Setting up the microphone is pretty straight forward and easy to do. The USB model is plug and play and should work on all major operating systems without any issues. The tripod legs and microphone condenser are made of metal, but the base and tripod feet are plastic. Using the included pop filter is optional, but highly recommended. Installing it is pretty easy as you just need to slide it over the top. The microphone has a gain knob to adjust the microphone's sensitivity. You can adjust the microphone's angle by twisting the knob where the microphone and tripod connect.
This is a cardioid pickup pattern that focuses more on recording what's in front of it. While background noise is suppressed, it won't be completely eliminated. Cardioid microphones are ideal for streams, podcasts, and remote learning/meetings.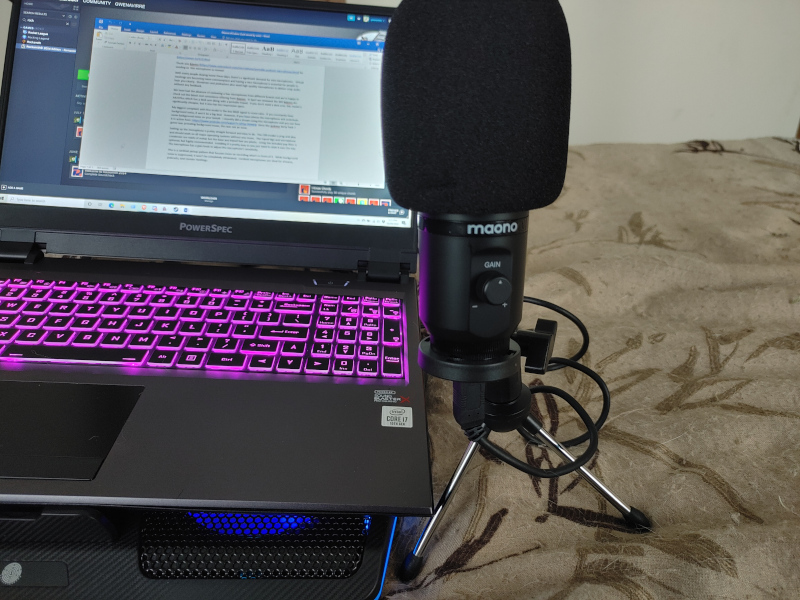 As an avid Rocksmith player, I like to test microphones out to see how well they work. In the past, I have had microphones not detect notes properly when tuning the instrument and if it can't get past the tuning, you won't be scored correctly when playing. Unfortunately, I could not even get this microphone to calibrate due to the background noise levels. In other words, don't use this microphone for Rocksmith!
Though the Maono AU-PM461TR is reasonably priced, there are better options out there. I still prefer the clarity of my $20 omnidirectional Fifine K667 and the USB counterpart that we reviewed, the K668. I use the Fifie microphone with the Maono desk arm from the A425Plus . Since the Fifine is omnidirectional it picks up more background noise, but it does so while contributing less noise of its own. When it comes to switch streams I use the Maono A425Plus which has a better signal to noise ratio than the AU-PM461TR. I haven't had any hardware issues, but it's good to know that Maono backs their products with a 6 month warranty.