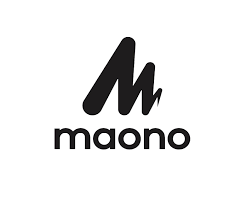 Hardware Info:
Maono Portable Rechargeable Mini Voice Amplifier
Manufactured by: Maono
Release date: November 7, 2020
Specifications:
126dB with a sound range of 10,000 sq. ft
Battery specification: 3.7V/1500mAh
Supports music format: MP3/WAV
Output power: 5W
Speaker impedance: 3Ω
Frequency response: 180Hz-19KHz Input: 5V=500mA
Max 10 hour battery life with 2-4 hour charge time
FM radio
MSRP: $27.99 
(Amazon Affiliate Link)
Thank you Maono for sending us a review unit!
We have many multipurpose gadgets in our house. I love cooking with my Instant Pot which can be a slow cooker, pressure cooker, rice maker, air fryer, dehydrator, and more. The Maono Portable Rechargeable Mini Voice Amplifier has many use cases too. It can be used as an FM radio, portable speaker, voice amplification system, personal karaoke device, and more!
As a parent, my voice never seems to be loud enough to reach my kids ears throughout the house and their headphones. With a sound range of 10,000 square feet, I have a much better success rate of nagging them. It's also effective on spouses.
By inserting a FAT32 formatted micro SD or USB drive with MP3 or WAV files on them, you can use this device as a portable speaker or personal karaoke machine. I like how it remembers where you left off when powering off and will resume the song you were playing when turned back on. There's a 3.5mm microphone jack that works with the included headset or any other preferred audio input device. If you still have a headphone jack on your cellphone, you can connect it to the 3.5mm auxiliary port to take advantage of the portable speaker.
Highlights:
Strong Points: A combination of many useful gadgets wrapped into a single device
Weak Points: Non-adjustable headset
Other than the microphone's positioning, not much adjusting can be made on the included headset. If it fits you, great. If not, you'll have to find a more flexible replacement. Unfortunately, this is easier said than done. Shortly after typing up this review my stupid cat chewed apart the cord of the headset and I haven't been able to get a standalone microphone or headphone/microphone combination to work in its stead. The rest of this device's design is simple enough and convenient. There's a belt clip and a lanyard belt ribbon included to make the device easier to carry. There are five buttons to repeat, rewind, play/pause, fast forward, and change the mode. The knob on top turns the device on and off and scans for radio frequencies. If you plan on listening to the radio be sure to extend the antenna!
For a mono speaker, the sound quality is decent. Don't expect much bass or depth though. The more you crank the volume, the more distortion you'll encounter. You can also expect to hear some feedback if you bring the microphone too close to the speaker.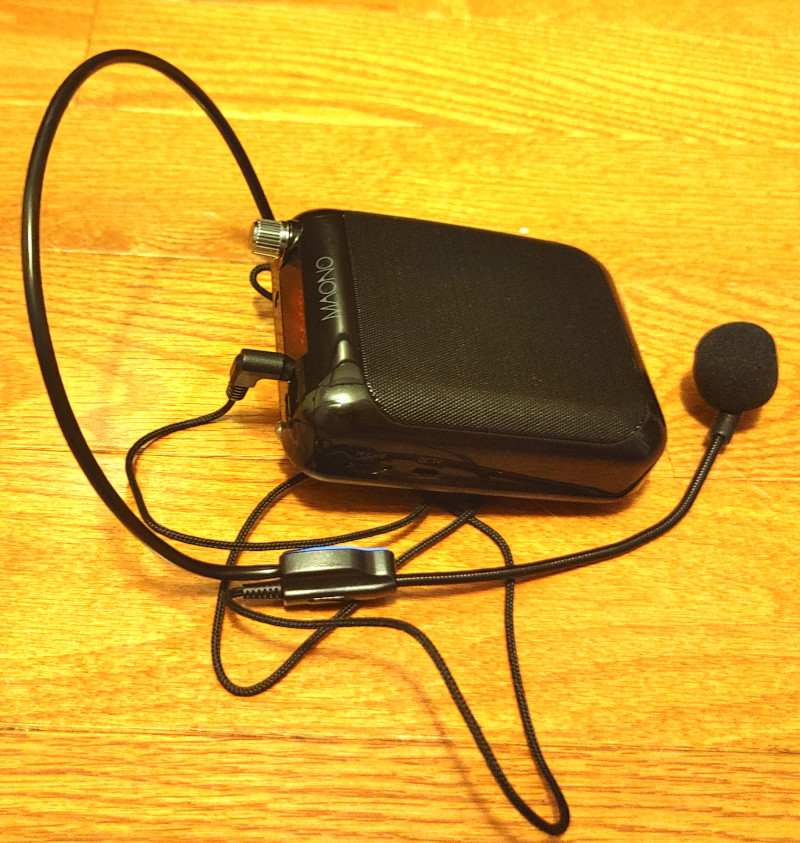 Since there is no headphone jack, this isn't a good personal mp3 player. If you don't mind sharing your music, it's a viable option though. The battery life of ten hours is pretty generous and it only takes a couple of hours to recharge it via USB.
If you're looking to share your music or singing skills, this $28 device is worth looking into. It's a handy amplifier for teachers, preachers, store salespeople, ignored parents and more. It's a decent radio too.