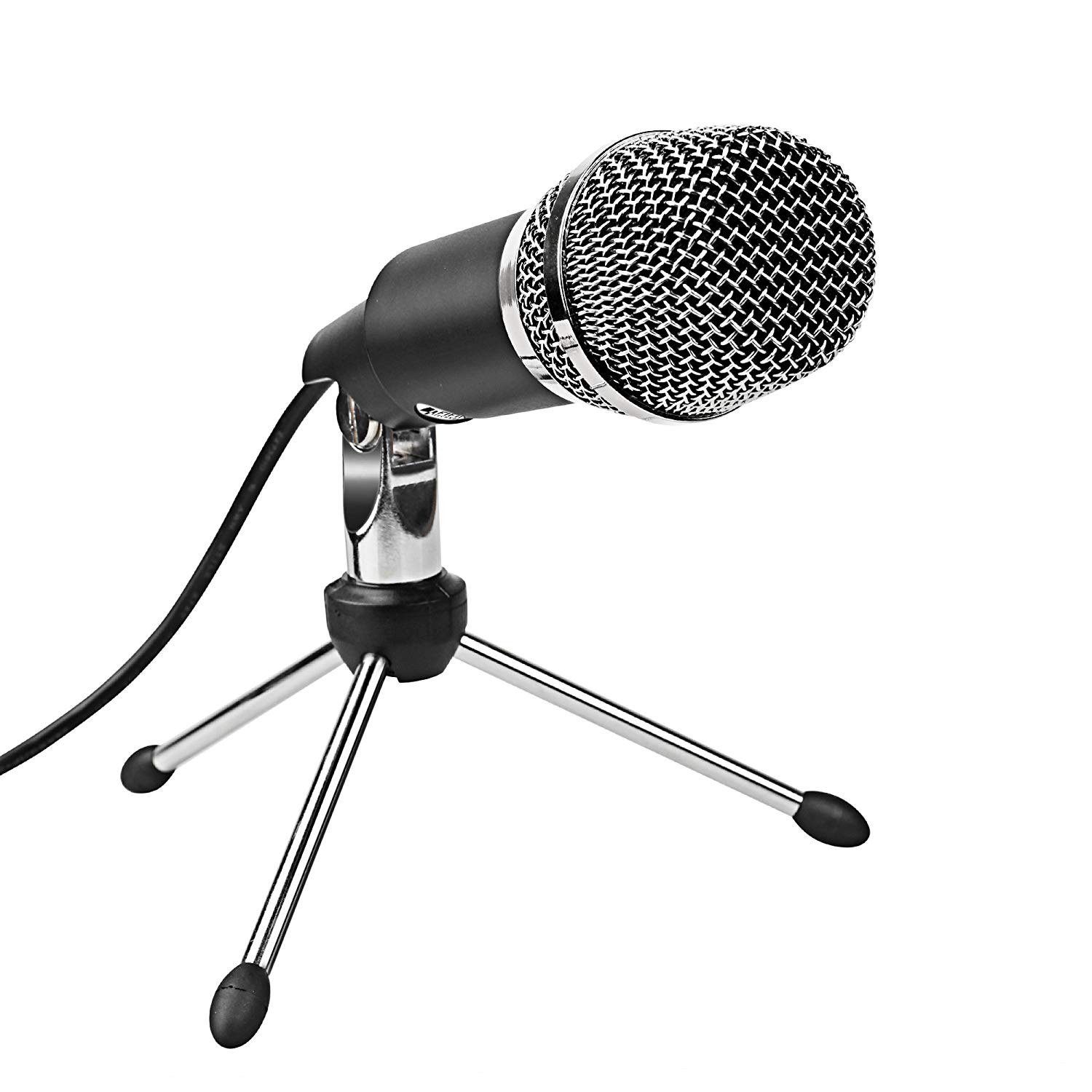 Hardware Info:
FiFine K668 USB Microphone
Made by: FiFine
Type: Condenser
Frequency Response: 50-16kHz
Connection: USB 2.0
Power supply 5V via USB
Price: $21.99
(Amazon Affiliate Link)
Thank you FiFine for sending us this microphone to review!
We've been doing YouTube, Twitch, and Mixer streams for a while. Back in our earlier days, we relied on headset microphones and our watchers commented on the poor audio quality. We ran a successful GoFundMe campaign for a better microphone and we bought a Snowball USB bundle that's no longer available on Amazon. Our viewers were happy with the better quality audio in our streams.
Though the Snowball microphone served us well, I was in the market for a 3.5mm microphone that would easily plug into my video streaming box and external Sound Blaster sound card. I picked up an $18 K667 FiFine microphone and was impressed with its better quality for a fraction of the Snowball's price!
Highlights:
Strong Points: Great audio quality for an affordable price
Weak Points: The manufacturer's website states that this is a cardioid microphone when it's an omnidirectional one 
When FiFine offered us a review sample of the K668 I was eager to check out the USB equivalent of the same microphone I have!  The USB version is a few dollars more than the 1/8" TRS connector version.  The USB model has unique hardware that Windows will immediately detect and install drivers for so it can work alongside or even without a sound card installed.  Just be sure that any recording or streaming software is set to listen to the correct microphone and that the volume is higher than Windows' default level of 17 (very quiet!).  
Like the 3.5mm model, this microphone comes with a sturdy metal tripod that screws in securely to the mic.  The body of the microphone is metal and is built to last.  The base of the 5.9 foot USB cable is shielded to protect it from some wear and tear.  Lastly, the included pop filter is a nice inclusion for better audio quality.  
The Amazon listing states that this microphone has an omnidirectional pick up pattern and according to our testing, that does seem to be the case. There are no preferred angles that sound better or worse when using this microphone. Omnidirectional is better suited for recording several feet away if necessary. The downfall to omnidirectional is that it can and will often pickup background noises like keyboard typing or animals/kids trying to communicate with you while streaming. A cardioid microphone is better for people streaming or recording at their desk. Though the manufacturer's website states that the polar pattern is cardioid, it certainly doesn't act like it.
For streaming, this microphone performed admirably. Better than the Snowball one we've been using for years. I had trouble playing Rocksmith 2014 with the Snowball as it couldn't detect the D notes properly causing me to not get past the tuning part. The FiFine K668 had trouble recognizing the high E notes. When I skipped the tuning portion (I tuned it manually) and proceeded to play a song that I would get over 95% accuracy on normally, I was in the 50 percentile range when using this microphone. If you're looking for a microphone to play Rocksmith 2014 acoustically, you'll want to look elsewhere.
For streamers or video conference callers on a budget, the FiFine K668 USB Microphone is a solid buy if you're not concerned about too much background noise interference.