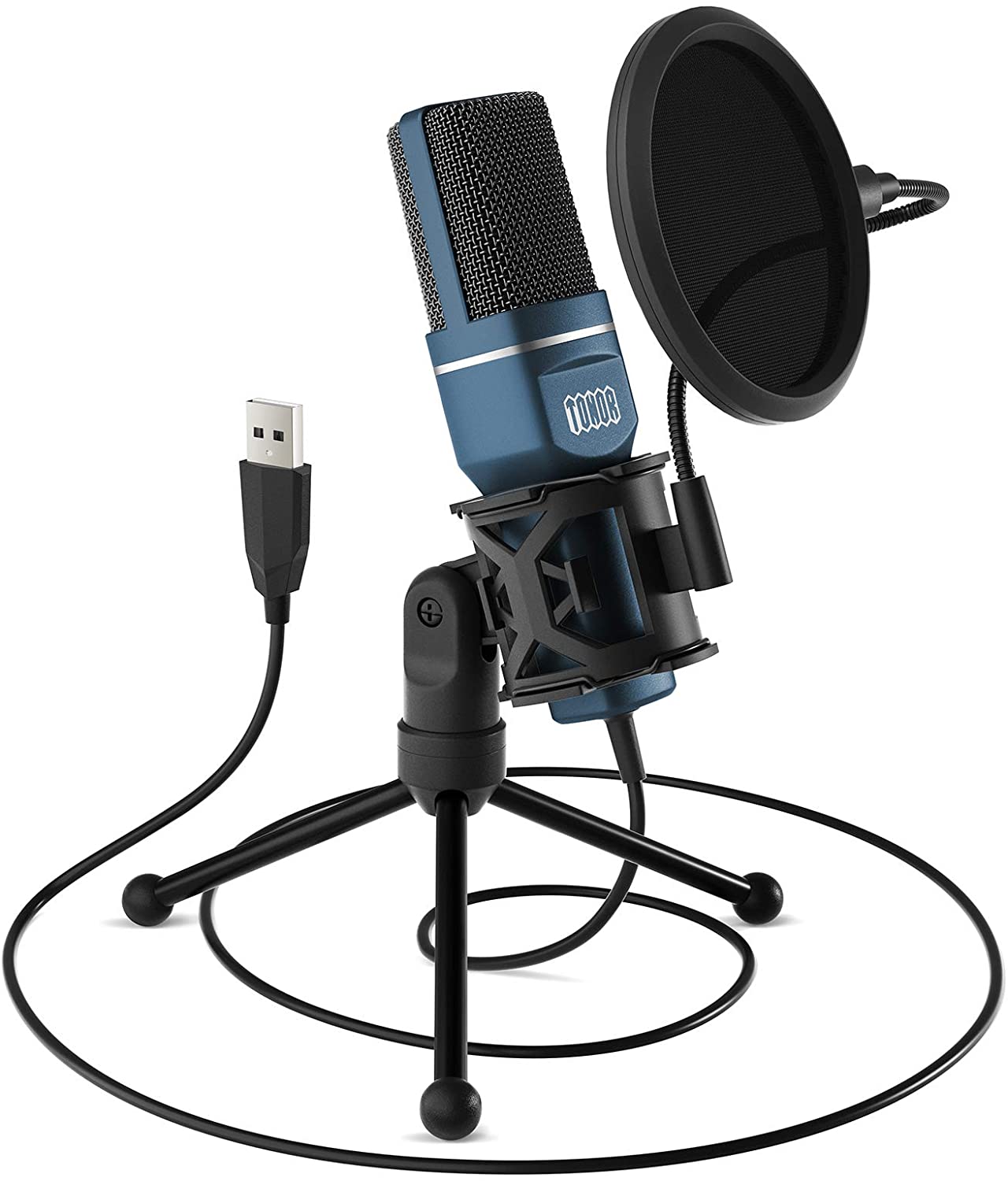 Hardware Info:
TONOR TC-777 USB Microphone
Manufactured by: Tonor
Release date: August 2019
Price: $41.99
(Amazon Affiliate Link)
Thank you Tonor for sending us this microphone to review!
We've been blessed with the opportunity to review microphones like the Fifine K668 and Maono AU-A425Plus. As a streamer, you need a quality microphone that is crisp, has low noise, and is not too quiet. If you can find those qualities at a low price, you're golden.
The Tonor TC-777 is a 100Hz-16KHz frequency response USB microphone that has a sample rate of 44.1KHz-48KHz. The bit rate is 16 bit and the output impedance is 680 ohms. The sensitivity is -38dB to 3dB. The only disappointing spec is the Signal to Noise (S/N) ratio of 56dB. Ideally, you want 79dB or more.
Highlights:
Strong Points: Solid construction; no drivers needed
Weak Points: Background buzz during silent moments
This is a cardioid microphone meaning that it picks up noise right in front of it instead of all around. This is ideal for podcasts and streaming setups. Make sure that the Tonor logo is facing you or you'll be at an audio disadvantage!
The construction is solid and the microphone comes with a metal tripod. Unlike other tripod setups we've reviewed, this one is not directly attached to the microphone. Instead, the microphone rests in a holder to reduce vibrations. The microphone comes with a foam cover, but you can remove it if you prefer to rely on the external pop filter. I left both in place for my setup.
Installation is super easy. You simply plug in the 1.5m USB cable and your operating system will automatically detect and install it without the need for drivers. This microphone works in Linux, macOS, and Windows. In Windows, be sure to adjust the microphone's volume as it defaults to 17%.
I used this microphone while doing a stream of Animal Crossing. When the game had audio or background music, the voice was crisp and clear. However, during any quiet or loading scenes, there was a noticeable background noise from the microphone.
I attempted to use this microphone in Rocksmith 2014, but it couldn't pick up any of the notes. The other microphones I've tested struggled with one note, but this one couldn't pick up any of them. Do not buy this microphone if you're planning on using it for Rocksmith!
The price is reasonable at around $40. However, I still prefer using my Fifine microphone which is half the price and has better audio quality. The Maono microphone is more expensive at around $60, but it comes with a desk arm clamp along with the portable tripod.
Though I'm not particularly impressed with this model, Tonor does have some higher-spec ones available that are worth looking into. With that said, the Tonor TC-777 is an Amazon best seller and has nearly 1500 reviews and a 4.5 star average. This model has a two-year warranty which is pretty impressive. Tonor also offers a 30-day money back guarantee just in case you're not happy with your purchase.