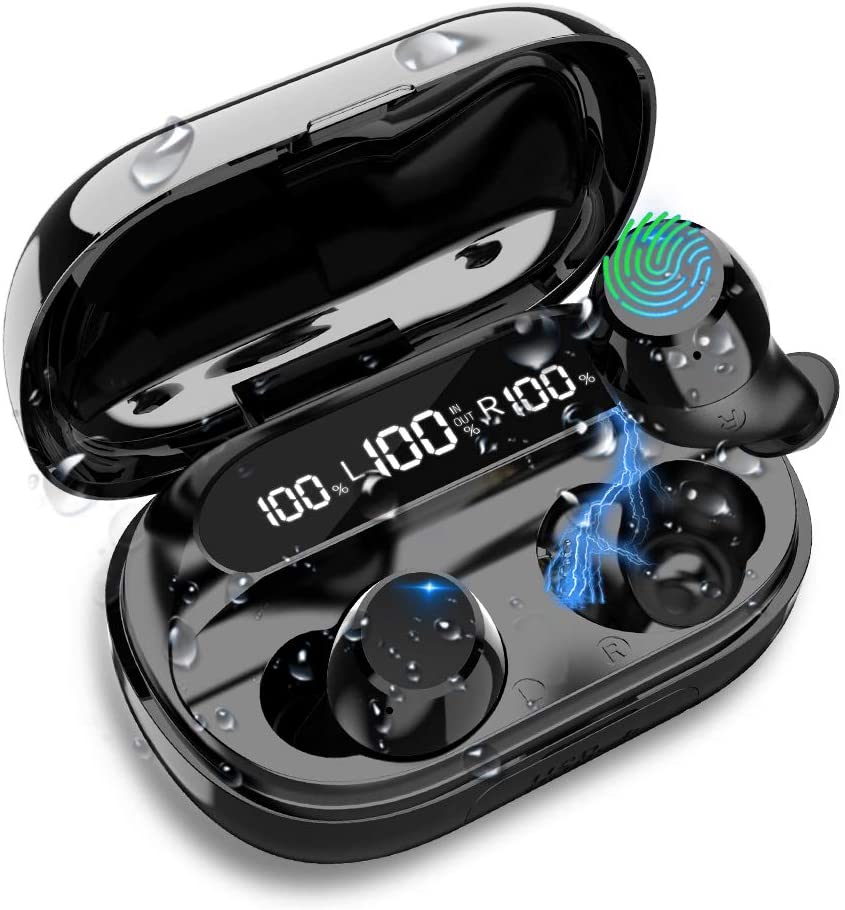 Hardware Info:
Motast TWS-S20 Wireless Bluetooth Earbuds
Specifications:
In-ear True Wireless earbuds
10mm driver
32 Ohm Impedance
IPX6 waterproof
CVC8.0 noise canceling
Touch controls interface
USB-A to USB Micro charging cable
Portable earbud case with built-in battery that doubles as a phone charger
Bluetooth:
Version 5.0
Distance: 10 meters
Pairing name: S20
Battery:
Headphone battery: 40mAh
Charging box: 2600mAh
Charging voltage: 5V
Talking/Music playing time: 6 hours (in my testing, closer to 4 hours)
Included in package:
Earbuds inside of the included charging case
1 foot long USB Micro charging cable
Instruction manual and warranty card
MSRP: $49.99
(Amazon Affiliate Link)
Thank you Motast for sending us this product to review!
Many cellphones no longer include a headphone jack, so Bluetooth headphones are becoming the 'new normal' for many. They are also convenient for those with an active lifestyle; let's face it - jogging, riding a bike, or mowing the lawn is a lot easier without wires. As a result, the demand for affordable, high-quality wireless Bluetooth earbuds remains high. And since most of us aren't ready to drop $200+ for some of the name brand ones out there, I'm really glad companies like Motast have stepped up to fill in the gap.
These Motast S20 earbuds are of the truly wireless variety, which means that there is no wire connecting anything - no wire from the earbuds to each other, or a battery or Bluetooth transmitter; everything is self contained in each ear. Interestingly, that also means that you can pair them separately, if you're not careful. Or maybe that's the intention if you want to give one to another person, for some single-ear listening.
Thankfully, these are really simple to pair; just open the case and they show up in the Bluetooth search feature of your phone. Or, if they've already been paired once, touch and hold for long enough and they go into pairing mode. It only takes a few seconds.
The most important part of any earphone is first and foremost sound quality and comfort. I am very happy to report that the sound profile is reasonably well balanced, depending on the ear tips you use. I found that the smallest tips had a tinny sound, the largest far too bassy for my preference, and the middle sized ones sound decent. While they sound even better with my favorite foam ear tips, you can't charge them that way. Since there is no room on the charge case for custom tips, I settled on the mid sized ones. While these are not the last word on detail, I find them more than 'good enough' for the vast majority of people.
Thankfully, these are really, really comfortable. I have worn them for hours with only occasional adjustments needed. They also sit in your ears in a way that really blocks out the sound. I'm not sure how much of that is purely isolation, and how much is the CVC8.0 noise canceling listed on the box, but it really is quite difficult to hear anyone outside. I don't hear any obvious noise canceling going on like you can easily notice on over the hear headphones, so I'm not sure if it's active or purely isolation at work. Either way, you are in your own little world while wearing these.
Highlights:
Strong Points: Sound quality is quite well balanced, and overall decent; price/performance is great; really comfortable; Bluetooth range and connection quality is really good; water resistance is helpful; noise isolation/canceling is very effective; while I'm not a fan of touch controls, these have a small enough surface to not be irritating

Weak Points: Weak Points: Quality control is hit and miss, as I noticed that one has a battery that lasts significantly longer than the other side; I hate touch only controls, and while water resistant, water will activate the touch controls even if you don't want it to; they didn't handle getting wet all that well; silicone ear tips are unusually small, so you can't use most off the shelf tips
It's also great that they tend to stay in place. I've swept the floor, rode my bicycle several miles with them in place, not to mention worked at my desk. They have fallen out only a handful of times in about a week, and not while doing anything particularly active, just when I was being clumsy putting them back in.
As you can probably tell, from a pure functionality/sound/comfort standpoint, these are really good. (I am audiophile enough to have some expensive headphones for my desk, and these don't compare – but for out and about these are more than good enough.) The microphone also works really well, which was a nice surprise. The noise floor is also great. My biggest complaint would be the average sound in part because they don't support a CODEC better than SBC, which is pretty much a baseline for most Bluetooth headsets. But really, this is minor unless you expect to do critical listening; these aren't good for that.
These earbuds claim an IP7 (or is it IP6?) water resistance rating. (The description has both listed.) I'm not sure what that includes, but I decided the true test is to wear them in the shower. And... I don't recommend it. One side continued to work, but the other was flaky for a day or two until they stopped acting up and are fine now. Also, water activates the touch controls. I had to fix them countless times to get through the podcast I was listening to. Thankfully, while I really don't like touch controls in general, these have a small enough surface that is touch sensitive that during normal use they were functional and reliable otherwise.
Overall, I'd say, considering their price, the pros of decent sound, a nice microphone, and comfort outweigh the cons of inconsistent battery life on my unit (the left ear lasts longer than the right), and annoying touch controls (you get used to it). I do hope they'll consider a future model with buttons, though – touch may seem cool, but it's just not as practical. I also would prefer a USB-C connector, and perhaps higher quality audio CODECs on future models.