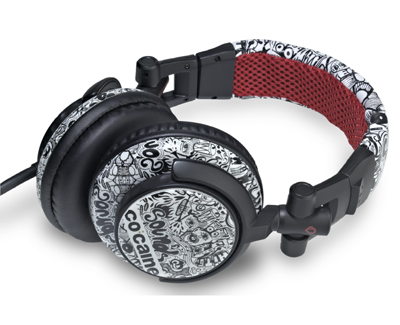 Specifications:
CO:CAINE Headphone Sound Clash (Urban Style)
Over the ear headphone (on the ear for some)
Closed back
50mm driver
Frequency Response: 20-20,000Hz
Impedance: 32 Ohm
Weight: 286 grams
Cable length: 1.5 meters
Connector: 1/8" stereo mini phono plug
Distinctive urban styling
MSRP: $49.99
Thank you HIS for sending us these headphones to review!
Besides offering great graphics cards, HIS has extended their product catalog to provide gaming accessories and audio peripherals. One of those products is this new product, the CO:CAINE headphone series.  This model is part of their Sound Clash line, in Urban Style.  CO:CAINE, a fairly new German manufacturer, seems to be trying to make its mark in the growing stylish headphone market.  They do offer some more simplistically styled models, but this one, the Urban Style model, is anything but conservative.  
The main frame of the headphone is black, and the primary color of the headband and ear cups is white, which all feature an interesting graffiti pattern on it.  This has neat drawings which include faces, words, and musical instruments.  There is a prominent display of the word 'sounds' on it as well.  Also prominent, on each outside ear cup, and on the top of the headband, is the company name, co:caine.  The colon is barely visible from a distance.  It's not really my style, but it is likely attractive to the target market.  I have to admit that at first I thought it was a rather strange brand choice, and it may be offensive to some.  It would not surprise me if wearing headphones like this could attract some attention that is not altogether welcome.  But the art on the headphone looks well done, and not cheap at all.  
And it's not only the art that doesn't look cheap.  The feel of the headphones overall is of a fairly high quality.  I wouldn't go so far as to say luxurious, but very solid.  The headband feel sturdy, the clips feel strong, and the cable is wrapped in fabric, instead of rubber.  It also has a sturdy metal plug.  It feels high quality, and that can mean a lot for product satisfaction, and in that area this doesn't disappoint.
Now, to the meat: How does it sound?  I'd say not bad at all.  I also have a Monoprice 8323 headphone (these are somewhat famous in audiophile circles as great budget 'phones) which also use 50mm drivers, and I have to say there is a strong resemblance between them.  Not identical, especially since I modded my Monos some, but more similar than different.  What does this mean?  It has a decent high to low end balance, with somewhat of an emphasis on the low end.  The bass is strong but not too bloated.  The high end is a bit weak, though to be expected on a bass heavy 'phone.  Overall it's a pleasant sound, though the kinds of music I listen to prefer a brighter top end (an area in which the Monoprice headphones also fall short, which is why I modded them).
The headband is reasonably comfortable, as are the ear cups.  Those with particularly large ears, like myself, may find that the cups don't fully encompass the ear. While I found them somewhat comfortable, they got irritating after a long time of use since they rested on my ear in places.  My wife, whose ears are quite the opposite, easily fit inside the cups.  She found them very comfortable.  The cups' foam is a bit harder than some, and not really soft and plushy, which is good if you want them to stay put, but less so if you are looking for a strong seal for better noise isolation.  On the other hand, with a looser fit they don't seem to make my head sweat as much as my other headphones do.
These headphones are also very adjustable.  Not only do they adjust the size up and down, but they also have DJ-style rotatable and flippable cups.  In line with other aspects of these headphones, they show some quality in construction here as the cup swivel is spring loaded, so they naturally return to a normal, on-head position.
I opened them up to see if these have any modding potential, and I think they do.  I have not tried this yet, but after removing the ear pads, I found a 1/4" thick piece of foam in front of the driver, between the shell and the cup.  If this was removed, the highs would likely sound more prominent.  It is possible that this could affect comfort if your ear touches the padding, however.  Inside of the cup itself, you could probably also add some cotton or other padding to reduce rear reflections if you are so inclined.  It would tighten up the bass, though while I don't think these sound that flabby, it may help if you feel it needs it.  Putting back on the ear cups is not that easy though, so be sure you are committed before taking one off.
The HIS CO:CAINE Sound Clash headphones are really not bad.  They have good build quality, and a pleasant, if bass-heavy, sound.  While styling and branding are personal choices I can't answer for you, what you get out of the box is solid.