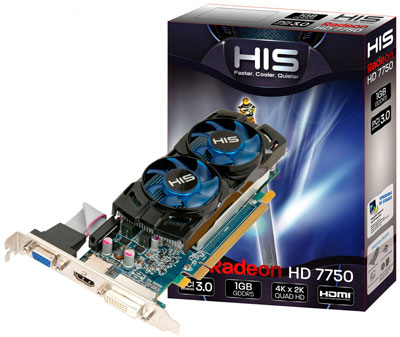 First of all, thanks a lot to HIS for giving us the opportunity to review this video card.
About HIS
HIS is a graphics card company that primarily builds AMD/ATI-based products. They are a Christian company as well. According to their mission statement.HIS has proven to offer far superior, cooler, quieter, and faster graphic cards than any other leading rivals. Since 2012 they have earned over 1400 awards. Their ethical business practices and commitment to their clients, vendors and God is something that we can agree with at Christ Centered Gamer. Even so, this review is based on the quality of the product reviewed; no unnecessary bias has gone into the review process.
Not to be confused with our previous 7750 review here, this review is for their low profile 7750 product. The video chip, its speed, the RAM quantity and speed, and the specifications, are exactly the same as the other card in that review. Indeed, that review has everything you need to understand how the performance of this card compares to others in its class. Some of our benchmark numbers were taken from that review unchanged, since a site such as ours doesn't always have cards on-hand for long periods of time. (Thank you to the many brothers and friends who lend us cards when a major video card review comes through!)
As a result of this, most of the scores are still using older drivers. This newest card, the 7750 Low Profile, were taken with the latest stable driver at the time of testing, Catalyst 12.10. If you want to see how far along the AMD drivers have come since the 12.1/12.3 drivers used in the last comparison, just check these benchmark scores against our last 7750 review linked above.
Since we still have access to the older HIS HD7750, we decided to have a little bit of fun and test the Crossfire results. Since 7750 Crossfire results are less common than their higher end brethren, and the 7700 series does not use a sedicated Crossfire connector but uses the PCIe bus, we thought it would be fun to see how well it does. We also used the latest Catalyst Application Profile available at the time of testing for the Crossfire results.
The real difference between this video card and the previous 7750 is the form factor. This one is low profile. The heat sink does take up two slots, but barely so; if it is near the outside of most cases, it would be likely to fit. I now use it inside our Shuttle XPC, which uses a mini-ITX motherboard, in an HTPC fashion where it fits and works just fine. The smallest mini-ITX cases may need a bit more room, but most standard low profile cases will work without issue. It's short length-wise as well. Despite having two smaller fans, it was never audibly loud enough on its own to overpower the CPU fans on either of the systems I tested it on. I don't have a passively cooled system or a measurement system available to give measurements with, but it seemed serviceably quiet to me. HIS rates it at less than 28 decibels, which is very quiet indeed. They do offer a passively cooled model for those who prioritize even lower decibels more than size, as the heatsink on it is quite large. Being the most powerful GPU available (or at least that I am aware of) that does not require external power, it's great to see HIS expand their offerings for this market.
What good is a video card review without benchmarks? Here are the contenders:
The Comparison
HIS HD 7750 Low Profile
800MHz core clock

1GB GDDR5 128bit interface

Memory Clock 1125MHz

PCI Express 3 support

DirectX 11.1 support

Shader Model 5

OpenGL 4.2 support

HDMI 1.4a, DVI, VGA, HDTV 1080p support
HIS HD 7750 x2 in a CrossFire configuration
HIS HD 7870
1000MHz core clock

2GB GDDR5 256bit interface

Memory Clock 1200MHz

PCI Express 3 support

DirectX 11.1 support

Shader Model 5

OpenGL 4.2 support

HDMI 1.4a, Display Port 1.2, DVI, HDTV 1080p support
HIS HD 7770
1000MHz core clock

1GB GDDR5 128bit interface

Memory Clock 1375MHz

PCI Express 3 support

DirectX 11.1 support

Shader Model 5

OpenGL 4.2 support

HDMI 1.4a, Display Port 1.2, DVI, HDTV 1080p support
HIS HD 5570
650MHz core clock

1GB GDDR3 128bit interface

Memory Clock 1800MHz

PCI Express 2.1 Support

DirectX 11 support

Shader Model 5

OpenGL 3.1 support

HDMI, DVI, HDTV 1080p support
Asus GTX560 (factory over clocked)
810MHz core clock

1024MB GDDR3 256bit interface

Memory Clock 1002MHz

PCI Express 2.0, takes 2 slots

DirectX 11 support

OpenGL 4.1 support

Dual DVI
Benchmark System
Intel Core i7 860 2.8GHz

Gigabyte P55-UD4P motherboard

OCZ 8GB DDR3-1333

Seagate 160GB 7200RPM

Creative Labs X-Fi
We ran the benchmarks using a 64 bit version of Windows 7 Professional. Windows gave the 7750 a 7.4 rating in desktop and gaming graphics. With the exception of 3DMark 11, most of these benchmarks were ran at 1920x1200 wide screen resolution. The NVIDIA driver used was 285.62 and most of the ATI cards used a beta 12.1 driver provided by HIS, except for the 7870, which used the 12.3 driver. As mentioned previously, the 7750 and 7750 Crossfire results used the newer 12.10 drivers.
3DMark 11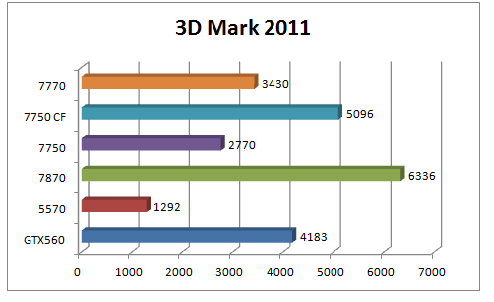 These results were obtained using the performance test at the default resolution of 1280x720. The 7750 performs as expected, with the Crossfire results putting in a respectable showing. If this is anything to go by, the 7870 (and probably 7850 too) standalones are a better value than two of these, but we'll see if that changes.
Heaven Benchmark 2.5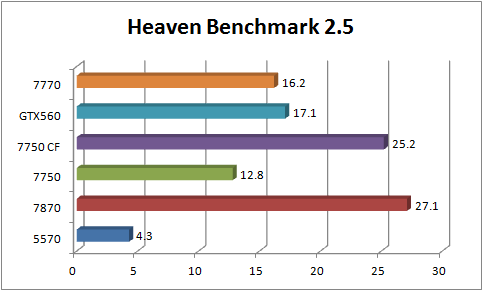 The Heaven benchmark is not only very punishing to video cards, but it also seems to scale quite well to Crossfire. It scales almost 100%, which is about as good as theoretically possible. A single 7750 performs as expected.
Cinebench 11.5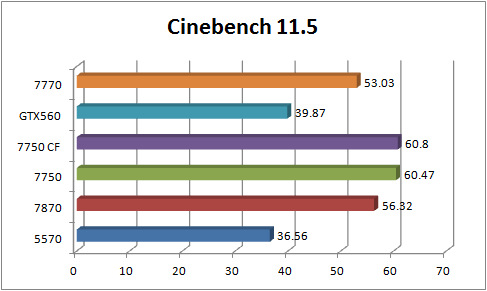 These video cards seem to pass the threshold into the land of CPU bound. The very small variations can likely be chalked up to small driver and simple results variations.
Battlefield 3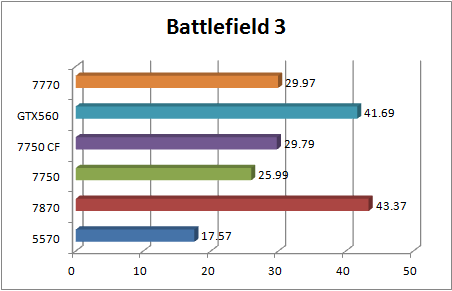 With the exception of the outlier NVIDIA card, the AMD cards all performed in their expected performance brackets. The Crossfire helped a small amount. This game can crush many systems on maximum detail. I wouldn't want to play this game at this resolution and detail level on these cards, single, or in Crossfire.
Skyrim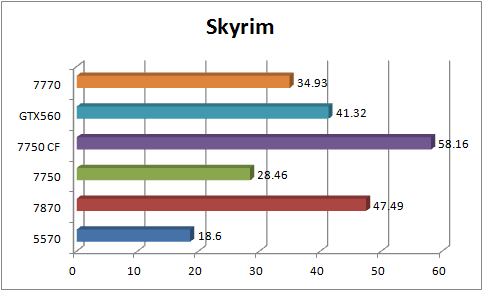 This game scaled greater than 100% with Crossfire, which should be impossible, but there is it. It ran quite well on this configuration. In a single card configuration, it was borderline playable. Fortunately, the action is far less frantic than many other games, so with a little tweaking, it should be fine.
Dirt 3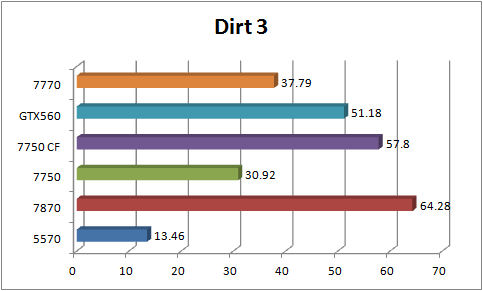 This game ran pretty well across the board. The single card framerate crossed the acceptable 30FPS mark, while Crossfire ran quite well, approaching the 7870. With a little tweaking of the settings, I think a single card would be fine in most cases.
Crysis Warhead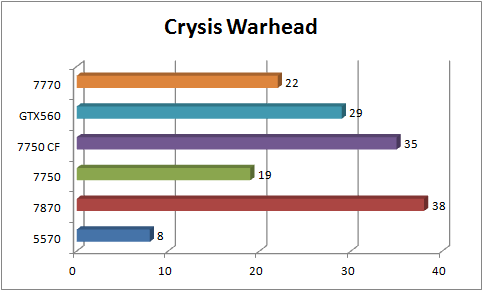 Ahh, the good old 'Can it run Crysis?' question. Not quite, though Crossfire helped quite a bit here.
Street Fighter IV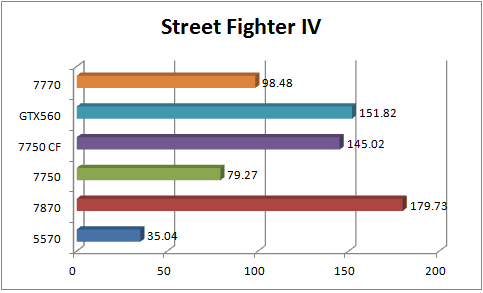 This game runs very well on the 7750, and Crossfire just sweetens the deal.
Conclusion
The HIS HD 7750 Low Profile is a nice card for its intended purpose – one of the best small video cards available. It's quiet, fits in most small cases, and has very good performance considering the compromises. Also, AMD/ATI's HDMI support for Home Theater PC duty works quite well as always. I am using this video card in my HTPC now, and I am very glad to have it there. And for only around $100, for a high performance HTPC, it's a no-brainer.