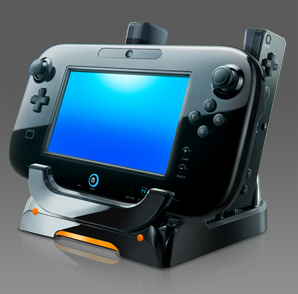 Game Info:
Nyko Charge Station U
Developed by: Nyko
Release Date: January 8, 2013
Available for: Wii U
Price: $35
Thank you Nyko for sending us this product to review!
Our family uses several Nyko products and we have been very happy with the extended 3DS batteries, wireless Wii sensor bar and Rockband guitar from them.  As parents of young children, we have a lot of rechargeable batteries in the house. Our Wii U system alone takes any where from eight to twelve batteries depending on how many controllers are being used.  (4 for the sensor bar + 8 for the controllers)
The Charge Station U is a welcome addition to free up four of those batteries for other toys or gaming accessories.  The Charge Station U includes the easy dock base, two rechargeable battery packs and two replacement back covers for the Wii remotes.  The back covers are necessary to make a connection between the base and the replacement battery packs. 
Highlights:
Strong Points: Easy to setup and easy to use.  Rechargeable batteries are much more convenient.
Weak Points: While the charging LEDs are helpful, they are distracting for watching movies in dark. 

Our Wii U has two black remotes for it.  One is a Nintendo model while the other is a third party brand, Power A.  The conversion was flawless for the Nintendo controller, but the back cover will not fit on the Power A one. I had to convert over a white Wii remote to complete our setup.  I didn't have any Nyko brand remotes to test but I would be surprised if their products were not compatible with each other.
Another drawback worth mentioning is that the motion plus add-ons and rubberized covers have to be removed for charging.  I really don't trust my kids' coordination to have them play sans rubberized remotes.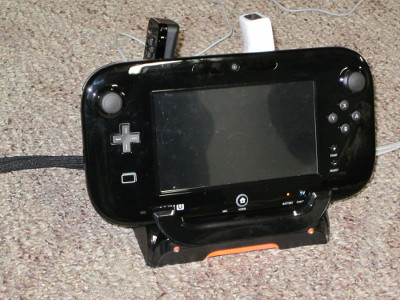 With that said, the Charge Station U is well designed and easy to use.  The Wii U pad fits in nice and snug.  When inserting the Wii remotes, you may have to move the wrist straps out of the way to get a good connection.  The LED will glow orange when charging and blue when charged. Each device has their own LED.  While these LEDs are helpful, they can be distracting when watching a movie in a dark room.  We plan on unplugging it while we watch movies in our home theater.
The battery packs are NiMH and boast twenty-five hours of game time according to Nyko's website.  The price for this system is $35 which is reasonable.  There are other brands available that are a little cheaper so be sure to shop around.  Overall I'm happy with Nyko's Charge Station U and look forward to always having a fully charged Wii remote every time I play. Even if I have to spend a couple of minutes installing the Motion Plus and protective covers, it sure beats waiting around several hours for batteries to charge.