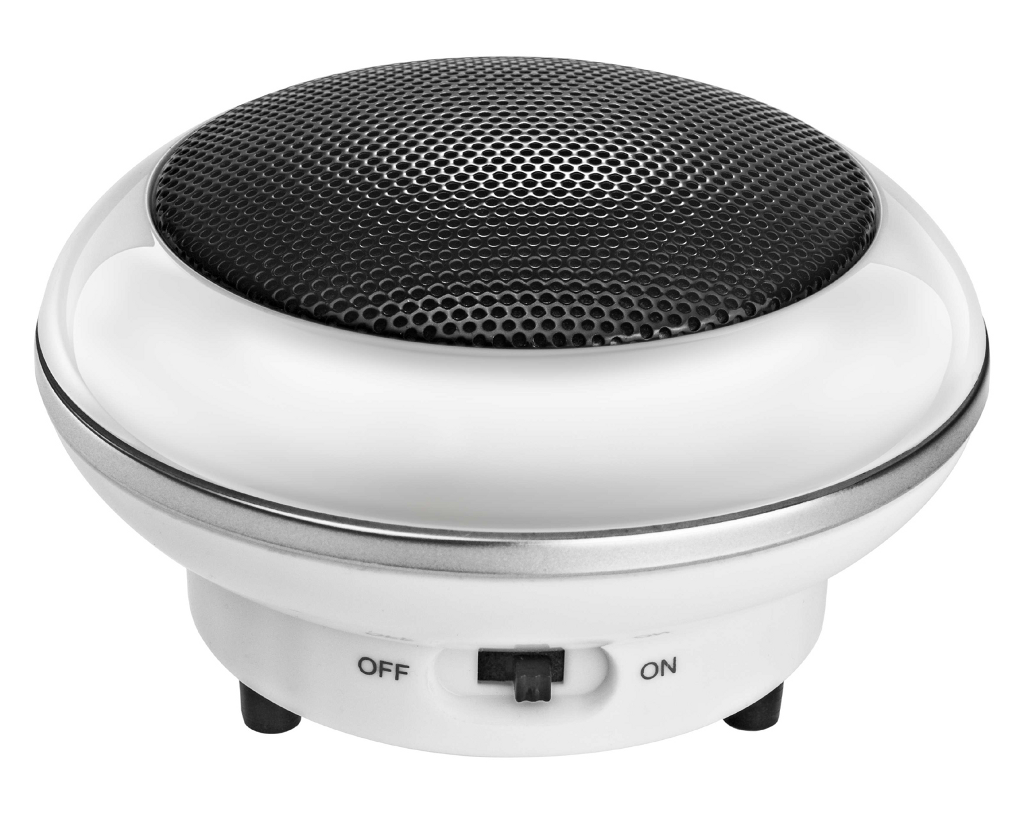 Speaker Info:
Specifications
Dimensions: 80mm diameter circle, 50mm tall
1.5" full-range driver (38mm)
3.8 Watt Class D amplifier
Frequency Response: 80-20,000Hz
Battery: Li-Ion 3.7 V, 500 mAh 
Charging voltage: USB 5V
Weight: 90g
Controls: On/Off switch, LED indicator for On/Off and charging status (no volume control)
Connectivity: Integrated 1/8" stereo plug for audio input, microUSB connector for charging
MicroUSB charging cable and cloth carrying case included
MSRP: $29.99
HIS has decided to branch out beyond just their core competency – making great video cards – and into the audio realm.  One of them is this new product, the Wavemaster MOBI.  This is an extremely small and portable speaker, with an integrated battery, an on/off switch, a microUSB charging port, and a built-in 4" wire with a 1/8" headphone-style plug for use with your favorite portable devices.  I like that the bottom of the device has a wire slot that is a perfect fit for the integrated wire to push into, for maximum portability.
It's a fairly attractive little device, with smooth curves and decent build quality for something so light.  It has a pop-out bottom that feels a little loose, but it works well.  It also has three rubber feet which do a good job of holding it in place on a table.
The pop-out bottom may seem strange and gimmicky, but it's actually critical to the sound quality.  And what you get here is very surprising: this little speaker really pushes a quite listenable, almost full-range sound, into a room at a surprisingly high volume.  You can hear it clearly a room or two away!  And I believe the frequency specifications are honest, too.  80Hz, while missing the first two octaves, is remarkably good in such a small speaker.
The reason for the pop-out bottom is simple: speaker drivers, particularly bass-reproducing ones, work best when they have some kind of chamber to work with them to both resonate with, and provide various levels of damping to, the driver.  Speaker design is an incredibly complex topic, but suffice it to say this: without a bigger box, speakers simply have no chance of producing bass at higher volumes.  And you can clearly hear the rather dramatic effects while playing music: if you push the speaker back in, the sound gets thin and tinny.  With it out, it sounds remarkably full.
3.8 Watts may not sound like much, but the fact is, each doubling of watts increases the output of any speaker by 3 decibels.  So, if you take the base efficiency of the driver, which is typically measured at 1W, you get just shy of 6 additional decibels.  If the driver has an efficiency of say 75db/W, this amp would take it up to around 81db.  Not bad!
My experience using this amp was that it surprised me.  It is much louder, with better bass, than my laptop speakers, cellphone, or tablet.  And my laptop has an integrated subwoofer!  If you put too strong of a signal into it (I have a headphone amplifier I was able to test with), it will distort pretty badly.  This is not too surprising; all devices can be driven to clipping.  It works great for its intended application: allowing you to share something from your portable device.  You may need to drop the volume down a notch or two from maximum to get the best audio quality, though.
The battery life is reported to last 10 hours according to specifications, and with the built-in lithium-ion battery, you can always count on it working when you need it.  If you find yourself often sharing something from your phone or mp3 player and being frustrated with the volume, I highly recommend you give this product a look.  It may surprise you, too.  As for whether it is worth the price I cannot say, as I haven't compared it to its competition.