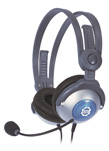 Hardware Info:
Kidz Gear Headset 
Specifications:
On the ear headphone
Closed back
30mm driver
Frequency Response: 20-20,000Hz
Cable length: 1.5 meters
Connector: 1/8" stereo mini phono plug (TRRS style for the headset)
Bendable boom microphone attached
Volume adjustable slider
Volume limiting attachment available
Optional carrying case and headphone audio splitter available
MSRP: $29.99
Thank you Kidz Gear for sending this to us for review!
Kidz Gear is a company that has been making products aimed at children for 15 years now.  They have had a popular headphone for kids for several years, and they recently added a boom mic for this new model.  It is aimed primarily at smartphone and tablet use since it uses the TRRS (tip/ring/ring/sleeve) connector instead of the PC standard of two separate cables for headphone and mic.  Nevertheless, adapters are readily available online or at RadioShack.
The main frame of the headphone is available in several different colors, including gray, pink, orange, blue, green, and purple.  We received the gray one for review.  The earphone cup itself it either silver or white depending on the headband color.  The plastic headband is fairly thin, very adjustable, and stretches really easily.  While this may sound like a problem, it works well because it can easily fit the smallest child (it's designed for 2 years old and up) or even my large adult head.  The Kidz Gear logo is visible on the left side.  All in all, it's designed for kids first and foremost, and it does that job well enough.  Kids like the design – my kids fought over them almost immediately.
While keeping expectations reasonable, I anticipated them sounding much worse than they do.  They are somewhat bass heavy, while still having a reasonable treble.  They are not going to replace an audiophile's cans anytime soon, but they aren't meant to.  They have a serviceable sound for a reasonable price.  No complaints here – and they sound better than one of my son's cheap headphones.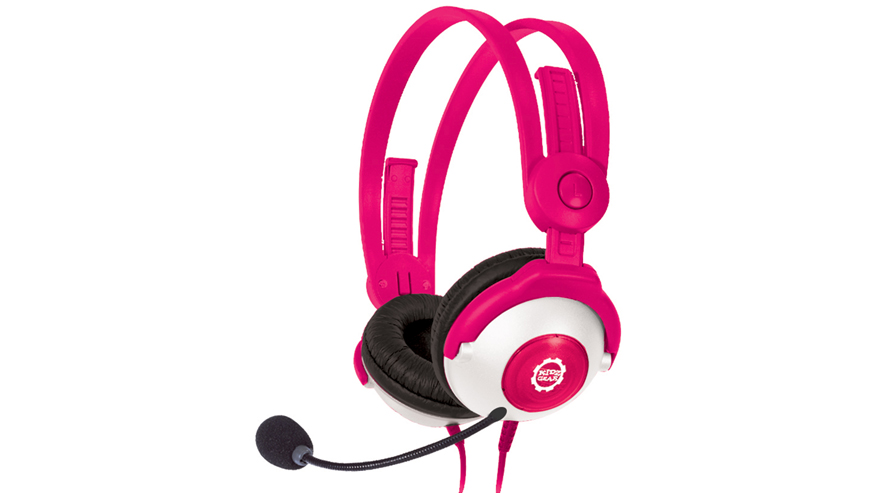 Highlights:
Strong Points: The sound quality is reasonable, the mic actually performs really well, and the volume limiting features are great
Weak Points: They do not do a very good job of isolating the background noise
The headband is reasonably comfortable, as are the ear cups.  I was surprised that given how much they had to stretch to fit my head, they did not hurt my ears.  My 8 year old said that they were very comfortable for her.  They are very light, which probably contributes to this.  On the other hand, they do not do a very good job of isolating the background noise, as they do not form a seal around your ears in any way.  Then again, depending on the circumstances, this could be just as much of a good thing as a bad one.
The main feature for kids that really stands out, other than their size, is the ability to volume limit them.  They have a volume slider, but it's not just that. While that is certainly useful, they also sell a volume limit cable that you plug in between the audio source and the headphone cable.  This approximately 5" cable does a great job of cutting out about 20% of the audio volume, with no noticeable loss in quality.  When I measured it with my ohm meter, it registered over 460 Ohms!  I also tried to see how loud I could make things go with my RadioShack SPL (sound pressure level) meter.  I used my PC, which is an already loud source, and piped it through a headphone amp.  This combo registered close to a highly distorted 120dB without the cable, but with the cable, it registered around 100dB.  It certainly performed as advertised.  No 'normal' input source will ever register volumes up that high; I would say the 80-90dB max is as advertised.  With my PC as a source (with no amp), it registered 96dB without the cable, and about 84dB with it.
The Kidz Gear Headset Headphones For Kids is a great option for any kid who needs a headphone.  The sound quality is reasonable, the mic actually performs really well, and the volume limiting features are great when trying to keep your kids ears safe.  Highly recommended!  Nowadays, there are even headphones that make kids fall asleep much faster. If you are young parents, you should check out Headphones Lab so that everyone can enjoy the rest of the day without crying noises.