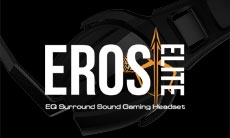 Hardware Info:
Gamdias Eros Elite Gaming Headset
Specifications:
Over the ear headphones
Closed back
50mm driver
Frequency response: 20-20,000Hz
Impedence: 32 Ohm +/- 15%
Sensitivity: 108dB +/- 3dB at 1kHz
Cable length: 1.2M with 1.6M extended Y-plug cable
Connector: 3.5mm 3-band (integrated mic for mobile/PS4) with dual 3.5mm stereo extension cable (for PC)
Detachable microphone
Replaceable earpads (included: one leather-like, one fabric)
Volume control and mute switch on the provided extension cable
MSRP: $59.99
(Amazon affiliate link)
*Advertising disclosure* - As of this review, Gamdias is a banner advertising client.  The review is not influenced by this partnership.
Thank you Gamdias for sending us this headset for review!
Gamdias has been in the hardware making business for a relatively short time, and has focused mostly on PC gaming peripherals in that time, and we have several reviews here on Christ Centered Gamer.  Among these products are mice and keyboards, but up until now, never headsets.  We have had the opportunity to review quite a few headsets recently, and being a bit of an audiophile myself, I look forward to it.  It's always fun to see what each manufacturer prioritizes in their designs.  But this is our first opportunity to see Gamdias' approach to audio, so I jumped at the chance.
At first glance, the thing that immediately came to mind is how 'gamer-y' it looks. And how plastic.  Like many Gamdias products, it sports aggressive styling, though thankfully mostly black except for the logos.  It has an all plastic frame, and I wonder how durable it will be as a result.  Thankfully, I have not had any issues in the time I have had it, but I would not leave this around to get dropped or sat on as I doubt it would survive the experience.
Highlights:
Strong Points: Much better sound quality than many competing headsets; light weight; replaceable earpads; flat, tangle-free cables
Weak Points: Durability uncertain, with an all plastic headband that's thin in places; my large noggin barely fits, stretching the elastic quite a lot; earpads are a bit small for my larger ears; my preference would be for a bit more treble extension; microphone requires maximum boost to be usable
There is a padded, elastic leather-like strap that is attached to the main body that gently holds these onto your head.  If your head is smaller/normal sized, like my wife, you will find these to be very light-weight and comfortable.  If you are like me and have a rather large noggin (something has to hold all that stuff up there!) then you may find them a little tight with a bit more pressure on your head than is comfortable.  (According to a random online hat sizing chart, my head is between XL and XXL size.)  At least they somewhat fit – I have reviewed a pair that would not fit on my head at all.
Despite this, I still found a lot to like.  First of all, they include both padded and leather-like earpads.  It is rare for headphones to offer both, and there is quiet an aftermarket community about what earpads from a competing headphone fit and improve sound quality or comfort on a favorite headphone.  Gamdias makes this easy by offering both major types in the package!  The leather ones were slightly larger for my matching large ears, though I prefer the sound quality of the fabric pads a bit more, as it tightens up the sound a bit.
The best part of this headset, by far, is the sound quality.  While they don't quite have the sound signature that I prefer, they are by far the best sounding headset we have had come through here in quite some time as of this writing.  I would like a bit more treble extension, but overall music doesn't sound overly bloated on the low end like much of the competition.  It's not perfect, and I still prefer my headphones, but listening to these is still a pleasure.  They are also easily opened and modifiable for those (like me) who like to tune things to your liking.  I imagine a little padding or stuffing could go a long way towards making these sound even better.  Even still, it was refreshing to put these on and be able to easily hear every instrument without difficulty.  They also have a decent soundstage for a closed headphone.  Bravo, Gamdias!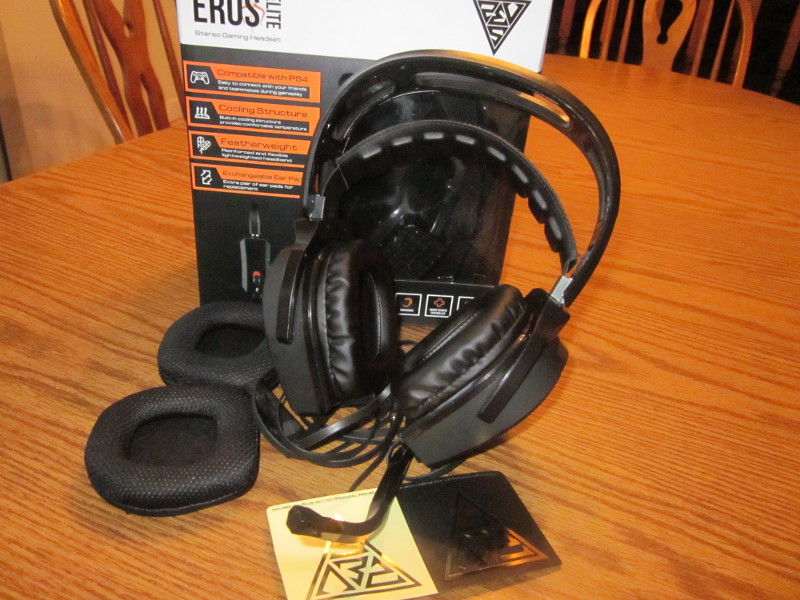 Unfortunately the microphone isn't to the same quality level as the sound.  I had to set the microphone boost to maximum in Windows for my partner to be able to hear me at all in Steam voice chat.  It did work okay for my mobile device, however.  I also found that the detachable microphone, while certainly a good idea, was far too eager to detach, even while in use.  It didn't take much more than an accidental brush to knock it out.  It has a standard 3.5mm plug on the side of the left earphone for the mic to plug into.  Unfortunately, another mic I had available would not work when plugged in there.  I suppose a small amount of hot glue would be all you need.
The rest of the wiring is pretty nice.  While the cable is not detachable, it uses the flat tangle-free wiring style, which I have come to like.  The extension and PC adapter cord, which also includes a volume dial and headphone mute switch is also very nice.  The plugs also seem sturdy, and not likely to break anytime soon.
Gamdias' Eros Elite headset has a much more balanced sound than many headsets that I have had the opportunity to review.  For that reason, if the price is right, I would highly recommend you to check out this headset.  It's unfortunate that the microphone has a lot of room for improvement, but it does work.  I also wish it felt a bit more durable, but if you take care of it I don't expect issues.  Despite its flaws, good sound quality goes a long way in making up for them.  For that reason, I highly recommend you consider the Gamdias Eros Elite for your next gaming headset.