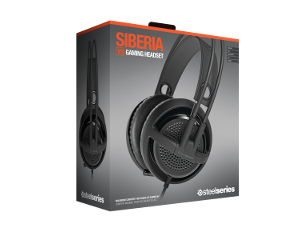 Hardware Info:
SteelSeries Siberia V3
Specifications:
Over the ear headphone
Closed back
Frequency Response: 10-28,000Hz
Impedance: 35 Ohm
Sensitivity: 80 dB
Cable length: 3 feet
Connector: 3.5 mm & dual 3.5 mm PC Adapter
Retractable microphone with 50 – 16000 Hz Frequency Response and -42 dB Sensitivity
Microphone mute switch
MSRP: $99.99
(Amazon Affiliate Link)
Thank you SteelSeries for sending this to us for review!
SteelSeries is a gaming peripheral company that manufacturers mice, keyboards, surfaces, controllers, and gaming headsets.  This is my first time trying out a Siberia headset, so I cannot compare it to previous iterations; according to other reviews online, the V2 was known for its sound quality.  The V3 series was re-designed from the ground up, for both comfort and sound.  SteelSeries is so confident in their build quality that they are offering a 30 day money back guarantee if you buy it from their website.  Alternatively, you can buy it from Amazon for $30 less.
There are two color variants: all black, or white with black accents.  For forty dollars more you can get customizable LED lights on the outer ear covers.  There are two head straps, and the innermost one is designed to adjust automatically.  Sadly, my head is large enough that I can't use this headset without more available expansion.  For that reason alone I would have sent them back on SteelSeries' dime.  For the purposes of this review, I moved the adjustment strap behind my head, where I was able to get a reasonable seal around my ears.  Getting a good seal is critical for deep bass.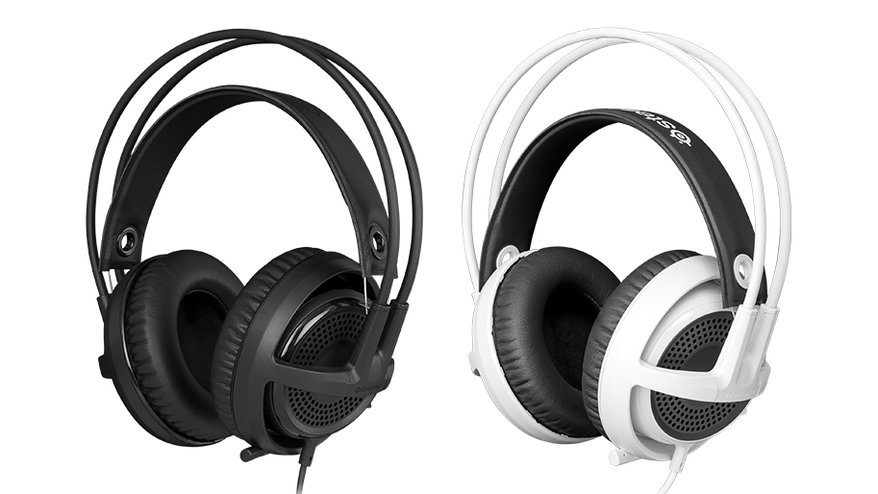 Highlights:
Strong Points: Comfortable fit; retractable microphone; good positional awareness; mic has good gain, and a handy mute switch
Weak Points: Does not stretch enough for gamers with big heads; audio cable is not detachable from the headset; bass heavy, with recessed highs; no hardware volume control; microphone has poor bass recording, which makes male users sound a bit squawky, but easy to understand
The ear pads are very comfortable, and fit my large ears and my wife's small ears equally well.  Since they are closed back headphones, you may not hear outside noises as you would with open back ones.  They have no active noise canceling.  I do wish that more headphones would adopt removable cables, since it's so common for cables to be pulled, and I love being able to pick the cable of the length of my choosing.  Unfortunately, this one is built in.
The microphone has an appropriate amount of gain and is reasonably clear.  It seems to work better for female rather than male voices, since the bassier frequencies don't come through as well.  It's well designed and works flawlessly when using Twitch, TeamSpeak, Skype, and other voice chat applications.  The microphone is adjustable and does not have to be extended to be used.  I learned the hard way that it should be further away from my mouth to avoid picking up every breath I took.  There is a mute switch to easily disable the microphone.  I wish there was a hardware volume adjuster, but sadly, there is not.
The build quality is fairly good.  It seems like it could survive a fair amount of use.  My only gripe (which is very slight) is that it is not immediately obvious if there is any way to disassemble the Siberia V3 without breaking something.  I have been known to mod headphones on several occasions; in fact, only one of the headphones I use regularly was good enough out of the box that I didn't mod it at all, and that was the HIS co:caine headphone we reviewed <here>.  My Monoprice headphones, as well as my nicer (and more expensive) Pioneer SE-A1000s did not come out unscathed. The reason: overemphasized bass.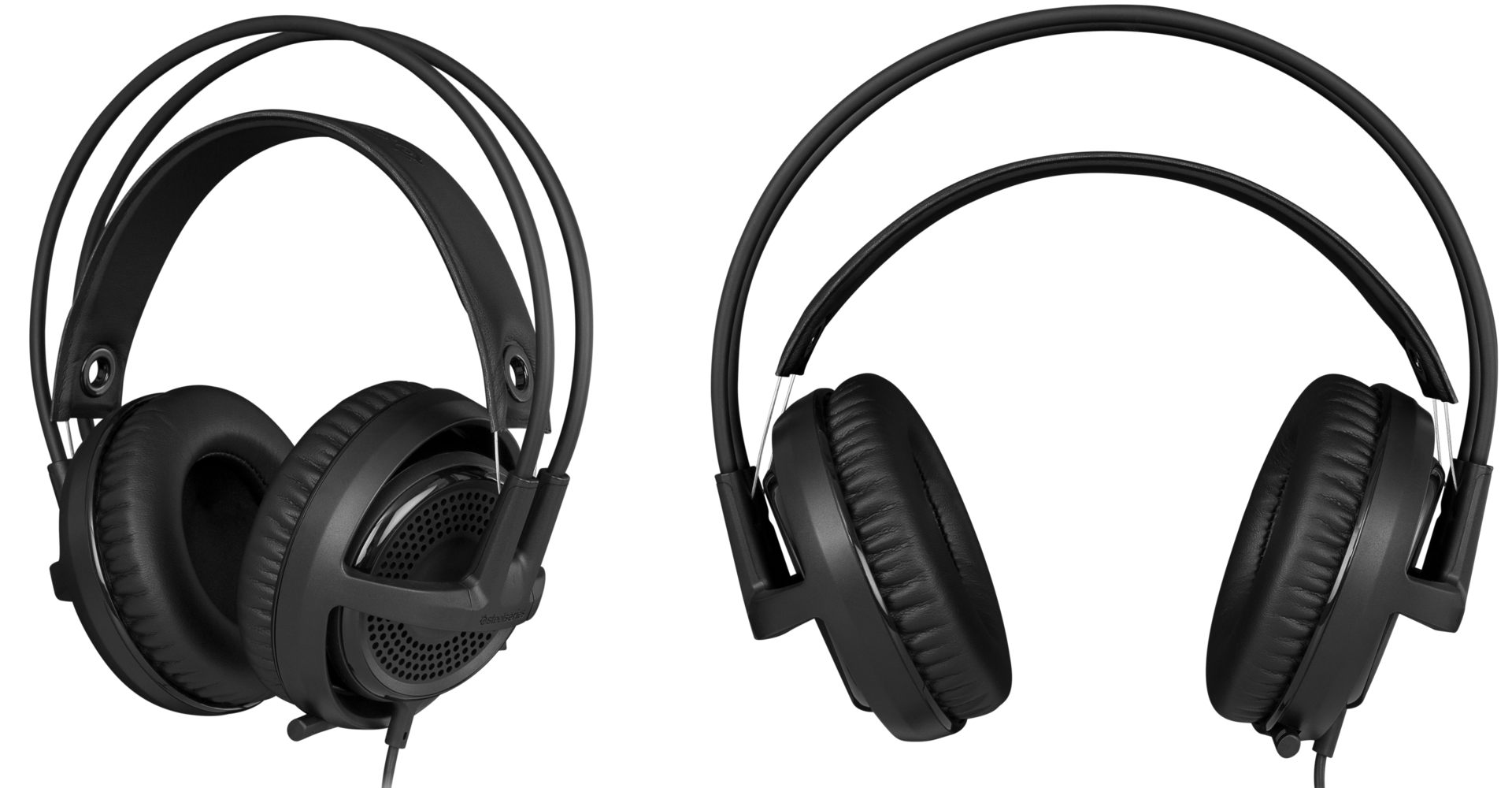 Unfortunately, this headphone suffers from a similar fate.  I understand that some kinds of music benefit from a boosted low end.  Some games do as well.  But when the balance is off enough that other kinds border on unlistenable, it's really a shame.  Everyone who studies audio understands that, when properly blind tested, people tend to think a flat frequency response sounds the best overall.  And that makes sense – it reproduces the input signal the most faithfully.  Even the popular slightly 'smiley face' EQ – which I admit I enjoy at times – has to be done carefully, and not overdone. Unfortunately, it was not done carefully here.
For games, it does a pretty good job of expressing positional awareness to the listener, and in that sense, would be a good asset for competitive FPS players.  It was one of the best headphones for the Razer Surround Pro based testing I did. Though, to be fair, it was not 'blind' tested; I knew which pair I was using during the tests.
There is a lot to like with the SteelSeries Siberia V3.  It's very comfortable if you have a smaller (or normal sized) head; larger noggins beware.  The build quality is very good.  The mic is very conveniently located, and it's great to have a mute switch.  It also includes adapters for use on a smartphone and some laptops which use TRRS plugs, or a PC with traditional dual stereo plugs.  It also uses some designs that more expensive headphones use, like angled drivers.  Unfortunately, it really misses the mark on their frequency response targets.  I was playing with EQ, trying to get it to sound balanced, and I had to cut and boost on the order of 12db+ to get it even close to listenable.  It's really too bad; if online reviews and frequency response plots are to be believed, the V2 had a much shallower slope downward than this one does.  Redesigning something from the ground up can often yield better results, if you aim for the right thing.