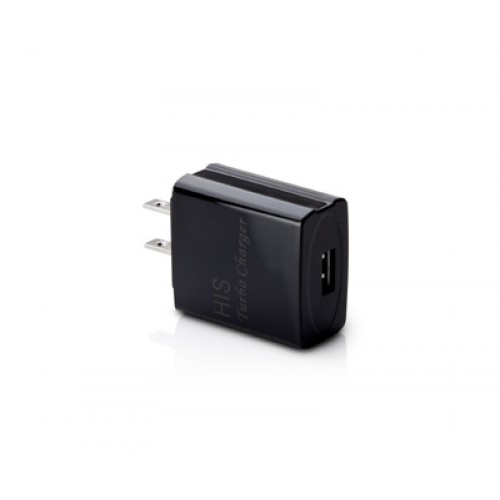 Hardware Info:
HIS Turbo Charger
Developed by: His Digital
Release Date: December 21,2014
Price: $12.99
Thank you HIS Digital for sending us this charger to review!  
I love my smart phone and I do a decent job of carrying it around with me throughout the day.  If I'm not wearing pants with pockets, I'll usually have it with me in my purse.  Sometimes I'll forget to take it out of my purse to find it dead or extremely low on battery.  Since I don't have a portable charging device I have to plug it into my computer or AC charger.   It takes forever which is typically why I charge it at night.
If you have a Qualcomm Quick Charge 2.0 enabled device, getting the HIS Turbo Charger for $12.99 is a no brainer.  The kicker is that there are only a limited number of supported devices at this time.  Any Qualcomm Snapdragon 800 series device will work with it.  Here's a list of compatible devices:
Fujitsu Arrows NX
Google Nexus 6
HTC Butterfly 2
HTC Desire EYE
HTC One M8
HTC One Remix
LG G3
Motorola Droid Turbo
Motorola Moto X
Samsung Galaxy Note 4 
Samsung Galaxy Note Edge
Samsung Galaxy S4 (Japan)
Sharp Aquos Tab
Sharp Aquos Zeta
Sony Xperia Z2 
Sony Xperia Z2 Tablet
Sony Xperia Z3
Sony Xperia Z3 Compact
Sony Xperia Z3 Tablet Compact
Xiaomi Mi3
Highlights:
Strong Points: 75% faster than normal chargers
Weak Points: No adapter to convert it to European standards
Unfortunately, my US based Samsung Galaxy S4 is not able to take advantage of the quick charging feature.  It still functions as a regular charger though.  I wrote a freestyle rap song to share my experience with it:
I take my phone everywhere I go
Before I know it my battery is running low
I have to get ready for a romantic date
I need a charger that won't make me wait!
The HIS turbo charger says it's not slow
Too bad I need a newer phone to utilize the Qualcomm Quick Charge 2.0
It still charges my device at the normal rate
Hope it will be usable in time for my date!
In all seriousness, the construction quality is good and I don't foresee this charger breaking on me anytime soon.  The part that typically breaks is the USB cable and those are interchangeable.  In fact, you'll have to supply your own since this charger does not come with one.
There are US and Europe versions of the HIS Turbo charger.  Unfortunately  there is no adapter to convert it to European outlets.  The weight (0.07kg) and output (5V/2.1A 9V/2A 12V/1.5A ) is identical between the two.  If you travel internationally it's worth your while to pick up both models.  It's worth every penny to have your phone half way charged in only thirty minutes.  Just make sure you have a Qualcomm Snapdragon 800 series device before purchasing this charger.  As of this review the only places to buy them are from Newegg or directly from HIS on their web store.