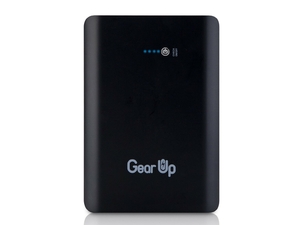 Hardware Info:
HIS Gear Up Portable AC Power 85W 
Developed by: HIS Digital
Release Date: December 13, 2014
Specifications: Lithium Ion battery 3.6V 2900mAhx8, 20,000mAh, USB 2.4A
Price: $149 on Newegg
Thank you HIS for sending us this Gear Up Portable AC Power 85W to review!
We recently reviewed the Gear Up 65W AC Power Bank and the 85 Watt is worth the extra money if you can find it for a good price.  Not only can it provide power for bigger devices, it has two USB ports instead of one.  The charging time is a little bit longer between, three and four hours, but it's well worth the wait if you need to charge something in a pinch.
These devices are well suited for car rides and camping trips.  With one full charge you can fully charge some modern smart phones up to eleven times!  If you have a lower power laptop you can charge it off of that.  My power hungry Asus Republic of Gamers beast would balk at the power output, but a MacBook Air can get an extra couple of hours of usage or fully recharged by it.
For our video demonstration, my husband was able to play Super Smash Brothers on a Wii U completely powered by the Gear Up 85W AC Power Bank.  The gamepad was running off the Nyko UBoost.    
Highlights:
Strong Points: Can simultaneously charge two USB devices and one 120V AC device
Weak Points: Pricey if you don't pick it up on sale
The power bank's design is simple and easy to use.  There's a silver button that you can press to see the Lithium Ion battery's charge level.    There are four blue LEDs that represent 25% each.  When a USB device is plugged in, it will illuminate in blue to let you know that it is drawing power.  To use the power outlet you have to turn the switch on.  It's as simple as that.
Included in the box is the power bank, an AC adapter to charge it, a converter for international charging, a carrying pouch, and a user manual. There are two models of the 85W Power Bank, a US and a European one.  Both weigh 1.32 pounds and their dimensions are 7.32" x 5.08" x 1.1".  It's pretty compact and is a lightweight travel companion.  
Unlike our 65W review sample, this one's USB ports are properly aligned and I have no complaints on its build quality.  If an issue were to arise, HIS offers a one year warranty on their products.
If you travel often or find yourself away from AC outlets when you need them, I recommend picking up a Gear Up 85W AC Power Bank.  The retail price is $249, but Newegg sells it for $149.