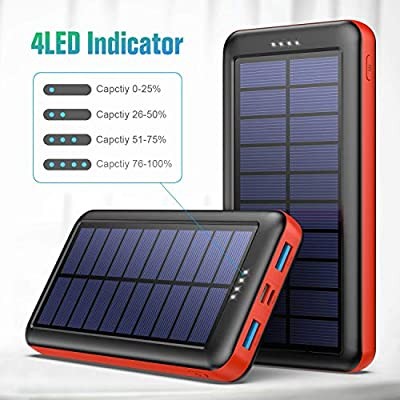 Hardware Info:
BOMT Solar Charger Power Bank 26800mAh
Model HX160S4
26800mAh Capacity
2x USB 3.0 Type-A ports
1x USB Type-C port (charging the bank only; max 2.1A input)
1x USB Micro port (charging the bank only; max 2.1A input)
4 LED charge status lights
Solar charging panel
Supports 5V output only
One port at 5V 1A, the other supports 5V 2.1A
MSRP: $23.95 (currently cheaper with coupon)
(Amazon Affiliate Link)
Thank you BOMT for sending us this Solar Charger Power Bank to review!
I never really thought I needed a battery pack until I was traveling for work and my phone and various other devices kept dying whenever I needed them most. Since then, I've carried around a battery pack whenever I expect to be gone for more than half of a day, or I bring enough USB powered things with me. As long as you keep your expectations in check, this one can certainly come in handy.
The main devices I charged with this power bank are my phone, which has a massive 5000mAh battery (the LG V60), and my Nintendo Switch. I tried other devices that require higher than 5V input, like my GPD Win 2, but it wouldn't charge it at all. The same with my new GPD Win Max - it doesn't recognize that it's plugged in, as far as charging goes, because it requires USB-C PD charging at I believe 15V, which this power bank can't supply.
When I first got it, I went to charge it to full. It says in the manual to not rely on solar charging for the first full charge, so that's what I did - I plugged it into a normal power adapter. It took longer than I expected to charge; I ended up plugging it in overnight.
Highlights:
Strong Points: Good battery capacity; looks nice; light; solar panel is a nice gimmick; charges the Nintendo Switch and most cellphones; great price
Weak Points: Only supports 5V; plastics are a bit cheap, but expected for the price point; solar panels could easily take a week to charge this battery up; USB-C port is for charging the power bank only, and can't be used to connect devices to it
In the morning, I plugged my phone into the USB-C port just to test - and sure enough, my phone was charging the power bank. With that out of the way, I plug in my phone, which was at around 30%, and a few minutes later, I plug in my Nintendo Switch into the other port, which was at this point completely dead. I plugged them in at around 7:40am.
By noon, my phone was completely charged, and the Switch was at 93%. It was completely charged by around 12:30; I unplugged my phone at noon, and left the Switch plugged in so it could be topped off. At this point, the battery pack shows two lights out of four, which means it's between 25% and 50% full. I'm unsure if that is really indicative of a 26800mAh battery, but it's certainly enough juice to be useful nonetheless.
Just for kicks, I plug this power bank into my other one that can charge PD devices (like my GPD Win 2), and it does charge it for a bit - but also very quickly drains the battery to under 25% full, which means there's only a single LED light out of four at this point. It's then that I decide to test out solar charging.
That same day, I begin the solar adventures (keep in mind this is in the height of summer, mid August) to see how charging outside works. After all, it's a prominent feature, and can certainly come in handy. So, I set it outside far from any shade; if it's not in direct sunlight at any point in the day, it's only because clouds got in the way. So I set it outside at 12:40pm and left it out until sundown. I checked on it several times throughout the day, and it was always blinking like it was charging, but only at one light after sitting out all afternoon.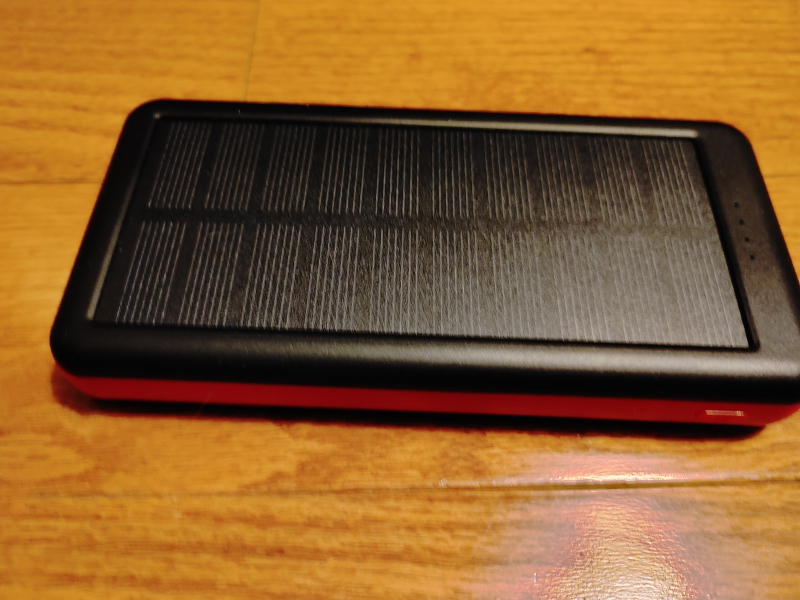 The second day, I brought it out at 9:45am, brought it in at 10:30 (it looked like it might rain), and after the clouds blew over, brought it out again at 11:11am. It looked like possible rain was coming that afternoon, so I brought it in again at 3:49pm - and it was up to two dots. Nice! But that was it for this day.
The next (third, depending on how you count) day I brought it out as early as I could - at 7:44am, and left it out until sundown, at 7:20pm. Unfortunately, this was not enough to change it from anything past those two dots. The next (fourth) day, I brought it out again - this time at 6:48am. I brought it back in at 5:10pm, and it was still only two dots. Basically two nearly full days of sun, and it did not charge the power bank even a full 25%. At this point, I just decided that enough was enough, and plugged it back in to charge it up more quickly.
So, is the solar panel anything more than a gimmick? Well, I guess it depends on what you expect out of it. If you think you could live on the land with just your phone, the sun, and a power bank, this isn't the one to get. But if you just need something to top your stuff off for a couple of days, that little bit that the solar panels can chip in could certainly help, but just be sure to keep your expectations in check.
Overall, I would say that this power bank does a decent job of charging whatever devices I tested that support 5V charging. Given the price point and feature set, it's a fine power bank, especially at the price.