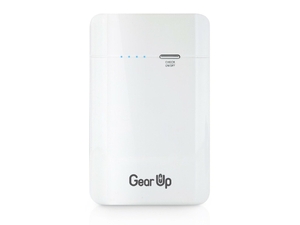 Hardware Info:
HIS Gear Up Portable AC Power 65W
Developed by: HIS Digital
Release Date: December 13, 2014
Specifications: Lithium Ion battery 3.6V 3400mAhx4, 13,000mAh, USB 2.4A
Price: $199
(Amazon Affiliate Link)
Thank you HIS for sending us this Gear Up Portable AC Power 65W to review!
Our family likes to do camping and long road trips and in both of these cases we'll be bringing our Gear Up portable AC power bank.  AC Power outlets are not readily available in our 2002 duct taped minivan and this device can keep our kid's tablet and 3DS' running smoothly for a nine hour car ride to see family in another state. A quiet car ride makes this device worth every penny!  
When we went camping in the summer, the power outlet was outside and unusable when it was raining.   And it did rain on us a couple of times.  Next time we'll have the Gear Up with us so we can keep our cell phones charged.  It's important to have a decently charged phone if you rely on the GPS functionality.  
Charging the power bank fully takes roughly two and a half hours.  With one full charge you can fully charge modern smart phones between four and seven times.  If you have a lower power laptop you can charge it off of that.  My power hungry Asus Republic of Gamers beast would balk at the power output, but a MacBook Air can get an extra two hours of usage.
Highlights:
Strong Points: Great portable power source for USB and 120V devices.
Weak Points: MSRP is pricey but I have seen it on sale for $99; the USB port still works on ours but it is slanted and not flush with the edge.
The power bank's design is simple and easy to use.  There's a silver button that you can press to see the Lithium Ion battery's charge level.    There are four blue LEDs that represent 25% each.  When a USB device is plugged in, it will illuminate in blue to let you know that it is drawing power.  To use the power outlet you have to turn the switch on.  It's as simple as that.
Included in the box is the power bank, and AC adapter to charge it, a converter for international charging, a carrying pouch, and a user manual.   It weighs less than a pound and its dimensions are 5.9 x 3.74 x 1.1.  It's pretty compact and is a lightweight travel companion.  
My only complaint with the HIS Gear Up Portable AC Power 65W is that the USB port on ours is sticking out of it slightly.  It's not flush with the side as it should be.  The important thing is that it still works, but it does make me question the quality though.  Fortunately, it carries a one year warranty.  
If you travel often or forget to charge your phone, the HIS Gear Up Portable AC Power 65W is a travel companion you may not want to leave without.  While the suggested price is $199, I have seen it for half of that price at Newegg.