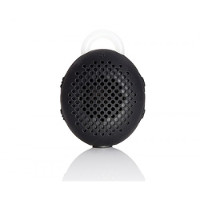 Hardware Info:
HIS Musix Air Water Resistant Wireless Bluetooth Speaker
Specifications:
Dimensions: 9.5cm high x 7cm wide x 4.5cm deep/tall; oval shaped with a flat bottom
8 Watt amplifier
Frequency Response: Not Specified
Battery: 3.7 V, 600 mAh 
Weight: 105g
Controls: Power button, Play/Pause button, Volume Up/Down buttons, LED indicator for On/Off and charging status
Connectivity: Bluetooth 3.0 only (no wired connection), microUSB connector for charging
Built in microphone and can work as a speakerphone over bluetooth
MicroUSB charging cable and hook included
MSRP: $29.99
(Amazon Affiliate Link)
Thank you HIS for sending us a review sample!
HIS has once again released a portable speaker to try to reach the ever growing smartphone accessories market.  One of those products is this new product, the Musix Air.  This is an extremely small and portable speaker, with an integrated battery, power button, play/pause button, volume buttons, a microUSB charging port, and built-in bluetooth 3.0 for use with your smartphone or other portable devices.  It also has a nice looking rubber handle and an included hook that can attach it to nearly anything with a loop, like a belt, rear-view mirror, or who knows how many other places.  And to top it all off, it's water resistant.
It's a fairly attractive little device, with smooth curves and covered in high quality rubber that keeps it in place, contributes to water resistance, and gives it a high quality feel.  Its water resistance rating is IPX7, which HIS says is good for up to one meter submerged.  
The 8 watt amplifier means that this thing gets quite loud.  Compared to our previous HIS speaker review, the Wavemaster MOBI, this speaker has a much bassier and fuller sound.  It does sacrifice some of the high end to get there, but on most popular music, this is probably an appropriate tradeoff.  It sounds better than I expected for music, and not tinny or thin at all.  It's also louder than the Wavemaster.
Highlights:
Strong Points: Good value for the price; very loud and strong bass for such a small speaker; water resistant!
Weak Points: Treble performance is drowned out by the bass at high volumes
It also sports a microphone, and I tested it as a speakerphone, and everyone heard me clearly.  Unfortunately, because of the bass tuning, the voices sound a bit deeper and more muffled than normal.  It's a shame, since one of the many potential uses is as a speakerphone in the car or even a small office.  It can still work that way, but be aware of its limitations.  I found it worked better for female voices; males ones can be heard, but are a bit harder to understand because of the abundance of bass, especially at the highest volumes.
Overall, I was very pleased with the sound for music use.  At the very highest volumes you could hear some strain, and it seemed like the bass got louder at the expense of treble.  There is also slight distortion, but we're not talking about Hi-Fi here, and it's not offensive.  It works great for its intended application: allowing you to share something from your smartphone with much fuller sound than the built in speaker.  You may need to drop the volume down a notch or two from maximum to get the best audio quality, though.
The battery life is reported to last 5-7 hours according to specifications, with a 1.5 hour charge time.  If you find yourself often sharing something from your phone and are frustrated with the volume, or if you are highly active and want a speaker you can beat up (even around water!), I highly recommend you give this product a look.  It's surprising what kind of sound they can get out of something so small.