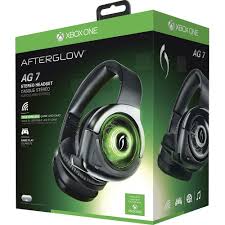 Hardware Info:
PDP Afterglow AG 7 Headset
Specifications:
Over the ear headphone
Closed back
Frequency Response: Unspecified (though frequency response graph is on the packaging)
Impedance: Unspecified
Sensitivity: Unspecified, though not relevant for Xbox One usage; anecdotally seems very sensitive
Cable length: 3 feet wired, 40ft wireless
Connector: Wireless USB, 3.5 mm Stereo + mic (3 band cable), USB charging port
Retractable microphone (specs not specified)
Microphone mute
Chat/game balance dial, volume control on the headset (Xbox One usage only)
Lithium-ion battery with up to 16 hours of life (for Xbox One use only)
Bass boost/Pure Audio button (Xbox One use only)
MSRP: $99.99
(Amazon Affiliate Link)
Thank you PDP for sending us a hat and this headset to review!
Performance Designed Products (PDP) has become well known for their brightly colored controllers and glowing neon headsets, as well as many other gaming related peripherals.  We have purchased some of their lower priced controllers in the past, like their Rock Candy line.  While the products always functioned as expected, they did feel less durable than their OEM counterparts.  It seems like PDP is really stepping up on their build quality with recent products, and the Afterglow AG 7 headset is emblematic of this.
The AG 7 feels really solid.  It is adjustable for large to small heads, and the top strap has quality padding that should last quite a while, with a firm grip holding it on your head without being uncomfortable, though it could get sweaty after a while.  The ear pads are also removable, and the interior of the headphone is accessible, so modding is possible.  However, putting those pads back on is not easy at all.  The size adjustments click firmly into place, and don't slide around by accident.  On the whole, it feels well built and strong, with solid plastic and metal holding it together.  I expect them to last a fairly long time with regular use; as long as they are not bent unnaturally far in any one direction, since they do not fold DJ style.  They have not given up on their trademark color schemes for the Afterglow model line – this one glows a bright neon green while in use on Xbox One; for other uses, the glow is entirely optional, and just wastes batteries.
When plugged into a PC, the AG 7 identifies itself as an Xbox One controller. Since it does not identify as a sound device, Windows can't use it as one.  Of course there are no controller buttons, so it can't be used that way either.  There is a 3.5mm jack that can be used like every other headphone, but none of the extra features are available when used this way.  My cellphone did register it as a headset, and the microphone sound was very clear for the other listener.  I had much less success on PC, as I couldn't get the microphone to work acceptably there.
On Xbox One, the system instantly recognizes it as a headset and will quickly route sound and chat functionality to the headset.  It was pretty much plug and play, and it worked very well.  I don't play Xbox games online, so I wasn't really able to test that part, but if it sounds as good as it does for a cellphone microphone, then I would expect voices to come through very clearly online.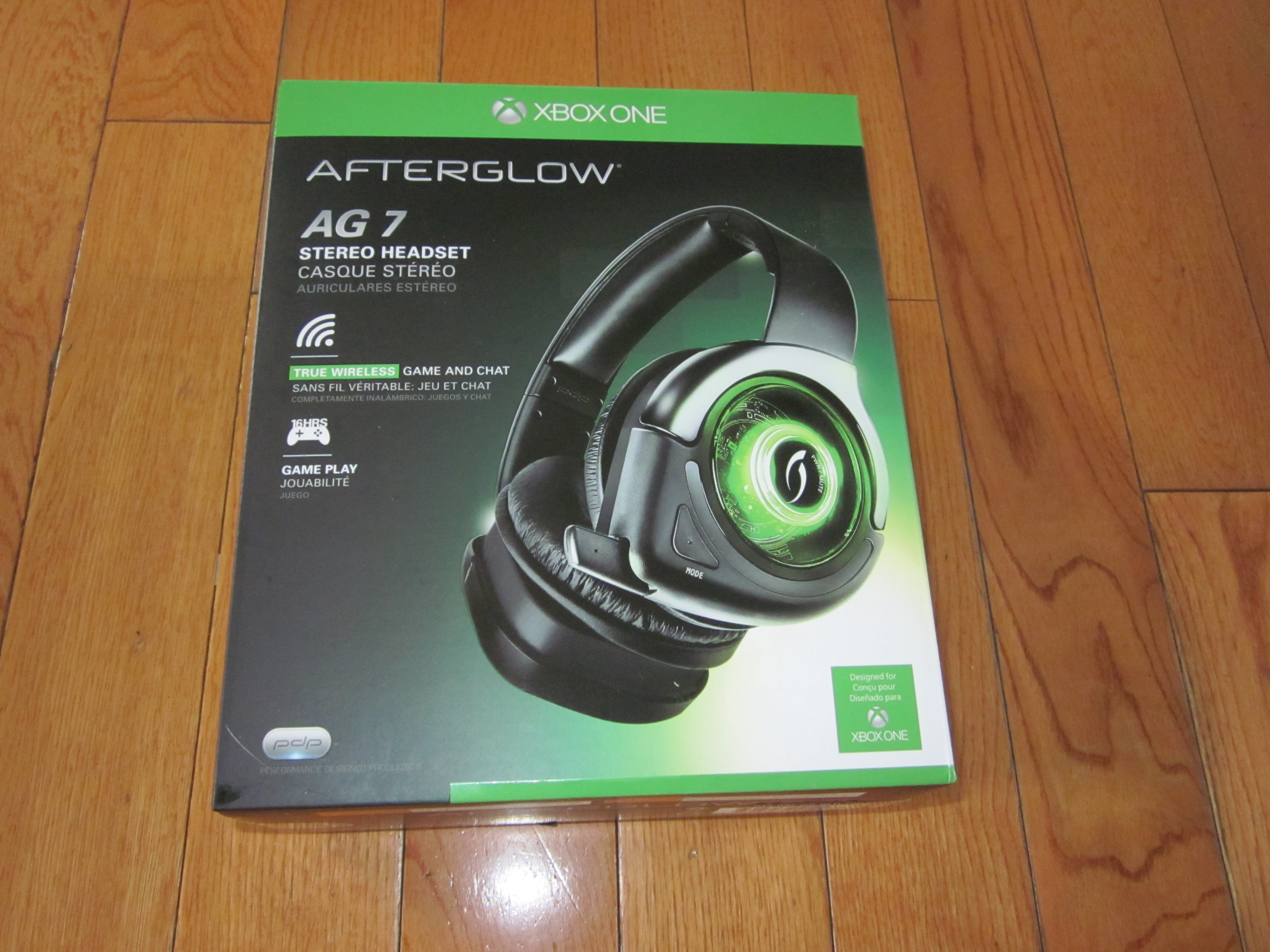 Highlights:
Strong Points: Fits my large noggin comfortably; lots of bass, and a bass boost button for even more; frequency response chart seems honest; seems very efficient; retractable (and bendy) microphone that works well on a mobile phone
Weak Points: Lots of bass; distant mids and highs; most features require Xbox One; even PCs can't use the wireless feature; I couldn't get the microphone to work well on two test PCs, even after tweaking mic boost
 So, after all of that, how does it sound?  Well, it still follows the unfortunate modern pattern of boosting the bass above most other frequency ranges.  The nice thing about PDP here is that they actually put their frequency response chart right on the box, which I greatly appreciate.  They compare Pure Audio with Bass Boost, and show competing response charts with them both.  Bass boost pushes up everything from about 200Hz on down by about 10db, which is quite a lot.  The graphs also show a large spike at around 9-10KHz, which does noticeably improve the high end compared to other gaming headsets we reviewed recently, like the SteelSeries.  Unfortunately, most of the midrange and lower treble is still substantially recessed, and it sounds that way.  But at least they are honest about it, and for that, I applaud them.
If it's not obvious, I am not a fan of the massively boosted bass on modern gaming headsets.  It's mostly because I know what good audio sounds like; I have invested much in my home audio system.  But, by publishing the frequency response graphs, it is much easier to make intelligent equalizer decisions to make them sound much better for PC or mobile use.  With some strategic cuts (and a few boosts, also) they sound pretty good after all.  My biggest disappointment, outside of how they sound unequalized, was that I could not get the microphone to work well on either of my PCs.  And that it's wireless only on Xbox One.  But, there it works quite well.  If I ever had a need to play Xbox One without my normal speaker system on, or play a game that my children should not hear, I won't hesitate to grab the PDP Afterglow AG 7.