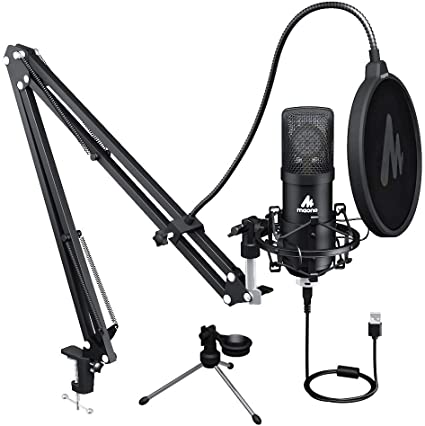 Hardware Info:
Maono AU-A425Plus
Manufactured by: Maono
Release date: October 25, 2019
Price: $58.99
(Amazon Affiliate Link)
Thank you Maono for sending us a review unit!
I'm one of many YouTube, Twitch, and Mixer streamers out there. I've been through many headsets and microphones and often encounter trouble with people hearing me during my videos. As an IT professional, I'm knowledgeable on how to adjust the volume in my Windows sound settings and the streaming software. As far as I know, previous volume issues were not user error.
We recently reviewed the Fifine K668 USB microphone and have been using the 3.5mm K667 version. The clarity is great on the Fifine, but it's quiet in comparison to the Maono. One thing to note is that the Fifine microphone is omnidirectional, and will pick up more background noise.
The construction of the Maono is quite sturdy and is high-quality. It has two different configurations. You can use it with the tripod or use the boom arm stand with a clamp. The desk clamp is quite adjustable and you're able to bring it close to your face without being seen by a webcam.
Though I didn't have any volume issues using the desk clamp with the Maono, I found it lacked the clarity of the Fifine. In the end, I wound up sticking with the Fifine using the boom arm stand.
Highlights:
Strong Points: Easy to setup; multiple stands; good volume levels
Weak Points:  Some background noise
With that said, the Maono still has some nice features. The 192kHz/24bit sound chipset is easily detectable and installs without requiring drivers. All major operating systems should recognize it without issue. The box states that it's compatible with Windows and macOS. Though it's not listed, I did test this microphone on Linux Mint and it worked great.
The cardioid pattern on the microphone picks up sound directly in front of it and picks up less background noises as a result. The frequency response is listed as 30Hz-16kHz. The sensitivity is 38dB+/-3dB (0dB=1V/Pa at 1kHz). Maximum sound pressure level (SPL) is 120dB. One downside with the 70Db signal-to-noise ratio is that some slight background noise can be heard. According to various articles I have read online, aim for a minimum of 80Db. 70Db is still considered to be decent though. The Maono microphone prioritizes picking up lower frequencies, which can bring out more richness in deeper voices than the higher frequency pickup pattern of the Fifine.
I have recorded multiple streams with this microphone. If you want to hear it in action, please check out this stream of Little Dragons Café:
This kit comes with two pop filter configurations. You can slide a black foam covering over the 25mm condenser or leave it bare and use the detachable pop filter that can clamp on either the boom arm or tripod. The box shows it with the microphone bare and using the detachable pop filter on the boom arm. I used the microphone covering one.
All in all, this is a nice bundle that should work great for any streamer on a budget. The mounting and pop filter options provide multiple configuration options. The equipment is high-quality and should last a long time. Installation is quick and easy too. I look forward to checking out more products from Maono.