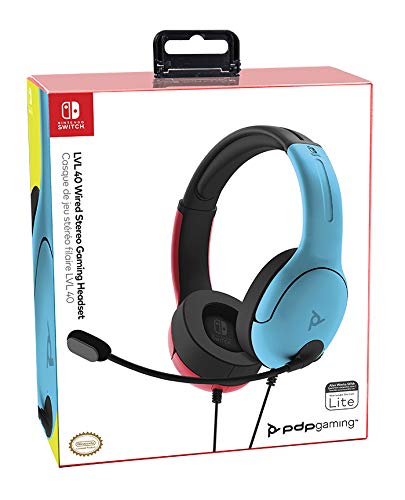 Hardware Info:
PDP LVL40 Wired Stereo Headset 
Specifications:
On-ear headphones
40mm driver
Frequency response: N/A
Impedance: N/A
Sensitivity: N/A
Connectivity: 4 feet long 3.5mm cable
Microphone type: built-in boom mic
Soft, breathable fabric ear pads with plush foam padding
Volume wheels
Microphone mute by swinging the mic arm up
Weight: Approximately 200g (I weighed my sample)
Licensed by Nintendo
MSRP: $29.99
(Amazon Affiliate Link)
Thank you PDP for sending us this headset to review!
As an audio lover (and also a cheapskate), I'm always looking for great bargains that I can share with our readers. I've come to accept that great sound simply comes with a price, so I've since had to splurge on expensive headphones for myself, but I still look out for hidden gems; it's just in my nature. So when PDP offered to send these our way, I jumped at the chance. And you know what? For a kid or undiscerning gamer in need of the basics, these more than do the job.
Let's first start with the bad. The cable is short, so you're pretty much expected to plug these into something very close to you. A game controller with 3.5mm jack, a handheld console, or a laptop at arms length all make great sense with a cable of this size. Thankfully, there is no reason it shouldn't work fine with an extension cord.
Another thing I have to point out is that it looks like a toy - especially the Switch version, as PDP sells Xbox and PlayStation versions that are functionally identical except for the color scheme. It's all plastic, and the left and right side cups use the bright neon red and baby blue of the Joy Cons. If you use this in public, please take pictures of the reactions of those around you! I bet it would make for a great social media post.
Highlights:
Strong Points: Just large enough for my big noggin; sound quality is way better than I expected for this market and price point; microphone works great; two-year warranty
Weak Points: Four-foot cable is quite short if not using in a handheld way; ear cups don't swivel at all; it looks like a toy (especially with Nintendo colors)
Thankfully, this all-plastic build does mean that it's fairly sturdy, and can take a beating. It's the perfect headset for a child (or teenager on a budget). I suppose the downside of the super-sturdy build as it is is that the ear cups don't swivel at all. As a result you pretty much have to wear it perfectly centered if you want the cups pressed against the ears as much as possible, which is ideal for best sound quality.
Speaking of which, I've kind of gotten used to what to expect with inexpensive headphones, and these exceed that by a fair bit. Cheap headphones tend to sound overly bassy, or tinny. These are remarkably balanced for what they are. While listening to headphones for the first time, I use several points to evaluate them, but it all mostly boils down to three things: comfort, frequency response, and detail retrieval. There are others, like soundstage, but those are the foundation which others build upon.
These headphones are reasonably comfortable, but not overly so. Their design, which should be quite uncomfortable, that are somewhat rescued by the nice ear pads. If the cups twisted it would be much more comfortable, but again, it would also be more fragile.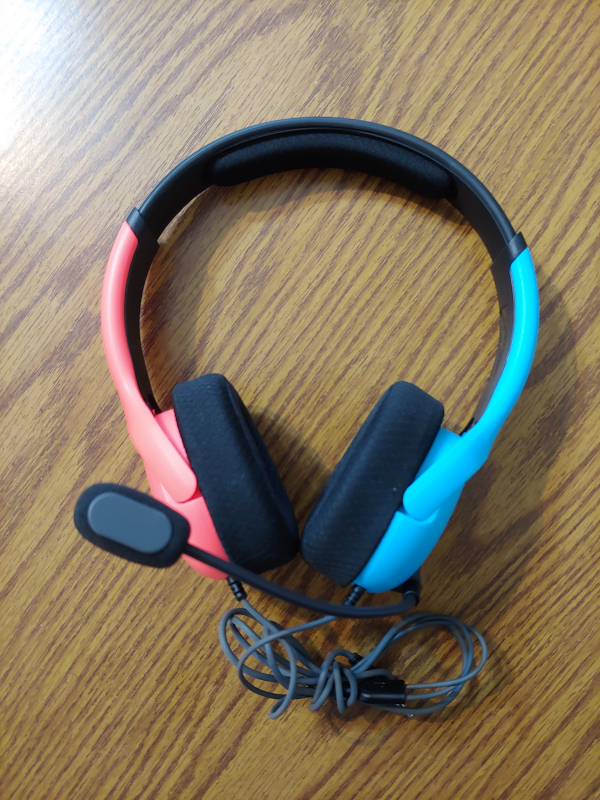 The sound is what surprised me the most. They are by no means audiophile quality. But what I did find is a headphone with a frequency response balance that is far better than most cheap headphones. To put them in perspective, they are a bit darker/bassier than a Koss Portapro, but quite a bit more balanced than PDP's older, discontinued headphones that we reviewed several years ago. On the flipside, their detail retrieval is not that great. The Koss' wipe them out in this category. However, what I've found is that for many non-discerning listeners, frequency response is often far more important than detail retrieval. And these are reasonably well balanced, especially at their price point.
I also found that the microphone works great. I've found headsets with cheap mics that are barely usable, but these sound quite nice for the other end of the chat/call/etc. I tested it on both Discord and my cellphone with positive results. (I don't voice chat on any Switch games.)
The PDP LVL40 Wired Stereo Headset for Nintendo Switch is far better than I expected at the inexpensive price of $29.99. It has a fairly balanced sound, and is built to take abuse. It also has a two-year warranty for those who manage to break it anyway. If you are looking for an inexpensive headset for a kid to go with their new Switch Lite (or, conversely, PDP's Afterglow Deluxe+ Audio Wired Controller for Switch), you can't go wrong with this PDP LVL40 headset.