Hardware Info:
EWin Champion Series Ergonomic Computer Gaming Office Chair with Pillows
Developed by: Ewin
Release date: 2016
Price: $299
Thank you Ewin for sending us this gaming chair to review!
We've been blessed with multiple chairs similar to the Vartan Gaming Chair to review and this is the second one sent our way from Ewin.  Until this review, I've been happily using their Calling Series Computer Gaming Office Chair with Pillows.  Their Champion Series has some improvements over the Calling Series including four directional armrests that can go sideways, forwards/backwards, as well and up and down.  The Calling Series only goes up and down.  The foam cushion is the same density and I didn't realize how much my previous chair was broken in until sitting in the newer and firmer Champion Series chair.   
After spending several hours playing and beating the final season of The Walking Dead using this chair, I can safely say that it's very comfortable - especially for long gaming or working sessions.  There are many bold color options available which may not be office-friendly, but there is a solid black model that may be more professional-looking if you don't want to advertise that you're a gamer.  
Highlights:
Strong Points: Comfortable ergonomic design; stain-resistant leather; metal frame
Weak Points: Wheels did not match online picture and they did not move very well; instruction manual did not match this model chair
Since the previous chair we reviewed was blue, I wanted to try the pink one this time around.  I was disappointed to find that the included 2" hub-less wheels were solid black and not pink-trimmed like the website depicted.  Another complaint about the wheels is that they didn't spin very well.  Maybe some WD40 would loosen them up a bit, but I opted to install rollerblade-style wheels that work really well on hardwood floors without damaging them.
Assembly was pretty easy and we managed to have the chair built and usable in less than thirty minutes.  The necessary tool (allen wrench) was provided along with a pair of gloves to keep your hands clean.  The instructions are pretty straightforward, but they must have been designed for a different model chair, as the illustrations for the side covers and (improved design) hydraulic lift didn't match the ones provided.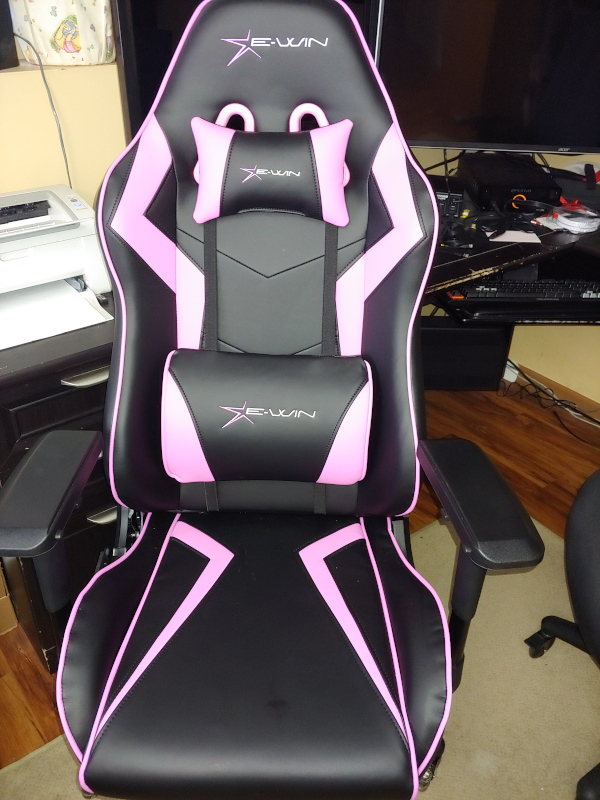 Other than the wheels, everything else seems high-quality and well-constructed. The frame is metal and carries a ten-year warranty. All of the other parts have a two-year warranty. The stain-resistant 2.0 PU leather looks and feels nice. The adjustable back range is 85-155 degrees, which can let you tilt back for a comfortable nap if needed. Rocking is also possible and easier to do in this model. Unlike some cheap office chairs we've bought in the past, the 5-star base is made from aluminum.
The included neck and back pillows are optional, but are recommended for ergonomic support. If you're in the market for a comfortable and affordable computer gaming or office chair, look no further than the EWin Champion Series. It's available on their website and Amazon for $299. If you use coupon code ccgr on their website, it will take 30% off. Shipping is free too!