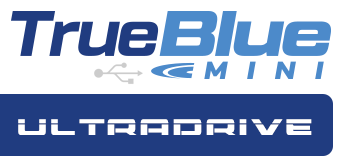 Hardware Info:
TrueBlue Mini Genesis Ultradrive 
Compatible with Sega Genesis Mini
Simple way to add games to your Sega Genesis Mini
Includes USB drive with 813 games
Includes USB 2.0 Hub, so 2-player games continue to work
MicroUSB cable included for software installation
MSRP: $32.99
Thank you TrueBlue for sending us this TrueBlue Mini Genesis Ultradrive to review!
I very recently reviewed the Sega Genesis Mini. It's a really nice mini console, in the vein of the NES and SNES Classics from Nintendo, with a decent library of forty-two classic games. I never felt like the gaming collection was too limiting; sure, there are some notable games missing, but after all, forty-two is the answer to life, the universe, and everything. (If you don't get that reference, it's time to read a book!)
Nevertheless, many of you who had a Genesis when you were younger, or have a significant cartridge collection, may want many more games on their Mini. While some utilities exist to hack your console yourself, you do have to rip (or download) the ROM files for the games you own, and go through the semi-technical process of uploading or downloading the flash ROM, and so on. TrueBlue makes all of this really easy. And, you don't have to worry about searching for any games, because the entire Sega Genesis library is here - not including add-ons, like the Master System cartridge reader, the Sega CD or the 32X. This includes Japan-only games. (It appears that US releases were prioritized when a game was released in multiple regions, but I don't know that Genesis' library well enough to be able to prove that one way or the other. At least that appears to be the case with English as the chosen language.)
Highlights:
Strong Points: Adds 813 games to your console; you can boot back to the original firmware with a secret button combination
Weak Points: If you saved the game using the original console, they are lost when using the TrueBlue Mini Genesis; each page-worth of games has its own separate settings; you have to modify your console with a tool to use it; it won't boot up with the USB drive disconnected unless you change boot modes
Moral Warnings: This device uses unlicensed games, so it's basically piracy
To install the TrueBlue Mini Genesis and be able to use it, you need to have a computer; Windows, Mac, or Linux are supported. You are instructed to download a utility that will install a driver so you can flash your Sega Genesis Mini with the included tool. Be aware that you are modifying the console, so chances or receiving support from Sega after this point is very slim. Warranties are likely void, as well. With that said, if you follow the instructions exactly as shown on the screen, it's unlikely you will have a major issue. You will need to use the included MicroUSB cable, as the one that comes with the Genesis Mini apparently is only good for power, and not data.
Once the software has been installed on your Genesis Mini, you will no longer be able to use it unless the TrueBlue Mini Genesis Ultradrive is connected to the first USB port. That is, unless you change the boot mode. If you hold down the reset button while turning it on, after five seconds, it will change the boot mode to original, rather than the Ultradrive. Incidentally, this is the only way to access any saves that might have been made before converting the system to use the TrueBlue, as they are all lost, even when specifically running the Genesis Mini category. It will keep booting up this way until you hold the button when powering it up again, which flips it back to the Ultradrive again.
The way this works is that there are six tiles across horizontally, and two rows per screen, and you can scroll down depending on how many tiles there are in that category. So, the main menu has 'Genesis Mini (USA)', 'Mega Drive Mini (Asia)', 'Mega Drive Mini (Euro)', and 'Mega Drive Mini (Japan)' that includes clones of each regions' Mini consoles, so you can check out what everyone got. After that, there are eight other categories, of every single Genesis game ever released, divided into groups of one hundred and two games each (6x17), all in alphabetical order. You can choose to view each group in other orders, but they are sorted into those alphabetical groups. (The last group is three games short of the full list of games, so it has ninety-nine in it.)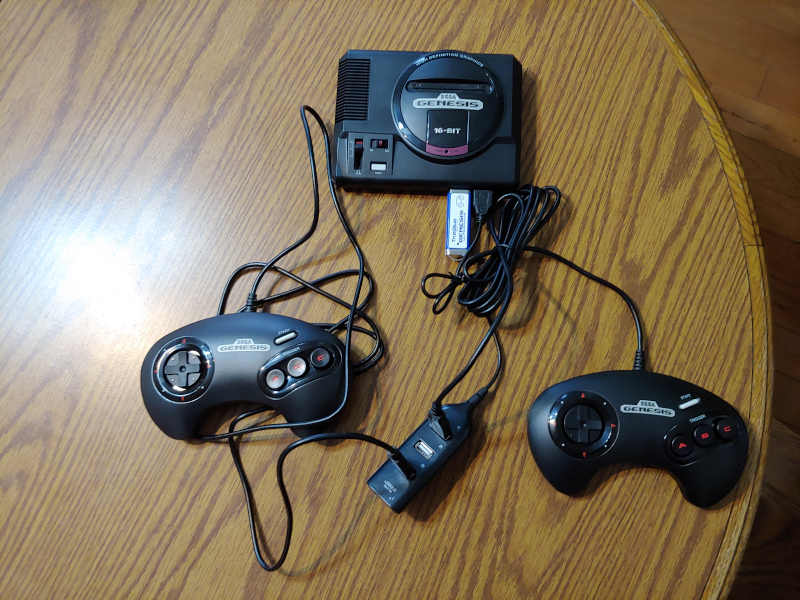 As a result, it's actually not too difficult to find what you want if you know the game's title, while each group of just over one hundred is a decent amount of games to sort through without getting lost. It's a pretty good system they devised. It also reuses the interface that Sega/M2 originally made with the Genesis Mini, which I think is great. Some hacks simply install RetroArch; as great as that is, it's not really the point on consoles like these.
I also found it interesting that each and every game includes a short text description of it, just like with the forty-two games included on the Mini itself. I wonder if someone at TrueBlue took the effort to fill out that information, or if it came from another source. Either way, it's a nice touch.
Morally, this collection has every game on the system ever released. There is no way that I can possibly tell you what every game includes. I do know that the games included are unlicensed, so by purchasing this product, you are most likely engaging in software piracy. Maybe pirating 30 year old games doesn't matter to you, but it's the moral and legal risks you take when purchasing a device like this.
If you are not happy with the collection of forty-two games that were already included with the Sega Genesis Mini, and sailing the high seas isn't a big problem, then it's easy to recommend this piracy stick. It includes every game ever released, and installing the software is pretty easy to do, outside of a very small risk of bricking your console. Exploring its menus, I learned about games I didn't know existed on Sega Genesis, and unless you're a video game historian, you likely will also.