Thank you EWinRacing for sending us this office chair to review!
I've been using computers for more than twenty-five years and have gone through many office chairs in the process. In many cases, you get what you pay for. I've had multiple $40 office chairs that ripped or broke after several months of use. Cloth chairs seem to last longer but are not as breathable as mesh office chairs. Prior to receiving the EWin Calling Series CLBC2D gaming office chair, I was happily using a mesh chair with rollerblade-style wheels which were smoother and easier on our vinyl and carpeted flooring. While the included back and blue caster wheels look sharp on the EWin Calling Series chair, I opted to install a clear set of rollerblade-style wheels instead. Other than the wheels, there is little else I would change on it.
Assembly is easy as most of the hard work is already done. If you have ever assembled an office chair, this one won't be much different. The typical five-legged nylon base, gas lift, and hydraulic base are used. The chair's steel frame is covered by the high-density memory foam and quality leather-like covering. The back and headrest pillows are adjustable and comfortable.
All of the necessary tools are included along with a pair of gloves and some spare parts. The total assembly time for my husband and I was about 30 minutes. We did make one mistake by swapping out the hinge covers that connected the back of the chair to the seat. Discovering and correcting this error didn't take us too long though.
Highlights:
Strong Points: Very comfortable
Weak Points: A little hard to rock in
Once assembled, I was able to adjust the chair and arm rest height to my liking. The rocking ability is a bit stiff by default and we really had to loosen it quite a bit before I was able to rock the chair successfully. Reclining it is easily done though. The pillow positions can be changed and I like to raise the back pillow for better lumbar support.
EWin's chairs are specifically designed for certain weight and height parameters. The chair I received is made for gamers less than 6'3" and 330lbs. My 6'2" husband tried out the chair and felt that the shoulder area was too tight for him and would opt for the models that support people up to 6'7". At a recent LAN party at our house, people my height and shorter found this chair very comfortable to sit in. My kids took a liking to it as well.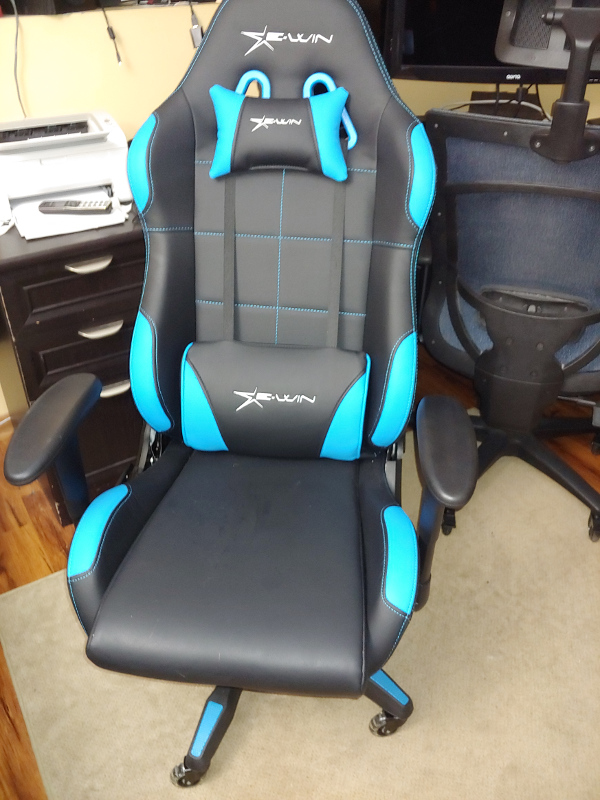 I've been using this chair for a couple of weeks and it's held up pretty well so far and has been comfortable to use. Since my husband gave away my previous chair, I'm stuck with the EWin Calling Series chair which is not a bad thing. I look forward to many more weeks, months, and years of use. Each EWin chair is backed by a five-year warranty. The website prices are pretty reasonable and include shipping which is nice since our chair weighed in at 65lbs. FedEx left it on our driveway instead of bringing it to the door like other packages.
If you're in the market for comfortable office or PC gaming chairs, check out EWinRacing's website. They often have a promotion that takes off a certain percentage off chairs for gaming with various coupon codes. If there are no sales happening, you can try our CCGR coupon code for 10% off.