Hardware Info:
Eagle Eyes Blade DT Computer Glasses
Developed by: Eagle Eyes
Price: $59.95
Thank you Eagle Eyes for sending us these glasses to review!
Eagle Eyes began at NASA's Jet Propulsion Laboratory while developing technology to protect human eyesight from solar radiation light. In nature, eagles have unique oil droplets in their eyes that filter out harmful radiation and only permit specific wavelengths of light to enter their eyes. This technology resulted in Eagle Eyes, the only sunglass lens to receive the Lifetime Certified Space Technology seal.

Not too long ago I reviewed Gunnar Optiks RPG Eyewear. At the time I reviewed those, I thought they were light, but in comparison to the Eagle Eyes Blade DT they are much heavier! The Gunnar Optiks RPG glasses are full framed and feel sturdier, but you can barely feel the Blade DT glasses while you are wearing them and that's a good thing. Just be sure to use the included hard case because it's unlikely that the Blade DT glasses will survive much accidental pressure placed on them.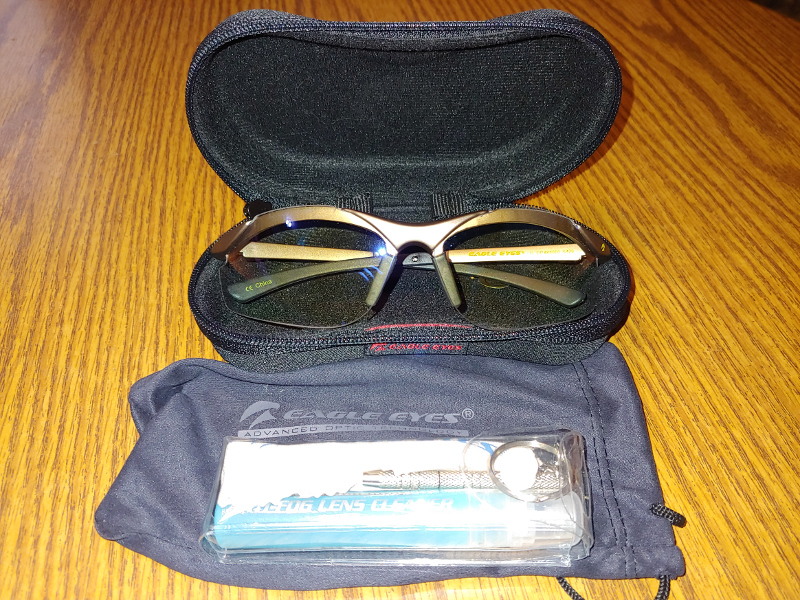 Highlights:
Strong Points: Lightweight and comfortable to wear; works as advertised
Weak Points: Thin plastic makes the glasses light but fragile
Along with the hard case, a drawstring pouch, keychain screwdriver, microfiber cloth, and cleaning solution are included as well for the reasonable price of $59.95. Hopefully, the screwdriver won't be needed, but it's nice to be prepared if anything needs tightening. The DT in the model name stands for the DigiTec lens technology. Each lens has several layers with two of them being scratch guards. There's a scratch guard for both the inner and outer layers.
The Blade DT glasses are well designed and comfortable to wear. The ridged rubber nose grips keep the glasses in place without pinching the nose. Another great feature is the flexible rubber temple tips which slide comfortably above the ears. Though both sets of glasses fit me well, my husband prefers the Blade DTs since they are more accommodating to his bigger head.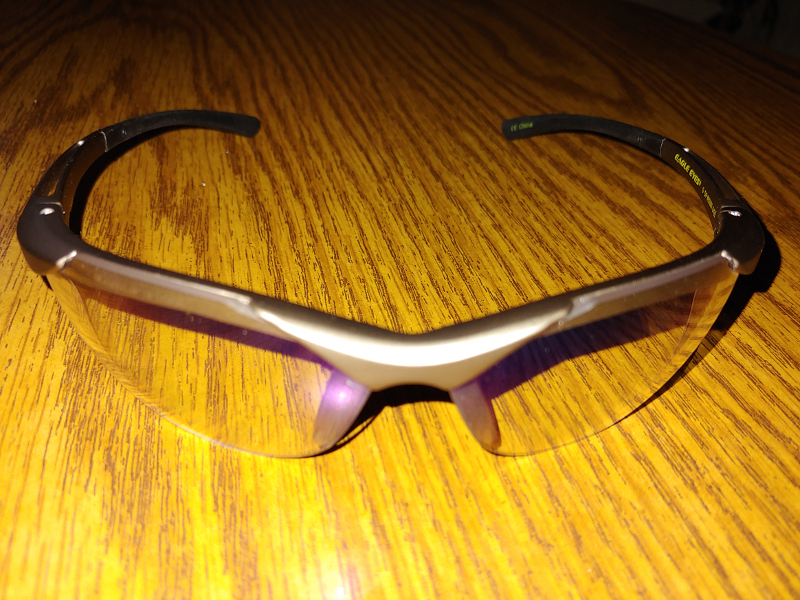 While both sets of eyewear filter out the blue light generated from electronic devices, the Blade DT glasses do so more subtlety. The Gunnar glasses have a more yellowish tint to them. Since going back into the workforce and working in a florescent-lit office, I've been wearing the Gunnar glasses to reduce eye strain from the bright lights and from staring at a computer screen for hours on end. The Blade DT glasses seem to work just as well without the added tint. In the end, it's a matter of preference in that regard.
Overall, I like both pairs of glasses though I feel that the Blade DTs are much more fragile. If taken care of, they definitely do as they advertise in a lightweight and comfortable fashion. I'm now curious of the difference in sturdiness of the full framed Eagle Eyes models in comparison to the Gunnar models. In the end, the Blade DT glasses are lightweight and comfortable to wear, just keep them in their case when they're not in use!