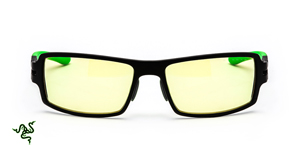 Hardware Info:
Gunnar Optiks RPG
Manufactured by: Gunnar Optiks
Developed by: Razer
Release Date: June 17, 2015
MSRP: $99.99
Thank you Gunnar Optiks for sending us a pair of RPG glasses to review!
Gunnar Optiks was founded in 2007 and is known for making gaming and/or prescription eyewear as well as stylish sunglasses.  The non-prescription models range from $69.99 to $299.99 on their website, but they can be purchased for as little as $49.99 on Amazon or Best Buy's website.  Since I don't need prescription lenses yet, I cannot comment on the pricing for Rx models.  Some insurances will subsidize the costs, so if you suffer from eye strain from spending hours upon hours staring at a computer screen, you may want to look into office and gaming eyewear.  
Gunnar Optiks' patented lenses filter out artificial blue-light thus reducing eye strain. Other ailments their glasses can help with include dry eyes, blurred vision, headaches, and glare.  If you're a little gun shy about the claims, Gunnar offers a 30-day money back guarantee for orders placed on their website.  The buyer does have to pay return shipping though.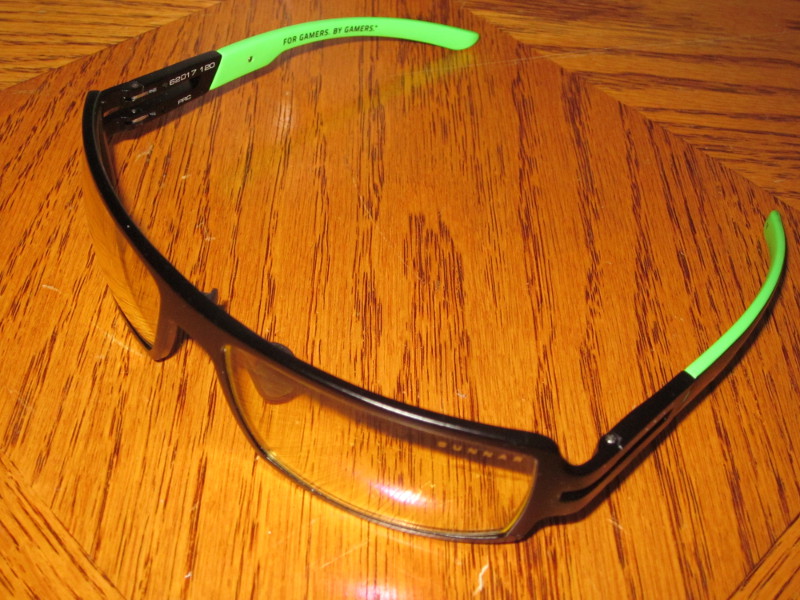 Highlights:
Strong Points: Stylish, light, and comfortable design
Weak Points: Expensive
There are many styles available and some of the gaming ones are customizable with Blizzard themed sleeves that are sold separately for $15 apiece.   Razer has designed a couple of pairs and we were sent the RPG model with the amber tinted lenses.  Gradient gray is also an option if you just want a black and florescent green pair of sunglasses.  Either lens choice will set you back $100.
The magnesium-aluminum armored glasses are lightweight and comfortable to wear by themselves.  However, they pressed against my head when I was wearing headphones along with them. The nose pads are adjustable and were comfortable and did not slide down at all.
I like how the Amber colored lenses dim the bright white on many websites and office applications as too much white on the computer screen does hurt my eyes after a while.  The Amber tint didn't adversely impact the colors in the games I played either.  The contour of the lenses covered my peripheral vision nicely too.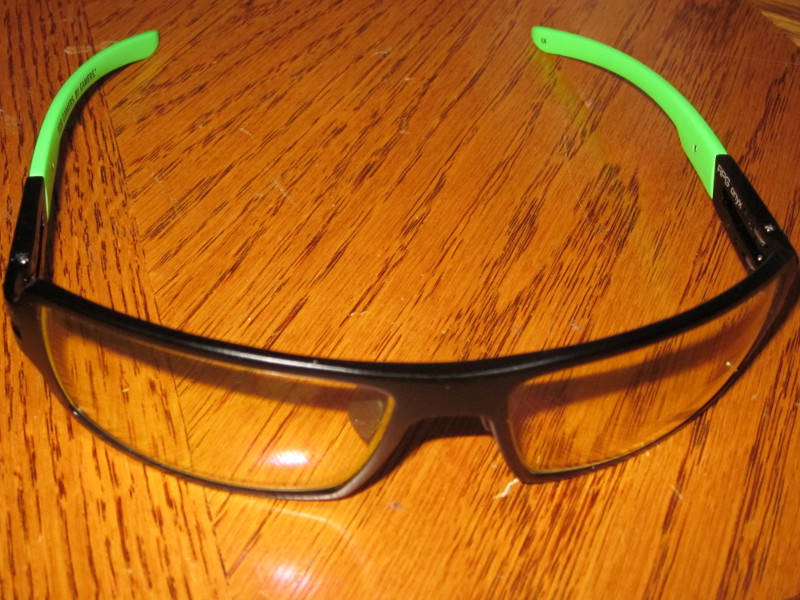 I haven't suffered from dry eyes or headaches from working at my computer all day so I can't say with certainty if these glasses have made any impact on my vision health.  However, I do like dimmed applications that have a lot of white in them.  The amber lenses still allow people to clearly see your eyes so these glasses could work for office use.  Other frames may look more professional than the Razer ones and Gunnar has many styles to choose from.  
There are other competing glasses that filter out the blue-light and many of them are cheaper too.  Gunnar Optiks has been around for a while and stands behind their products with a money back guarantee and a one-year warranty for manufacturer defects.  Standard wear and tear and scratched lenses are not covered.  
In the end I think these glasses are handy to have, but not required in my circumstances.  People with eye strain or headaches should look into what Gunnar Optiks and the other alternatives offer.  I'm confident in the construction of these glasses and I hope to have them for a while.  When the time comes for a replacement comes, I'll be sure to check out Gunnar Optik's latest offerings as well as their competitors.