Hardware Info:
Mionix Alioth Large Mousepad
Woven microfiber cloth matrix with stitched edges
Non-slip grip with natural rubber base
Water repellant
18.11x15.75x0.12 inches (460x400x3 mm)
0.70 lbs (316 grams)
Compatible with both optical and laser sensors
1 year warranty
MSRP: $19.99
(Amazon Affiliate Link)
Thank you Mionix for sending us this mousepad for review!
I am a bit of a peripheral junkie.  Always looking for that extra edge or increased comfort, I seem to invest in peripherals on a somewhat regular basis trying to make my working (and playing!) experience better.  After many years of being really happy with the comfort of a hard pad, I noticed that my older Rocketfish (the red one) was starting to wear out pretty bad.  As a result, I picked up the new Insignia from Best Buy, thinking that my search for a better mousepad was complete. It turns out I was wrong.
While I liked the new pad on first blush, I noticed other people in reviews complaining that it didn't like certain kinds of sensors.  This turned out to be the case – but it did work okay with my new mouse, the Corsair Scimitar after I adjusted the depth setting.  But even still, I found the control side too rough, like it was going to sand the pads right off of my mouse's feet, and the speed side was way too fast – I couldn't easily hit anything anymore, though it was very easy on my wrists.  Not to mention that this thing is tiny!  So I was considering purchasing a new mousepad anyway, when Mionix offered to send us this pad to review.  Perfect timing!
So, here I am with by far the largest mousepad I have ever had, sitting on my desk, almost perfectly edge to edge.  It looks really great on my desk.  And the branding, a large Mionix word in all caps along one edge, and a tiny Alioth in all caps in the other corner, actually looks pretty sharp.  And they used a dark grey that blends in unless you look for it.  I did not notice any tracking changes near those letters, which is a huge plus.  I have seen some mice not react well to large color changes, so this is great and should work well with just about any mouse. Plus it's on an edge, so it's quite likely you won't ever track on that surface.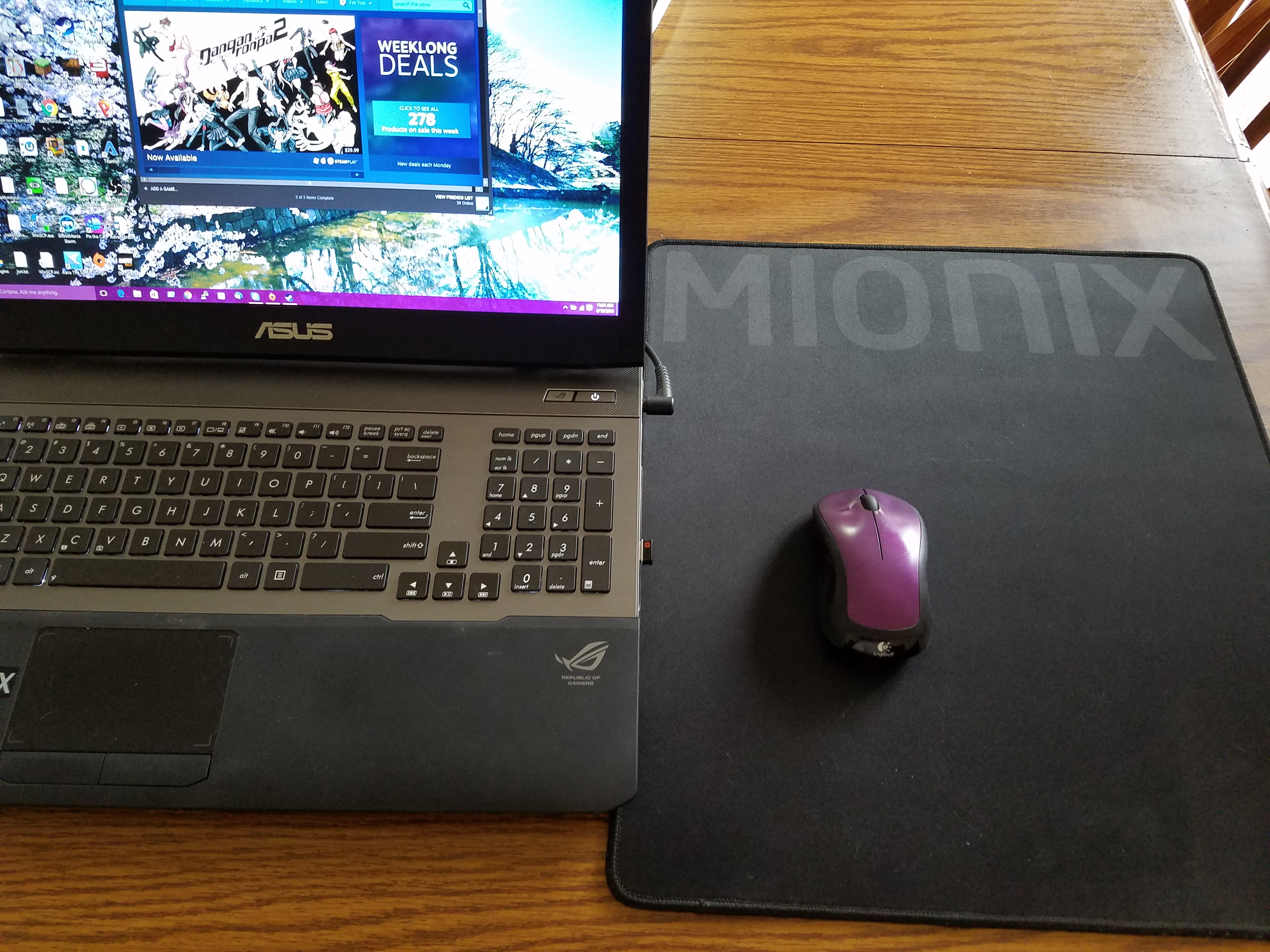 Highlights:
Strong Points: Excellent control; product feels great; nice styling; great size that perfectly fits my desk
Weak Points: If you are looking for a fast gliding surface like a hard pad, this is not that, which somewhat contributes to RSI if you suffer from that
Moral Warnings: It's a mousepad!  I guess you could hit someone with it, but even then it would feel good
In my game testing, I found this pad to definitely track accurately.  Overshoot is practically non-existent.  While I don't play competitively enough to say with confidence if this is improving my game or not, it makes you feel very confident with each movement.  I like it a lot!  My one downside is that for everyday work, it seems to work my arm a bit harder.
You see, having worked on computers and played games since childhood, I have had quite a lot of wear and tear in my gaming extremities.  Being in my late 30s, it's started to catch up to me.  As a result, the increased resistance to mouse movements, which is great for gaming, has unfortunately not helped my arm and shoulder pain any get better.  While I can't blame this mousepad entirely for my recent flare-ups, it may have contributed.  So, at this point, I have little choice but to use my (not so good) hard pad for everyday office mousing, and use this one for gaming, especially FPSs.  Thankfully, I can just plop it on top of the Mionix and just remove it when I get serious – when it's time to play games.
As an aside, like any good dunce, I had to spill water on this pad the second day I had it.  It claims water resistance, and that claim is accurate.  It bubbled up nicely on the pad, and I wiped it away and it just disappeared.  A small amount no doubt absorbed into it, but it was very quickly dry and no worse for wear.
In many ways, the Mionix Alioth Large mousepad is probably the nicest pad I have used, especially when accuracy is what you are going for.  It does come at the cost of a small amount of resistance when gliding.  If I didn't already have a condition relating to RSI (repetitive stress injury), I doubt I would notice it, and would be unconditionally happy with this mousepad.  It doesn't resist that much, after all.  If you don't suffer as I do, definitely check out the Mionix Alioth Large mousepad.  It's priced fairly, looks great, and performs wonderfully as well.  The edge stitches, the high quality feel of both the top and bottom surface, and tactful branding and styling rank it really highly in my book, and I am confident it will last a long time as well based on how it feels.  Highly recommended!