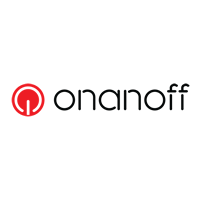 Hardware Info:
Specifications
30mm Driver
Impedance: 32ohm
Sensitivity: 85+/-3dB@1mW 1kHz
Frequency Response: 20-25KHz
Cord length: 0.8m
Plug gold plated: 3.5mm
Price: $24.95 regular $37.99 for travel model
(Amazon Affiliate Link)
Thank you Onanoff for sending us two headsets to review!  Included in our shipping box was an Onanoff catalog.  Not only does this catalog feature their products, but it also shows naked female models covering their breasts with their hands and showing off their rear-ends.  I wish I flipped through this first before handing it to my eight-year-old son.
When it comes to children and headphones, parents are concerned about volume control and durability.  My kids have broken many sets of headphones and the thick and forgiving plastic frames on Buddyphones have survived so far.  The padded vinyl ear covers are removable, but not too easily.  While my son hasn't managed to lose an ear pad (yet), there is a small tear in one of them after a couple weeks of ownership, though it's possible that it could be the victim of a cat.  My daughter's travel model is in pristine shape.  Currently, replacement ear pads are not available on the web store, but it would be a welcome addition!
Buddyphones are available in multiple colors (blue, green, orange, pink, purple, yellow) and two models.  The standard and travel models share the same audio specs, but their design is slightly different.  The travel pair has a padded headband and the ear pieces fold in making them more compact and convenient for travel.  Both models have adjustable lengths and flat cables that make tangling them more difficult.  The adjustment sliders work very well, and even fit on my husband's large head.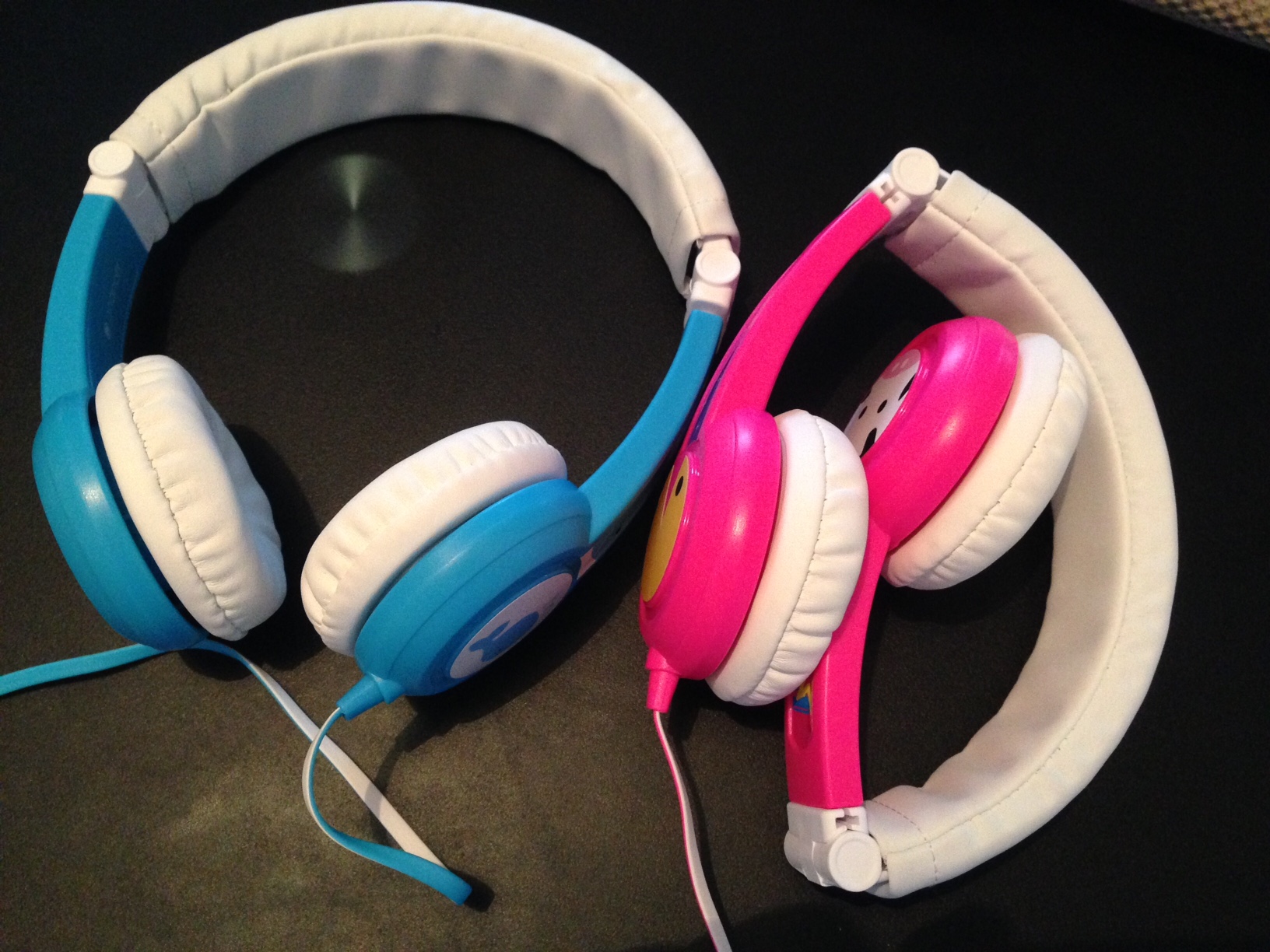 Highlights:
Strong Points: Portable and sharable with the ability to plug other headphones into them; fits a large variety of head sizes
Weak Points: Poor audio quality
Moral Warnings: Nudity in the product catalog
One of my favorite features is the audio plug, which they call the buddy cable.  Other than it being gold plated and the common 3.5mm size, it has the ability to piggyback buddyphones, one into the other, for up to four pairs of headphones into it.  The last pair can be any model of headphone, since I haven't seen any others with a plug like this.  This is worth the price of entry alone!  Car and plane rides will be so much easier by letting multiple children enjoy movies played on a single tablet or portable DVD player.  
Kids will enjoy the option to customize their headphones with the included sticker decorations or making their own designs with the template stickers.  This is a great way to inspire creativity or tell the headphones apart from their siblings' similarly colored ones.  My son applied the Pac-Man stickers while my daughter left her pair blank.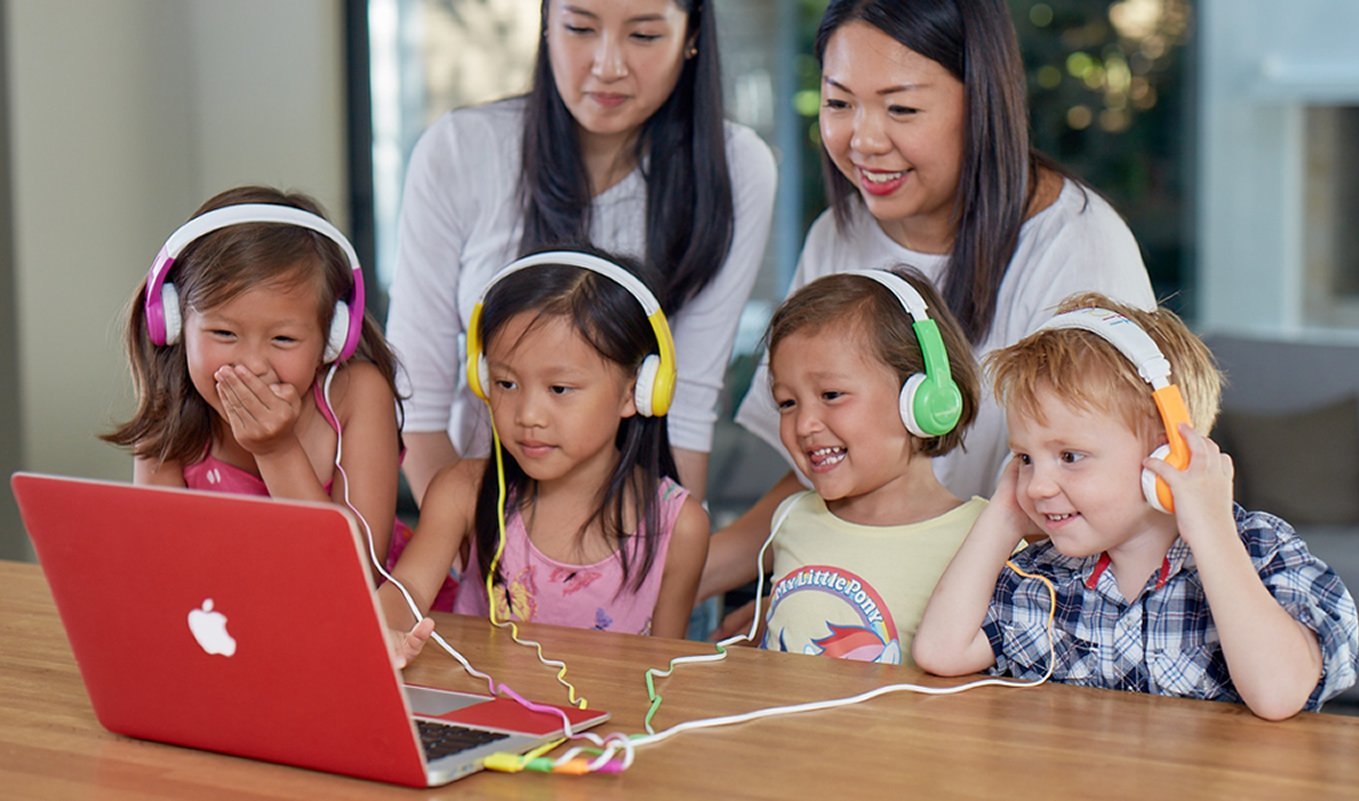 My kids enjoy using the headphones on their 3DS' despite the built in volume limiter.  It is intended to keep the volume down to around 85db, which is considered a safe volume levels for kids to listen at.  It works as advertised.  Other kid's headsets we have reviewed made the volume limiter optional (and susceptible to losing it).  Sadly, the Buddyphones don't sound as good as those other headsets.  They probably sound worse than any other headphone to come through here to date.  Both the bass and highs are badly recessed, which leads to a boring, muffled sound.  Not that our kids care, but audiophiles will not want to use them under any circumstances.  
Despite the disappointing sound, lack of a microphone, and replaceable ear pieces, the Buddyphones are reasonably durable and customizable.   Their best feature by far is the ability to piggyback multiple headsets on the same device.  Their pricing is reasonable, but the convenience of the headband cushion and foldable ear pieces will set you back an additional $13.  You can purchase these headsets on Onandoff's website or through Amazon and get prime shipping.