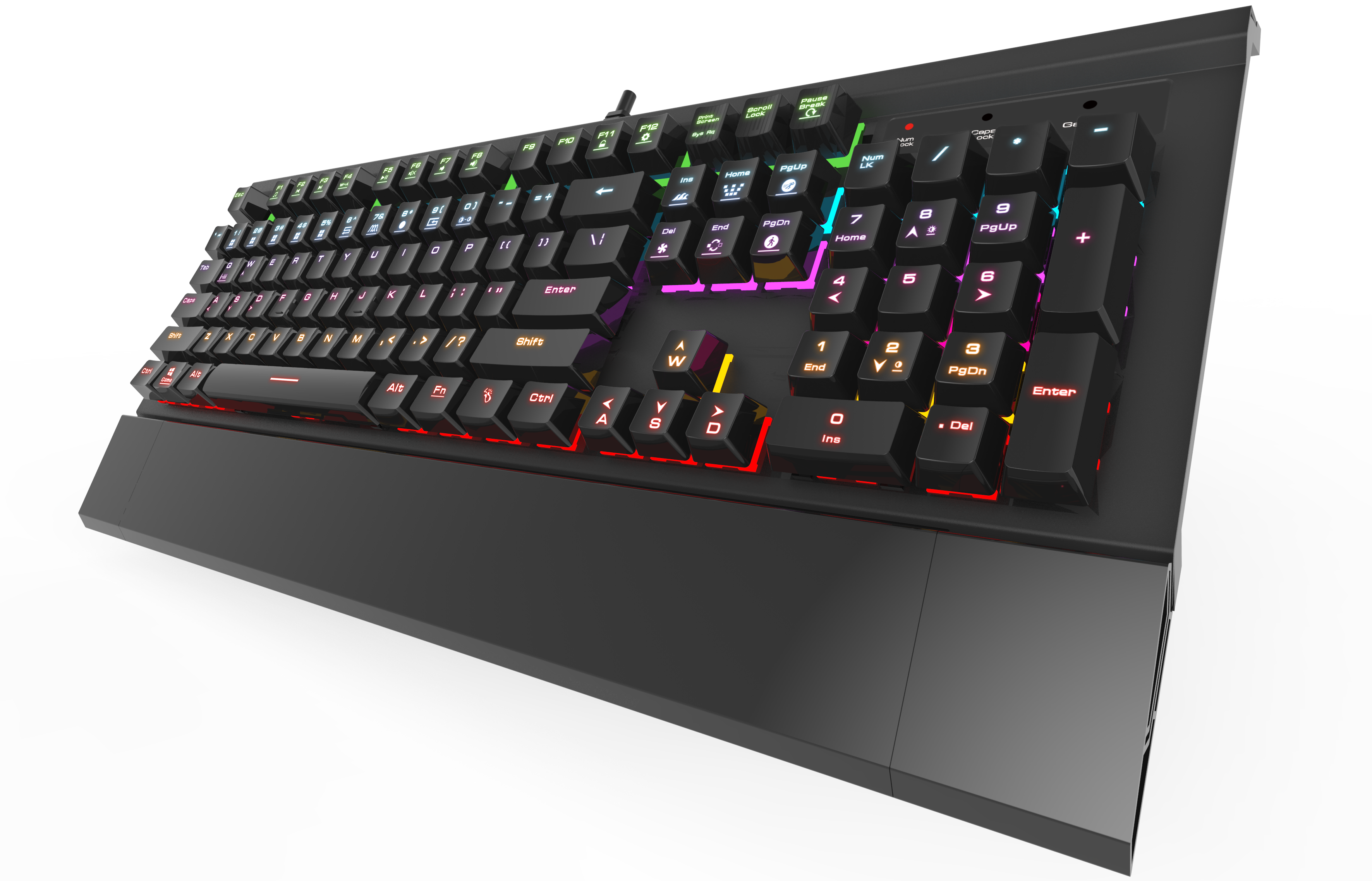 Hardware Info:
Gamdias Hermes 7 Color Mechanical Keyboard
Released: March 15, 2016
Specs: TTC Blue switches
Connection: 1.8m USB cable with a gold plated connector
Backlit: 7 colors and 4 levels of brightness
Programmable keys: 2
Multimedia keys: 6
Price: $60.00
(Amazon Affiliate Link)
*Advertising disclosure* - Gamdias used to be a banner advertising client.  This review has not been influenced by that previous partnership in any way.
Thank you Gamdias for sending us this keyboard to review!
This is our third keyboard review; we have previously evaluated the Cherry MX Board 6.0 mechanical keyboard, and the Gamdias' ARES, which is not mechanical.  The three popular switch types for mechanical keyboards are red, brown, and blue.  The blue switches are very "clicky" and that's what's inside the Gamdias Hermes 7 Color Mechanical Keyboard.  There are several switch manufacturers with the most prominent being Cherry.  Kailh and TTC are other manufacturers that make Cherry clone switches.  This is the first keyboard we have used with TTC switches and while they get the job done, they're not as nice compared to Cherry switches.
With a price point around $60, this is one of Gamdias' more expensive offerings.  However, it's still less expensive than most mechanical keyboards out there.  Some premium features are included like a braided USB cable with a gold-plated connector.   On the below the keys you'll find a metal plate for added durability.  Unlike the ARES keyboard, this one is not advertised as being spill-proof so I didn't push my luck and knock some water onto it on purpose.  If it ever happens on accident, I'll update this review accordingly.
Highlights:
Strong Points: Nice color patterns/effects
Weak Points: Cannot customize the color scheme; key presses can be loud and may annoy people nearby; metal bar stabilizers
Besides the "clickyness" of the keys, the most obvious feature of this keyboard are the keys that are seven different colors, including from the top down (green, blue, purple, pink, orange, and red).  I'm not sure what the seventh color is; perhaps they've included the black housing?  This particular model does not support customizing the color palette; that ability is available in the Hermes RGB model which is $30 more.
There's still plenty to customize with the effects. My kids and I really liked the bulls-eye effect which left the keys unlit until a key was pressed and a ripple of color would spread across the keyboard with each button pressed.  While it looks cool with a few presses, typing constantly may be too much for some people.  The default mode is a breathing pattern where the color fades in and out slightly.  There are a couple of snake/marquee patterns as well as a wave one for those who like doing the wave at public events.  If you're a no frills kind of person you can have the keys constantly backlit with no effects whatsoever.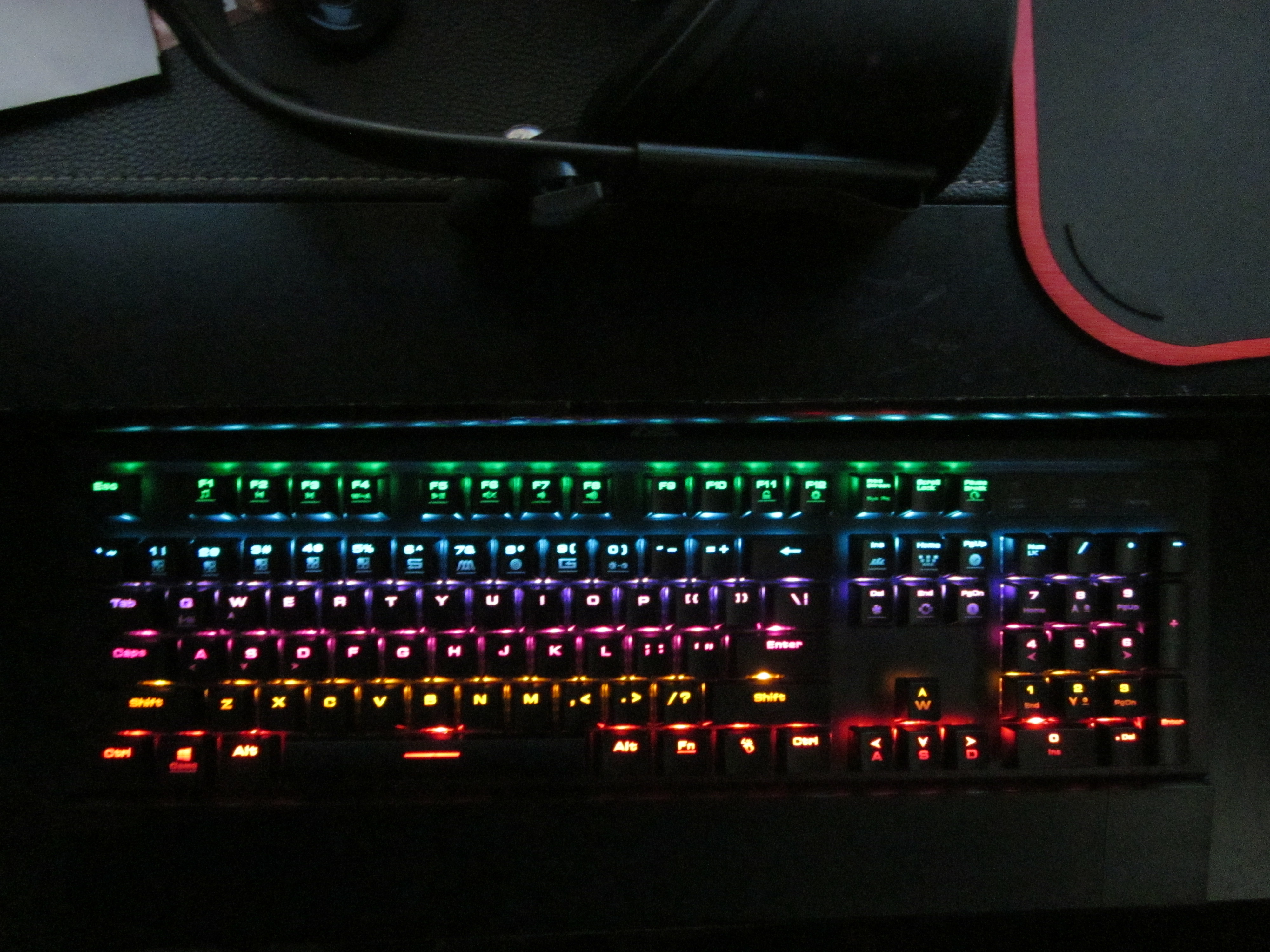 Customizing the keyboard and configuring the controllable keys are all done through the keyboard itself and not through the Hera software that configures other Gamdias devices.  Included in the box along with a couple of stickers is a quick start guide that will tell you about the necessary keyboard shortcuts to configure this device to your liking.
A modification worth considering if you find yourself constantly bottoming out the keys is to install O rings.  I tried it on a key and still preferred the feel of the board without them.  Some of the keys like the Shift and the Spacebar are tougher to remove since they use a metal bar instead of stabilizer switches to hold them in place.
For the price this is a very nice mechanical keyboard and I highly recommend it to anyone looking for one with blue switches inside.  There are better built keyboards out there, but they cost more money as a result.  My family plans on keeping this one and my kids have already placed claims on who will inherit it next!