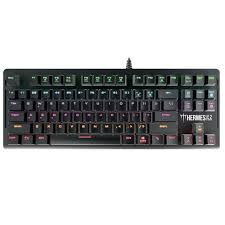 Hardware Info:
Gamdias Hermes E2 7 Color Mechanical Gaming Keyboard
Manufactured by: Gamdias
Release date: September 2017
Specifications:
Blue switches
7 colors
1.5m USB cable
Price: $53.00
(Amazon Affiliate Link)
*Advertising disclosure* - Gamdias used to be a banner advertising client. This review has not been influenced by that previous partnership in any way.
Thank you Gamdias for sending us this keyboard to review!
We have previously reviewed the Gamdias Hermes 7 Color Mechanical Keyboard and the E2 is very similar in many ways, but the E2's defining feature is its small footprint and 87 key layout. To achieve the compact size some sacrifices had to be made. Some of them I agree with and others I greatly miss.
Many gamers don't need the number pad and won't miss its absence. The Windows key on the left is gone and some people may hit the Fn key in its place on accident. The Windows key on the right hand side is still there and it can be disabled by pressing Fn and the Windows key. When the Windows key is disabled the LED on it is off. I appreciate that notification.
Highlights:
Strong Points: Blue switches; compact size; pretty colors
Weak Points: Cannot customize the colors; no caps lock notification; this keyboard may be too loud for some people
The notification I really miss is the caps lock light. Of course, the caps lock key is there, but there is no way to tell if it has been enabled or not UNLESS YOU SEE THE OBVIOUS. However, the absence of a notification light may get you locked out of Windows and/or websites if you don't realize it has been enabled.
Many nice gaming features are present including the ability to swap out the WASD and arrow keys. To activate this feature you need to press the Fn and F4 keys. What's odd about this key location is that WASD swap is in the middle of the media playback function keys. I don't know why the media keys are not all grouped together. This layout is the same as other Gamdias keyboards we own so it's nothing new.
The color scheme is attractive, but not customizable. As a result, no software is required to utilize all of the features of this keyboard. If you'd rather not draw attention to yourself, you can disable the color scheme by pressing Fn and the Del key. If you do want to add some flare with a pulsing/breathing pattern you can enable that with the Fn and Insert key. The Fn and Delete key will disable the breathing effect if desired.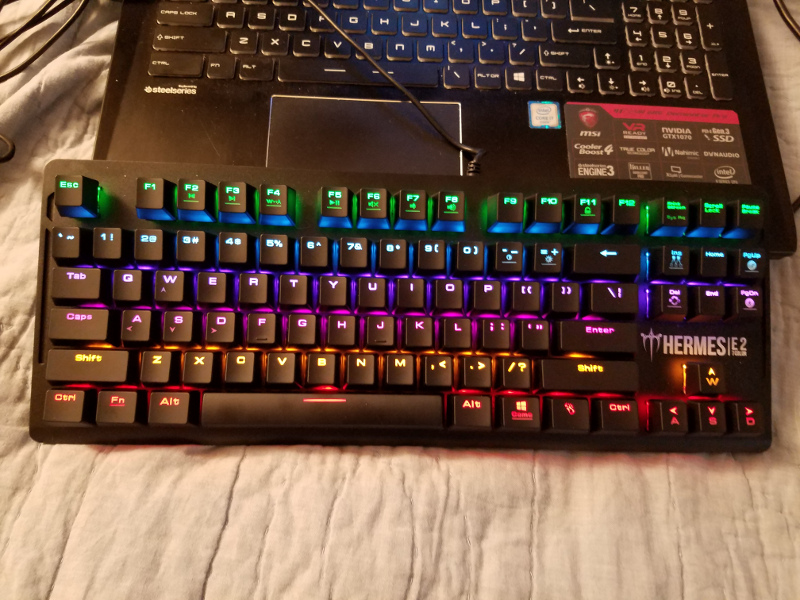 The blue switches feel great but their volume may annoy people nearby. A modification worth considering if you find yourself constantly bottoming out the keys is to install O rings. I tried it on a key and still preferred the feel of the board without them. Some of the keys like Shift and the Spacebar are tougher to remove since they use a metal bar instead of stabilizer switches to hold them in place.
All in all, the Gamdias Hermes E2 7 Color Mechanical Gaming Keyboard is a nice low profile contender if you're limited on space or are looking for a portable option. It lacks some of the fancier features offered in other models like a braided cable and a gold plated USB connector. The biggest missing feature for me is the caps lock indicator. I also prefer having a number pad, but the caps lock indicator is a deal breaker for me. Especially with all of the websites and servers I maintain, I can't afford to get locked out of them over a silly password error that can be easily avoided.