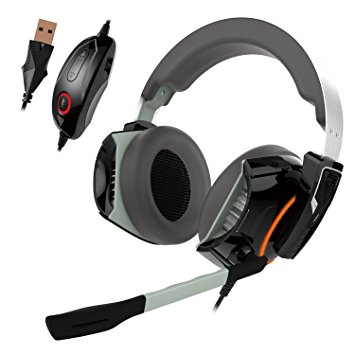 Hardware Info:
Gamdias Hephaestus P1 RGB Surround Sound Gaming Headset
Specifications:
Over-the-ear headphones
50mm driver + vibration driver unit
Frequency response: Not specified (probably 20-20,000Hz)
Impedance: 32 Ohm +/- 15%
Sensitivity: 119dB +/- 3dB
Cable length: 1.8M
Connector: USB (for PC)
Microphone attached (swivel)
High quality leather-like ear pads
Volume, mute, light, and vibration buttons
Hera software/drivers required for some features like virtual 7.1 surround, but not required for basic use
MSRP: $89.99
(Amazon Affiliate Link)
Thank you Gamdias for sending us this headset for review!
*Advertising disclosure* - Gamdias was a former advertising partner with us, and is currently not as of this review. This review is not influenced by this relationship.
As I said in my Gamdias Hebe M1 review, audio and surround sound are things that I am really into. Other than gaming, it's the hobby that is most important to me. I've been involved in the audio hobby for quite some time now, and have built or helped build not only several iterations of my own home theater, but also for others. I find it very rewarding when, once everything is set up, things sound just right.
As a result, I love reviewing headsets whenever given the opportunity. If I can find a product that does things just right, I can then recommend that to our readers – and know that they are getting an excellent multimedia experience. Gamdias has been very kind to us, and we have had the opportunity to review several of their headsets. The sound quality and frequency response of this product, the Hephaestus P1, is by far and away the best headset we have reviewed from Gamdias, and possibly the best one period (the Steelseries Siberia 200, which may be the closest sounding competitor that I reviewed, had died after a few years of abuse from my children and is long gone).
I am also gifted with a large cranium (it has a lot to protect, apparently) so I have found many headsets, including some from Gamdias, that do not fit me properly. Thankfully, I can say that this one fits just great. It does get uncomfortable after hours of use, but that's true of all but the most cushy (and expensive) ones.
Highlights:
Strong Points: One of the best sounding headsets I have ever reviewed (though I can't directly compare them all anymore); nearly perfect frequency response balance; very comfortable; fits my larger head; very good build quality (and the best of any reviewed Gamdias headset); works on Mac and Linux without any software required (Stereo only); cooling system works very well
Weak Points: Volume spread is biased way too loud; Hera software does not work well at all; surround sound features do not work
The build quality is one of my favorite things about this headset. The main headband is metal, and incredibly sturdy. The ear cups are made with very thick and strong plastic. The ear pads are the same as the Hebe I reviewed, and I still think they are fantastic. They have a very high quality feel to them, with nice to touch leather-like material, and a mesh fabric inside the ear pad that feels great. The cable has a thick fabric cover, and feels very sturdy. The microphone also works well, feels nice, and I don't think it will break any time soon.
One of the 'gimmick' features of this headphone is the cooling structure. When I first looked at it, I thought it was crazy – after all, the headphones look somewhat like a Tie Fighter as a result of that structure. But you know what? It works. It really does. These things really do stay cool – and considering that they use leather ear pads, it's more than a little impressive. You really can use these for several hours and stay at a comfortable temperature. I love it, even if I do look like I serve Lord Vader.
As I mentioned before, these headphones sound fantastic. I don't mean 'good enough for gamers', but legitimately good. The balance of frequencies, between bass and treble, is literally just right. I would like a tiny bit more sparkle on the high end – but I want that from almost all headphones, since most (even very expensive ones) drop off sharply after 10KHz. I also wish that they were a bit more resolving, but if you are looking for that, just buy audiophile headphones. Regardless, it's so close to perfect that I can't help but recommend them for that reason alone. If pure analog audio quality is your first priority (and it should be), then these get a strong recommendation. On top of that, unlike previous Gamdias headphones, this one doesn't have that underdamped sound either, where some music can sound 'mushy'; again, we have a winner.
Unfortunately, outside of sound quality and build (which are the most important, honestly), this headset is not without flaws. The drivers, which are part of the Hera software, is sadly, a buggy mess. What is so surprising to me, is that on the Hebe M1, it worked so well. The Hebe supports 96KHz/24-bit output format; not these, only 44.1KHz/16-bit. The Hebe supports a proper virtual 7.1 driver with excellent spacial awareness; not these, only stereo.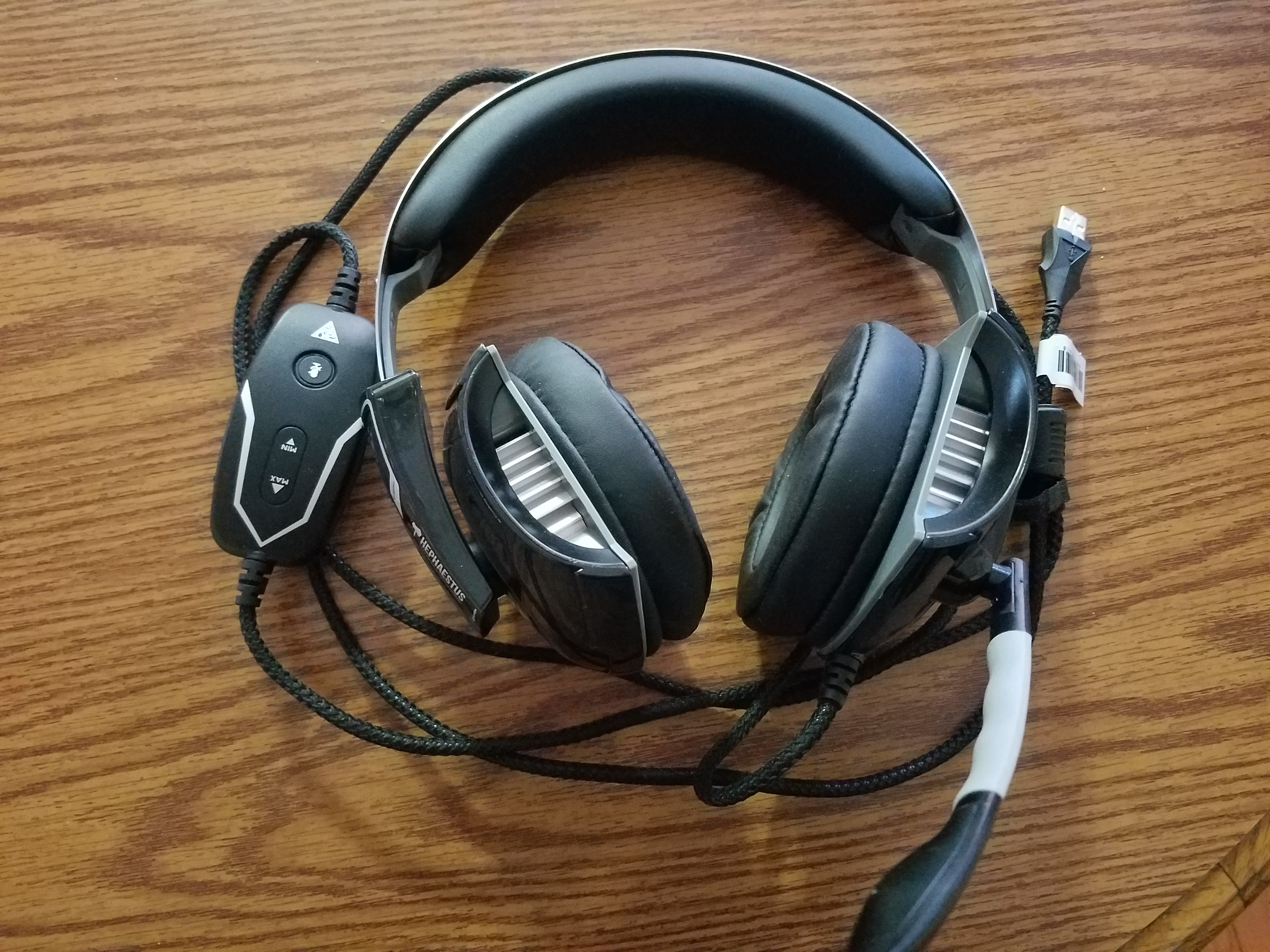 The virtual 7.1 that is supported via Hera is broken out of the box, and does not work well at all. When you enable virtual 7.1 in Hera, it shows all of the 7.1 speakers sitting together in the upper far left – and moving them to the correct location helps some, but no matter where you move them, it never sounds quite right. I tried fixing them to what I thought was correct, and it still had some speaker, either left or right, a bit too loud.
As much as it pains me to say this, with the drivers in their current state, the virtual 7.1 surround sound feature, as listed, borders on false advertising.
Thankfully, all is not lost. Since the drivers are beyond worthless (other than to set the color; even that doesn't work right, but you can pause the color cycle to pick a color and never touch them again) I would just not install it at all. Windows 10 has built-in virtual surround sound support in the form of Windows Sonic for Headphones, or if you buy the upgrade, Dolby Atmos for Headphones. I bought the upgrade, and these sound fantastic with Dolby Atmos, since the frequency response of these is so good out of the box.
If you do want equalization, again, Hera is completely broken. When I tried to adjust it, even slightly, they went from sounding great, to something clearly being wrong. I don't know what it is, but just don't touch Hera if you use these headphones. You can have it installed; just don't touch anything. What I found instead is a third party, open source app called Equalizer APO. This thing not only works great, but it's a solution for another common problem with these (and other) USB headphones.
Many USB headphones, these included, are too loud out of the box, or with the Hera drivers installed. You literally can go deaf with the volume set above 10 (out of 100). It's crazy, and frustrating when you find that between 2 and 8 is the only usable part of the volume dial.
Thankfully, Equalizer APO lets you set a preamp level, which you can turn down to between -9 and -12, and get a perfectly usable volume knob. It's annoying when you have to turn to third party programs to fix problems like this, but it does work – and the equalizer it offers is much better than Hera anyway.
On the plus side, the inline controller and vibration features are really neat, and implemented well; even better here than on the Hebe M1. There is a clearly marked volume up/down button, a clearly marked microphone mute button (with matching blue or red LED), and a vibration switch. You can set it to off, or two levels of on, which adds a mild, but not altogether bad, bass boost + headphone vibration. On high I feel like it's a bit too overpowering, but on low, it's just right. It turns on the feature so that you can feel blasts (and bass guitars, as it were), while still not impacting audio clarity so much as to get in the way. It's fun, and I like it. The only thing missing from the inline remote is a way to dim the lights; you have to rely on the Hera software for that.
The Gamdias Hephaestus P1 RGB Virtual 7.1 Surround Sound Gaming Headset is, in the most important ways, the best headset I have reviewed to date. The build quality is excellent, and the sound is clean, reasonably clear, and has an excellent frequency response balance that many headphones get totally wrong. It is a bit short on clarity compared to my audiophile headphones, but that is not at all surprising or expected – they cost a lot more, too. The virtual surround features, or pretty much anything else that requires Hera, is unfortunately in a very bad place. Software can be fixed, but only time will tell if they resolve the issues. If Gamdias' other similar looking model, the Hephaestus E1, sounds just as good as this on an analog level, then I would probably recommend that one instead, as you can just use your sound card or any device – unless you really like the vibration, in which case, get this. Regardless, it's a great headset where it really counts, sound quality, so I recommend it.