Hardware Info:
Cherry MX Board 6.0 Keyboard
Mechanical Keyboard with Cherry MX Red switches
Cherry RK RealKey Analog sampling technology
Red LED backlit keys
Media keys
Function key (with Fn-lock)
Windows key enable/disable
Aluminum top housing
3 inch magnetically attached palm rest
USB 2.0 connector with a braided wire
MSRP: $219
(Amazon Affiliate Link)
Thank you Cherry for sending us this keyboard for review!
Cherry Corp. (now known as ZF Electronics after being acquired in 2008) was founded in Highland Park, Illinois, not too far from where this writer is from near Chicago. They later moved to Germany, and still operate offices in the US, including a local Pleasant Prairie, Wisconsin location.  Is this relevant to a keyboard review?  Not really, but it's a local connection that I wanted to share.  After all, how often do you find that you live so close to a preeminent keyboard manufacturer, with connections back to your family's country of origin (Germany)?  Not too often.
Cherry is the oldest keyboard manufacturer still in business, as they have been making keyboards since 1967.  They have made many different professional keyboards over the years, and I even had the chance to use an older model extensively that had a magnetic stripe reader built in.  But they are probably most famous for their MX line of keyboard switches.  There are many kinds, each of which distinguishes it from another because of loudness, tactility, or resistance.  Until the Cherry MX Board 6.0 arrived at my doorstep, I had the most experience with the Brown and Blue switches.  The MX Board 6.0 uses the linear Red switches.  Rather than explain the differences with each switch, it's probably best to just refer you to overclock.net.  Short summary: Blue is very tactile with a loud click, Brown is mildly tactile with a quiet bump, and Red is linear with no noise except bottoming out.  Red and Brown are also have the softest required key press force to  activate.
I have always had a strong preference for tactile keyboards, and I had always loved the feel of classic IBM and Keytronic keyboards.  I used an AT&T keyboard (made by Keytronic) growing up, and a Keytronic for much of the next decade.  But, being a long time (and aging) computer user, I found that the high resistance of both of them eventually took a toll on my fingers, which made them sore and tired after a while.  After trying ergonomic keyboards of various shapes seeking relief from my arm and wrist pain, I stumbled onto some discussions talking about Cherry MX mechanical keyboards.  Curious, I wanted to give them a try.  Having now used them, it's no comparison – Cherry MX keys are much, much better than Keytronic ever was; but I didn't know that yet.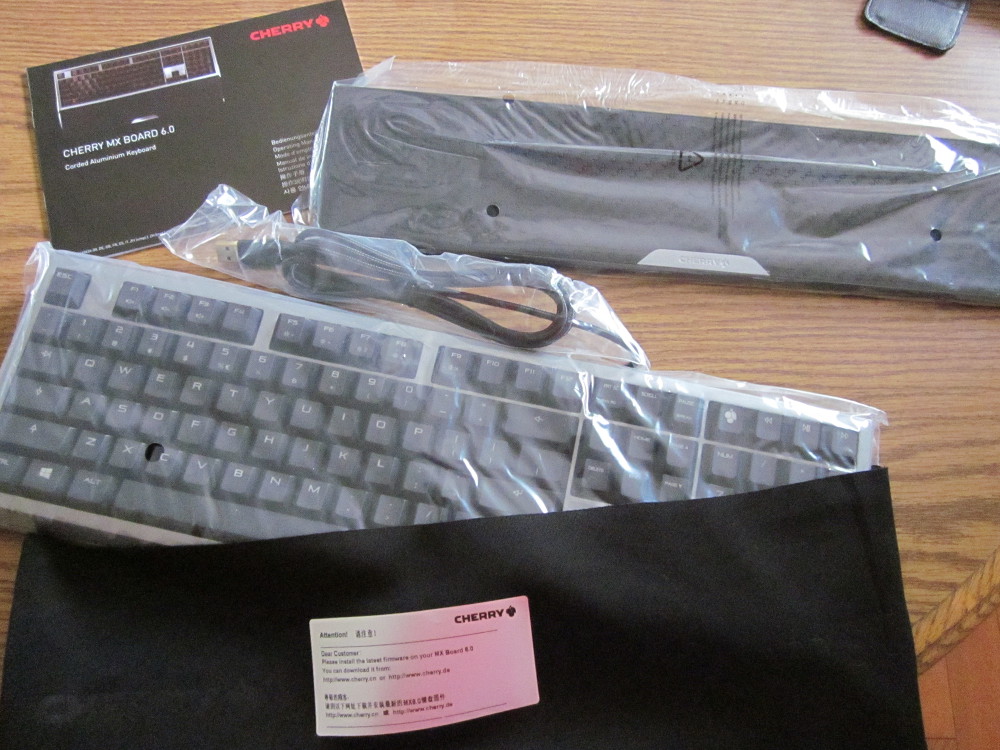 Highlights:
Strong Points: Fantastic build quality; very good typing feel; ultra fast response time; great wrist rest
Weak Points: High price; I would love to see a version with MX Brown switches; I wish it had dedicated volume buttons or wheel
Before going that route, I had access to some classic IBM buckling spring keyboards at work, which I tried for a while, since they are often less expensive than a brand new mechanical.  They felt great, but hurt my fingers too much after a while. After this, I decided that it must be the larger required impact force that is hurting my fingers.  I had tried MX Blues, and while they are not bad, I wanted an even softer touch, based on my experience with the IBM.  So I settled on either the Red or Brown keys.  I found a great keyboard from Logitech, the G710+, which uses the Cherry MX Brown switches and is backlit.  It also has some media keys and a volume wheel, which I really like.
I find that, for the most part, the finger pain is gone with the MX Brown switches on the G710+, and I like them even more than the classic IBM keyboards.  I have been thrilled with the increasing proliferation and availability of mechanical keyboards, especially the Cherry MX variety.  So, when given the chance to review one of Cherry's first gaming keyboards, I jumped at the chance.  Especially since I've always wanted to test MX Red keys.
Cherry has been very good about working with third parties, and many offer custom keyboards with all kinds of Cherry MX keys.  What really sets this keyboard apart is two things: build quality, and the RealKey analog technology.  While the Logitech keyboard is built very well, and a DasKeyboard I have used is built even better, I haven't seen a keyboard made with a solid aluminum top before.  It is built like a tank, and feels that way also.  This thing weighs 2.9 pounds (1.35 Kg)!  Also, the fantastic included wrist rest weighs an additional half pound or so.  It is very impressive to look at and feels very solid in use.  And I just love that wrist rest.
Cherry RK, which stands for RealKey, is a very interesting keyboard design that enables two things: complete 100% key rollover with no ghosting, which I don't believe is unique, and the fastest response time of any keyboard – 1ms, which is. Considering that I was already using a gaming grade mechanical keyboard, I did not expect to be able to tell the difference between the G710+ and the MX Board 6.0. But I was wrong.  This keyboard is extremely fast.  Not only are the MX Red keys slightly quicker by themselves because of the linear switches, but the 1ms latency enabled some really fast typing and response times.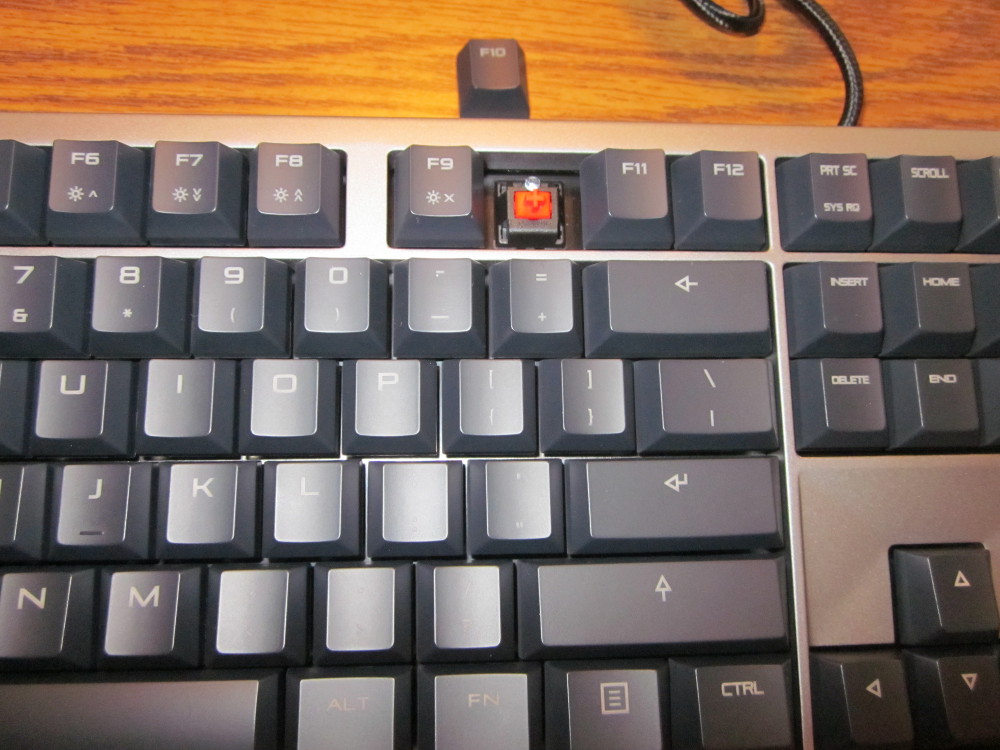 Simply by pounding on the keys in notepad, the difference was obvious.  I also played a few rounds of Typing of the Dead (the game is very inappropriate, but a great typing test) and my performance was noticeably quicker and more responsive. For other gaming applications, it is equally impressive.  It makes my Razer Orbweaver, which I usually use for FPS games, which is equipped with Cherry MX Blue keys, feel absolutely glacial in comparison.  (But it still feels awesome – it's mechanical!)
So, with all of these great features, like super responsive keys, excellent build quality, excellent wrist rest, and driver-less installation (did I mention that?) is there any way that the G710+ might be better?  Well, I am still leaning slightly towards a preference for the MX Browns.  But only slightly.  I also really like the spin-wheel volume control, with a dedicated mute button, vs. the Fn-key overloaded volume buttons on the Cherry MX Board 6.0.  I also find that I like the feel of o-rings in my keys; I know not everyone agrees, but they seem to reduce finger fatigue for me.  But otherwise?  I don't use macro keys, and I greatly prefer the build quality, premium feel, and responsiveness of the Cherry keyboard.  It is a lot more expensive, though.
The Cherry MX Board 6.0 also uses custom keycaps that I have not seen anywhere else.  These are slightly shorter than regular Cherry MX keycaps, and as a result require less travel when typing.  This also likely contributes to their speed, and I find that I enjoy the short travel.  They also have a slightly different contour, which also sits well with me.
The red LED lighting is excellent, and looks nice.  The keycap font grew on me; I didn't like it too much at first, but it's not a big deal.  The num lock, caps lock, Fn, and Windows keys can glow blue or red depending on their status.  My minor gripe with them is that I would prefer the brightness setting, which is adjustable via Fn key, to also affect the blue lights, instead of just the red. Otherwise, the brightness is adjustable to about one hundred different settings; I'm sure you'll find one you like.
The Cherry MX Board 6.0 is probably the nicest keyboard I have had the privilege to use, even when compared to other mechanicals.  The build quality is stellar, and the response time is second to none.  I also like that it does not require any memory sucking software to use to its full potential.  I will probably invest in some o-rings in the near future, as I find that the bottoming out impact is slightly higher than I'm used to, and it does bother my fingers after a while.  And I hope that Cherry considers making a version with MX Brown switches.  The biggest issue in my book is whether or not this keyboard is worth the rather steep increase in price from most other mechanical gaming keyboards out there.  That exquisite build quality and extreme responsiveness does have a price, and that may be worth it for some.  But even if you can't afford a premium product like this, please consider saving your pennies for any mechanical keyboard with Cherry MX switches – I find it very hard (and painful) to go back to any standard rubber dome keyboard.