Game Info:
Eagle Eyes Ultralite Night-Lite Glasses
Developed by: Eagle Eyes
Release date: 2015
Prices: $59.95
Thank you Eagle Eyes for sending two pairs of glasses our way!
Eagle Eyes began at NASA's Jet Propulsion Laboratory while developing technology to protect human eyesight from solar radiation light. In nature, eagles have unique oil droplets in their eyes that filter out harmful radiation and only permit specific wavelengths of light to enter their eyes. This technology resulted in Eagle Eyes, the only sunglass lens to receive the Lifetime Certified Space Technology seal.
I wear sunglasses all of the time. This is my first time trying night glasses. Driving at night is never as clear as daytime. The reduced visibility makes many people hold off on running errands until the next day if possible. That's not always an option though. Despite the simulated images on Eagle Eyes' website, these glasses do not make it bright as day again, but they do reduce the glare and obnoxiousness of some of the super-bright headlights out there. Instead of really bright white lights, the headlights appear to be more yellow or even greenish in tint.
Highlights:
Strong Points: Extremely light-weight, reduces brightness of really bright headlights
Weak Points: The website seems to over-exaggerate the brightening effect
I recently reviewed Eagle Eyes Blade DT Computer Glasses and was impressed with their quality. I thought the computer glasses were light and weighed them at 25 grams. These Ultralite Night-Lite Glasses weigh only 13 grams, nearly half as much!
The Ultralite Night-Lite Glasses are both super light and comfortable. The lack of rims makes these glasses incredibly light and fragile at the same time. As light as they are, they don't feel cheap. With that said, if they got stepped on I doubt they would survive. When not in use, it's best to keep them in their case.

Along with the hard case, a drawstring pouch, keychain screwdriver, microfiber cloth, and cleaning solution are included as well for the reasonable price of $59.95. Hopefully, the screwdriver won't be needed, but it's nice to be prepared if anything needs tightening.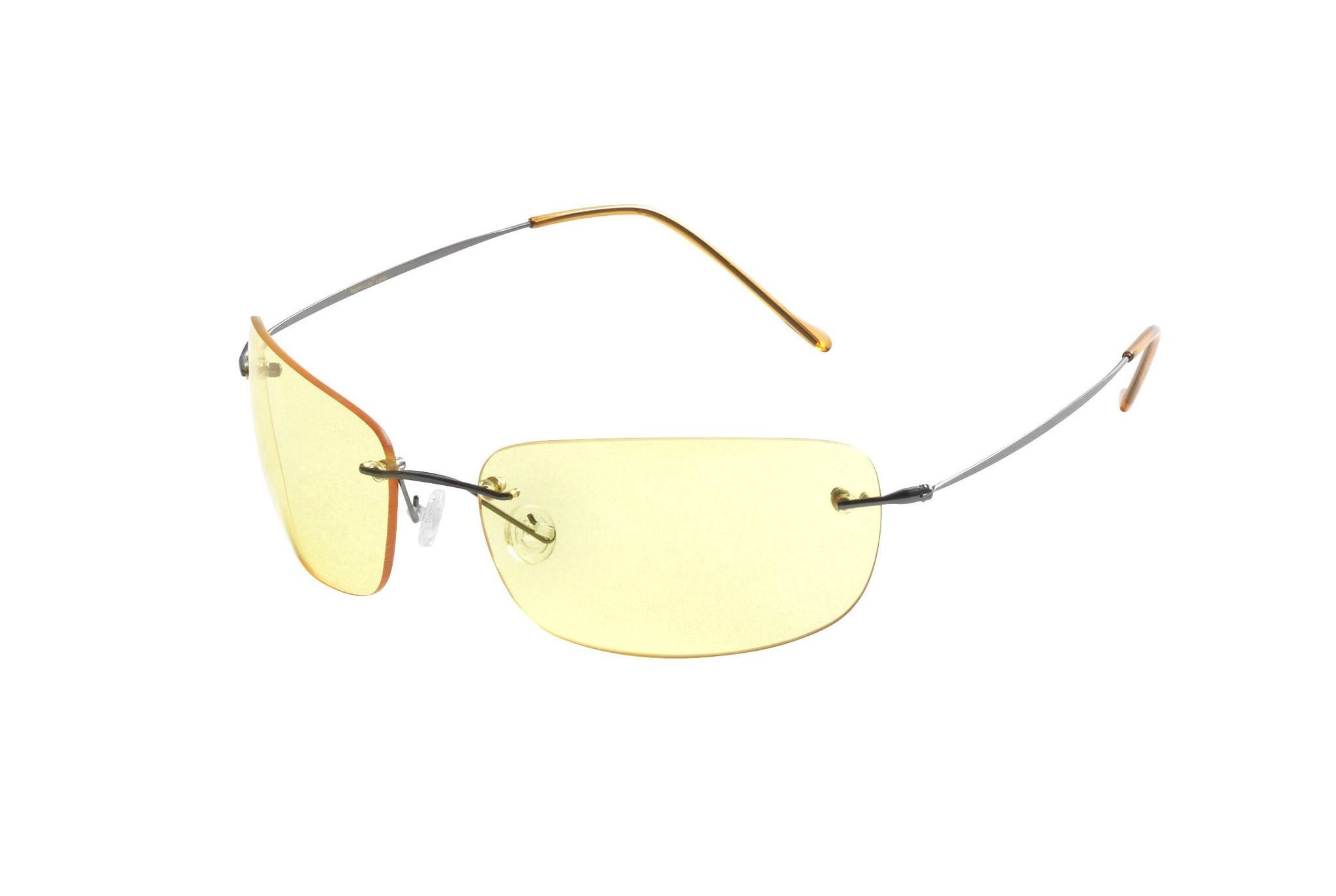 The glasses arms/temples are super thin and have rubberized temple tips to make them comfortable around your ears. The circular nose pads have a silicone feel to them and are not intrusive and fit well on my nose. As a result, the glasses to not slide whatsoever and stay in place.
Like other Eagle Eye models, the Night-Lite lenses are treated with their 2X scratch guard that help prevent scuffing on both sides of the lens. Although the glasses do carry a 1-year warranty, it does not cover scratches.
Although they're not a miracle cure for making it bright again, the Eagle Eyes Ultralite Night-Lite Glasses certainly do help with (rude) drivers that are using their high-beams. I learned the hard way that these glasses don't help alleviate camera flash, but they do work as intended at making night driving a little better. The asking price of $59.95 is reasonable and there are competitor glasses available for half as much as Amazon. I've been happy with the build quality and workmanship on my other pairs of Eagle Eyes glasses. Be sure to check out their other glasses ranging from sunglasses, computer glasses and the most recent addition, night driving glasses.