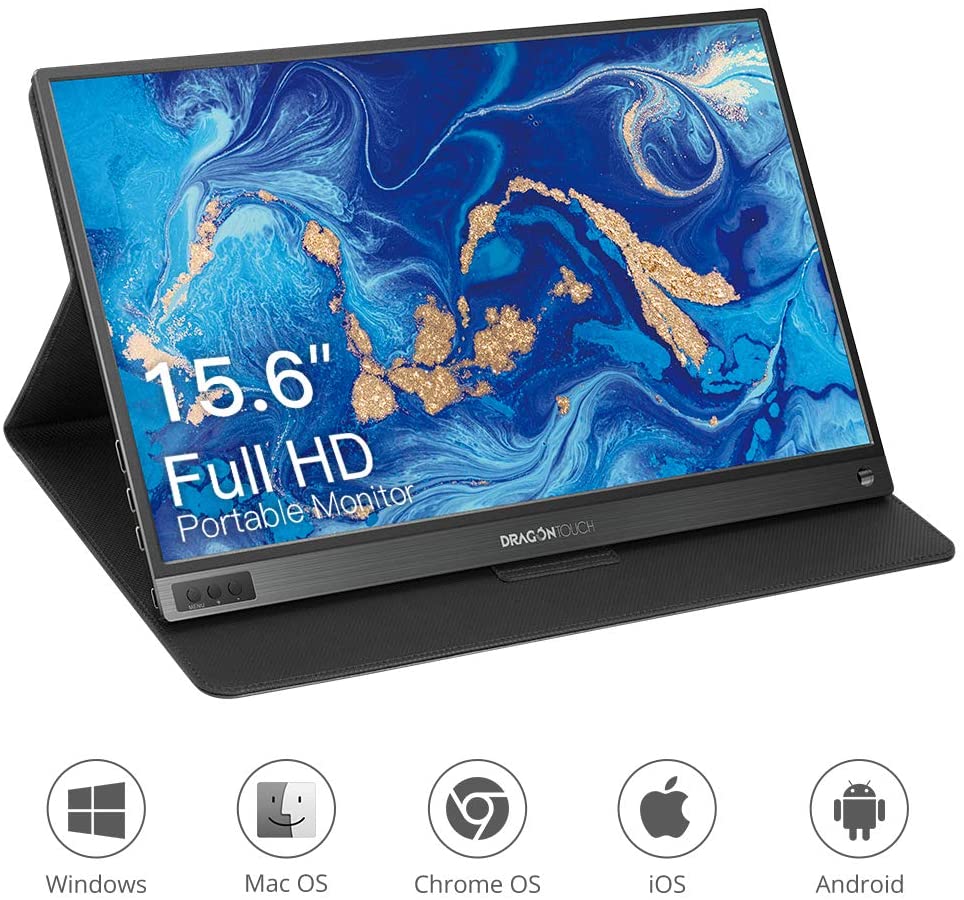 Hardware Info:
Dragon Touch S1 15.6" Portable Monitor
Manufacturer: Dragon Touch
1920 x 1080 Resolution
IPS Panel
Color Temperature 9300K
Contrast ratio 700:1
Color Gamut 45% sRGB
Refresh rate: 60Hz
Brightness 270cd/m2
Weight: 1.47 pounds
10.5mm thin
Mini HDMI port, USB-C ports and Micro-USB port
Price: $149.99 on Amazon after a $20 off coupon
(Amazon Affiliate Link)
Thank you Dragon Touch for sending us this portable monitor to review!
There are lots of portable gaming devices out there. The mobile gaming industry is huge and the Nintendo Switch is quite popular as well. One of the biggest problems with portable gaming is the screen limitation. The Dragon Touch S1 can convert many tiny screens to 15.6" with little effort. If your device has a USB-C or HDMI connection, chances are it will connect just fine. It's worth noting that the Switch Lite does not support external displays of any kind. This portable monitor can also be used as a secondary (or more!) display.
Don't let the manufacturer's name confuse you, the Dragon Touch S1 is not a touch screen monitor. The included case serves as a stand to keep the screen in an upright position for easy viewing. The cover is installed by securing it into the monitor with the two included thumbscrews. All of the necessary USB and HDMI cables and converters are included as well.
There are only three buttons on this monitor. A menu button, a plus button, and a minus button. The unit turns on when it has a USB cable in it. Some devices are powerful enough to drive it with one USB-C cable, but most of our test scenarios required a dedicated power cable. To reduce flickering, we found that this monitor works best with the USB-C cable providing power on the bottom plug. You can also use a micro-USB plug for a similar purpose.
Highlights:
Strong Points: Nice cover; portable; works on many devices with little effort; lots of connection options and the necessary cables are included; the built-in 1 Watt speakers sound great; 2 year warranty; 1 year screen replacement
Weak Points: Menu is difficult to navigate; the colors are washed out
The menu has a lot of options including the ability to rotate the screen orientation and to change the aspect ratio. There are also various color mode options including a setting for gaming, movies, and vivid colors. The vivid mode does make the colors stand out a bit more with the side effect of some colors merging and blending into each other. The biggest downfall of this portable monitor is that no matter what setting you use, the colors are washed out. Like other IPS panels, the viewing angles are good, but the colors have poor saturation and terrible black levels. Most IPS screens I have used are vibrant, but this one is anything but. I'm happy to report that the screen is visible when outdoors, so that's a plus. Another positive is that I did not notice any ghosting, so the gameplay is smooth using this monitor.
I am impressed by the built-in 1 Watt speakers. The volume can be adjusted with the buttons, but we had it maxed out for our testing. The sounds are crisp and clear without any crackling or noticeable distortion.
We have tested this gaming monitor with an Android phone, multiple PCs, a Macbook Pro, PS4, Switch, and an Xbox One. The only device that did not work right away when plugged in was our PS4. We had to disable the HDCP setting in the system menu and after that was done, the monitor worked as intended.
I did not notice any dead pixels, so that's good, but I couldn't find anything about Dragon Touch's dead pixel policy. However, this device carries a two-year warranty if you register it on Dragon Touch's website. Another advantage to registering your device is that you'll also get a 1-year screen replacement coverage if it accidentally gets cracked or damaged.
The asking price on Amazon is $169.99 and that comes down to $149.99 if you apply the $20 off coupon. The pricing is on par with other similarly sized devices. Since none of them are rated at 5 stars, I'm curious how they compare color-wise. If it wasn't for the washed out colors, I would give this monitor five stars. With that said, it does work well and sounds great.