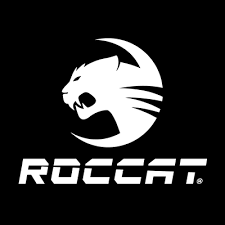 Hardware Info:
ROCCAT Kone Pro Air Wireless Gaming Mouse
Specifications:
ROCCAT Owl-Eye 19k DPI optical sensor, with 50g acceleration and adjustable lift-off distance
Seven fully programmable buttons/actions, with one additional button on the bottom
Fully customizable with ROCCAT Swarm software
On-board memory - stores button and RGB LED color settings
ROCCAT Titan Switch Optical switches for each button, lasts 100 million clicks
Ergonomic shape, with solid aluminum scroll wheel
Extremely lightweight, at only 75g
2.4GHz Wireless, as well as Bluetooth wireless connections
High-quality fabric 1.8 meter USB-C connection and charging cable
Supports Rapid Charge
MSRP: $129.99
(Amazon Affiliate Link)
Thank you Turtle Beach/ROCCAT for sending us this mouse to review!
I have always taken my gaming gear seriously, and my mouse is no exception. I've tried gaming mice from almost all of the major brands, and I've come to appreciate and... not so appreciate aspects of all of them. I also believe that if you use something virtually every day, it can be worth spending a bit more on it to get the kind of experience you are looking for. So, when our kind PR person who sent us this to review said to put this mouse up against virtually anything on the market and don't hold back, that showed me not only incredible confidence in the product, but also as a reviewer, it gave me something to get excited about. And, as it turns out, I have Razer's top of the line Naga Pro wireless mouse to compare it against.
Before I get into comparing the two mice, a few things on the Kone Pro Air's design. My first impressions was simply on how light this thing is. At 75g, it admittedly feels almost cheap in the hand. That impression quickly fades, once you realize that the materials were chosen because of their weight. The paint coating is a really high quality gloss that is soft to the touch, and it glides incredibly smoothly. The buttons feel great, both the main left/right, and the side buttons. But the real star of the show is that solid aluminum mouse wheel, that ROCCAT calls the Titan Wheel Pro.
Okay, I know what you are thinking. Mouse wheel? How many words can he possibly waste gushing about a mouse wheel? Well, let's find out, shall we?
I must admit it: I am a fidgeter. So in my ever-unconscious quest to fidget, I'll often find myself just rolling on the scroll wheel while doing other things. And this wheel - the sturdy, tactile indents as you scroll, the texture and temperature of the metal - it's just great. Really, really great. I know, it's dumb. But I also found that actually using the wheel to scroll pages, switch weapons in a game, and so on is also just as great. This is easily one of the best mouse wheels I've used. And yes, I do know how silly that sounds.
As for the rest of the mouse, the bottom has the optical sensor in the middle, surrounded by a ring of PTFE glides, along with two larger glide surfaces at the top and bottom. They feel extremely smooth to the touch. On the right of the underside, you can see a profile switch button, the power/mode switch, and a socket to hold the wireless dongle. I am so glad that they put that there - one of the wireless mice that I've used as a spare does not have a place to put the dongle, and it is one of the more aggravating missteps with that mouse, as making sure I don't lose it is a constant struggle. The black plastic soft-feeling bottom of the mouse was clearly chosen because of the light weight, as the first impressions were that it was cheap; as I mentioned before, this impression doesn't last.
Highlights:
Strong Points: Nice, ergonomic design; lovely aluminum mouse wheel; mouse clicks feel great; mouse coating feels great and is scuff resistant; super lightweight, which is ergonomically wonderful; really nice USB-C cable; wireless connection is really solid; very fast and accurate optical sensor; on-board profiles are great; fantastic battery life; smart touches like an easy to find place to store the wireless dongle
Weak Points: I wish it had dedicated DPI switcher button(s) on top; plastic feels a  little cheap at first, until you realize that's because it's light
The cable has a nice feel to it, with a soft touch fabric cover. It's pleasant, and feels light, and doesn't drag much when plugged in. It also includes a rubber cable tie which is great, though I do wish the loop was a bit longer. Thankfully, the USB-C port on the mouse, which you need for charging (or using the mouse wired) is of a size that you could probably use some other cables in a pinch. One thing that irritates me about my Razer mouse is that it uses a USB micro port, and that the area around the port is so small that very few cables will fit other than the one it comes with. While not all cables will fit in this ROCCAT, many will.
Another area that I've come to really appreciate is how stable and reliable the wireless connection is. Now with my Razer mouse, the 2.4GHz connection is reasonably reliable, as it is here. Both have good range, and both can be impacted by radio or physical interference, though my experience with the ROCCAT has been better so far (though I've also had it for a shorter time). One area where the Kone Pro Air wipes the floor with the Razer is Bluetooth reliability. I often have to repair, power cycle, or otherwise futz with the Razer to get Bluetooth to work. With the ROCCAT? It works perfectly every time. It even supports Windows' new swift pairing feature, where your computer will pop up with a notification to pair in one click. The smoothness in operation of this mouse is the best I've used.
As for the battery life, I have more good things to say. Now, ROCCAT sent me the white version of this mouse, and I find it plenty easy to find, even in the dark. And, the RGB LEDs are located in a rather strange place: under your fingertips. (The Razer does a much better job in looking cool.) As a result, I chose to turn the LEDs off, so that the battery could last as long as possible. And man, does it last a long time! In my general use testing, I found that, even with heavy use (10+ hours, though not 'gaming' heavy), the mouse tends to lose around 10% of charge per day. Considering the 1000Hz polling rate, this is quite excellent! I charged the mouse when I got it (about two weeks before posting this review), and only charged it one other time since. (I wanted to drain it once before writing this review, as I wanted to give a real-world battery life experience). It also supports fast charging, though in my experience, topping it off takes most of the time - charging it to 80% or so is faster than from 80%-100%, which is honestly pretty common in a lot of devices. Regardless, when I plugged it in late at night, it was fully charged in the morning.
My final area of joy with this mouse is the onboard profiles. I often will use my peripherals on multiple computers and even operating systems. I changed the five onboard profiles to simply be a DPI switcher - the buttons I left alone. I also chose a color for each profile, but have the LEDs shut off afterwards. It all works flawlessly, even without ROCCAT Swarm running. And if I change it on one PC, the on device profiles override what my other PC sees. This is absolutely perfect behavior. My Razer does store profiles onboard properly, as the buttons work fine without the software running, but lighting isn't stored on device, and it gets confused sometimes when you move between PCs.
So, with all of those nice things to say about comfort, weight, battery life, signal strength, software, and that scroll wheel, what isn't there to like about it? Well, I wish it had a dedicated DPI switcher button that was easy to access from the top, so I wouldn't have to lift up the mouse and use profiles to switch DPI. Other than that? I don't have much negative to say. It's primarily intended to be used as a 'normal' FPS (first-person shooter) mouse, and it does that job spectacularly.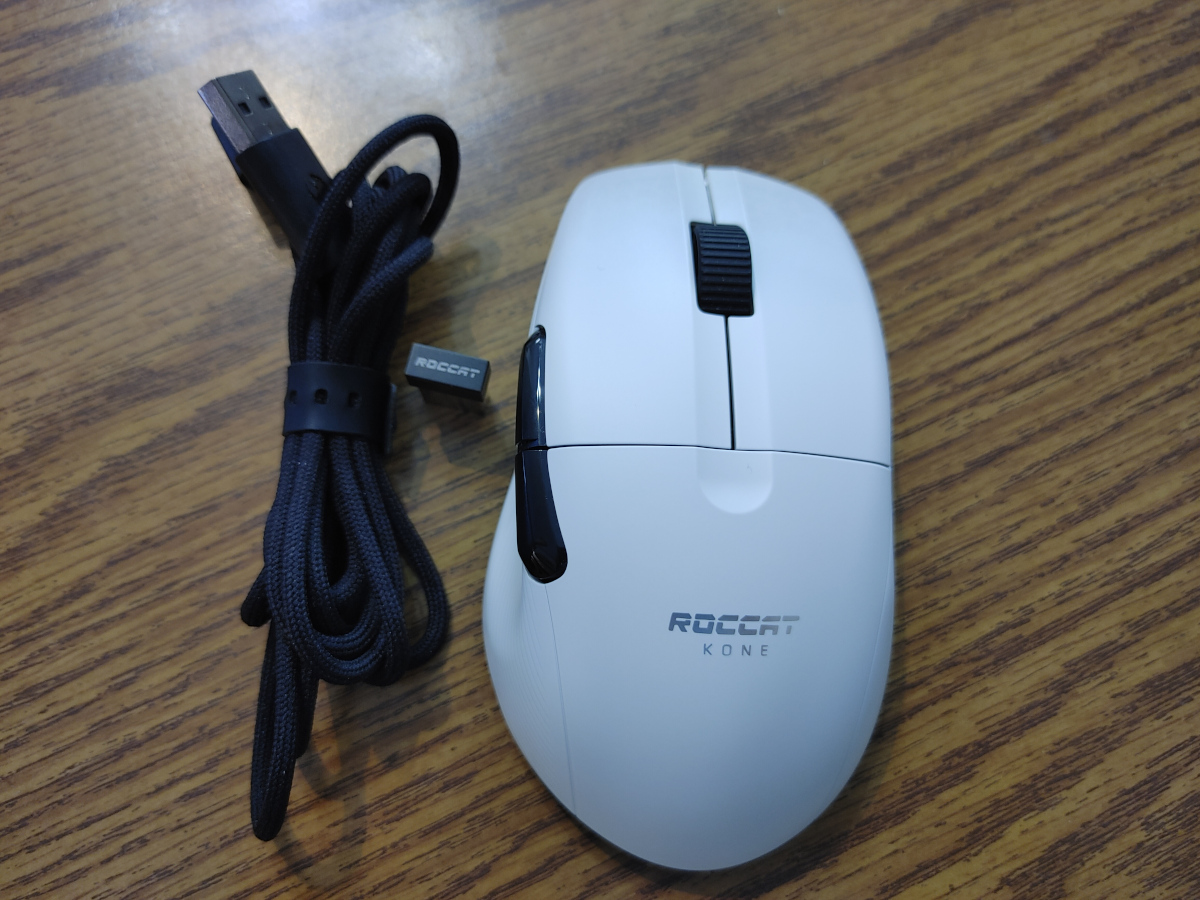 Speaking of FPS games, I am a long-time Unreal Tournament player. While I am far from a pro, I always enjoy a good round of deathmatch whenever the inspiration hits. Therefore, I felt that the best test of comparing the Razer Naga Pro and the ROCCAT Kone Pro Air in gaming would be through a few rounds of Deathmatch, using the free Unreal Tournament Pre-Alpha on the Epic Games Store. I chose the map DM-Underland, and set the bots to 'Adept' (I can usually win against 'Skilled', and any higher and things rarely go well.) and played several matches, recording my rank against five other bots (so out of six), as well as my kills. Rank 1 means first place; 6 means I lost. Here are my results:
Game number/Mouse/Rank/Kill count
Game 1: Razer, 4/6, forgot to record kills
Game 2: ROCCAT, 6/6, 11 kills
Game 3: Razer, 2/6, 33 kills
Game 4: ROCCAT, 5/6, 23 kills
Game 5: ROCCAT, 2/6, 28 kills
What conclusions do I draw from this data? First of all, whether I realized it or not, I had muscle memory for the Razer mouse. Every game that I played with the ROCCAT, I consistently got better, nearly matching my performance with the Razer after just a few rounds. That was why I played the last two games with the same mouse in a row - I wanted to make sure I wasn't messing up my muscle memory by switching, and sure enough, I did a whole lot better.
I have a couple of observations about light versus heavier mice: I found that the heavier one was more steady; I rarely overshot, and had a bit smoother motion, since the weight makes your motions more intentional. On the flip side, the lighter mouse makes large motions much easier - for this test, I forced myself to game at very low DPI (400) on both mice in order to really bring out how well each mouse does with large motions. Another thing I noticed, and this is huge for an older gamer like me - my arm was far less stressed, or sore, while playing with the lighter mouse. This is extremely important, as pain can ruin almost any gaming experience, no matter how much fun it is.
For regular desktop/work use, I found myself returning to the ROCCAT Kone Pro Air far more than the Razer that was sitting right next to it. Why? Because that light weight just makes working so much easier on my arms and shoulders. I work from my home office most of the time these days, and often game (or write reviews) from there in the evening, so taking care of these old appendages is critically important. Anything I can do to go easier on them, and I will. This mouse wins that battle, so I expect to keep using this mouse for quite some time to come.
This ROCCAT Kone Pro Air wireless gaming mouse has most certainly impressed me. I put it up against one of the highest-end gaming mice on the market (Razer Naga Pro) and, while the target audience is a bit different, it most certainly held its own, and for many use cases, is arguably superior. ROCCAT's engineering and attention to detail are great. Being so light, it's easy to drop - but even when I did, the scuff wiped right off of the high-quality paint. I do hope that ROCCAT will consider making an MMO mouse someday - I'd love to see if they can do even better than the established players in this space. Regardless, if you are looking for a high-quality gaming mouse, give the ROCCAT Kone Pro Air (and the wired Kone Pro) a serious look. With top-notch hardware, performance, and a super light and comfortable feel, I highly recommend this mouse.