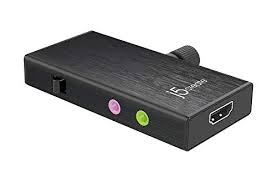 Hardware Info:
j5create JVA02 Live Video Capture Adapter
Package includes:
One JVA02 Live Capture Adapter
One USB-A to USB-C 3.0 Cable (aka 3.1 Gen 1)
One USB-C to USB-C Cable
Two Cold Shoe Adapters
Instruction Manual
Specifications:
Driver Free on Windows 8.1+, MacOS, Linux
Works with Android
Records most common resolutions between 640x480 and 1920x1080 @ 60 frames per second
USB-C data and power ports with Power Delivery 3.0 compatible up to 60W
Includes camera screws to attach to cold shoe adapter
Full HD video and audio high-performance record/playback through USB-C™ 3.1
HDMI 1.3 port, with capture resolution up to 1080p @ 60 fps
Two 3.5mm audio jacks, one for Microphone input and the other for Audio output
3 audio modes: Microphone, HDMI, and Mix
Aluminum design
MSRP: $89.99
Thank you j5create for sending us this product to review!
For the last several years, we at Christ Centered Gamer have put a renewed effort into streaming our video games. We believe that you, our readership, wants that! While it is relatively easy (and free!) to stream on PC, game consoles like the Nintendo Switch require a bit more, well, hardware. You see, not every console has Twitch integration built in - and even for those that do, we can often miss the powerful customization that something like OBS offers. In order to fill this need, the capture card market has taken off.
Display technology is currently in a state of significant technological progress, as new standards like HDMI 2.1 are being released, and video bandwidth is going up and up. But up until very recently, and even now, the vast majority of users aren't on the cutting edge of this - they often watch and play games at the venerable standard of 1920x1080 (also known as 1080p) at 60Hz. So, by supporting this streaming resolution, j5create was able to make a tiny, affordable USB capture device that can meet a whole lot of needs, without requiring expensive hardware or a complex interface. It doesn't get much easier than USB!
Since the bandwidth required for uncompressed 4K resolutions (3840x2160) is far more than USB can usually handle, most of those capture cards are PCI-Express, where there is enough bandwidth. Of course, that makes portability a bit tricky, as most of us would rather not haul our desktops around with us. The alternative is for the card to compress the video first, which is possible but requires expensive DSPs (and possible large heat sinks). Thankfully, 1080p video can be sent uncompressed relatively cheaply, which this capture device does, though it does impose a small compromise to reduce bandwidth.
During my testing, I determined that this device crushes the chroma subsampling, most likely from 4:4:4 to 4:2:0. This has little to no impact on video content, or even 99% of video games, but you can clearly see it on desktop text. Doing this dramatically lowers bandwidth requirements, so it's an understandable tradeoff. To understand what this means in more practical and technical terms, please see this site:
https://www.rtings.com/tv/learn/chroma-subsampling
I also show you the effects of this, as well as do an overview of the device and the pros and cons in my video review, here:
Highlights:
Strong Points: No driver needed; works in most operating systems; very small; decent video output latency; reasonable price
Weak Points: Chroma subsampling crush observed; no HDMI passthrough port; can be finicky to get working at first; less expensive devices exist for just HDMI capture
As you can see in that review, using an HDMI splitter with my GPD Win Max, I show you the difference between the output of the JVA02 through OBS, as well as direct HDMI, through my monitor's picture by picture mode.  I was also able to demonstrate the approximate display lag of the captured video, which I was able to preserve through this picture on my cellphone camera: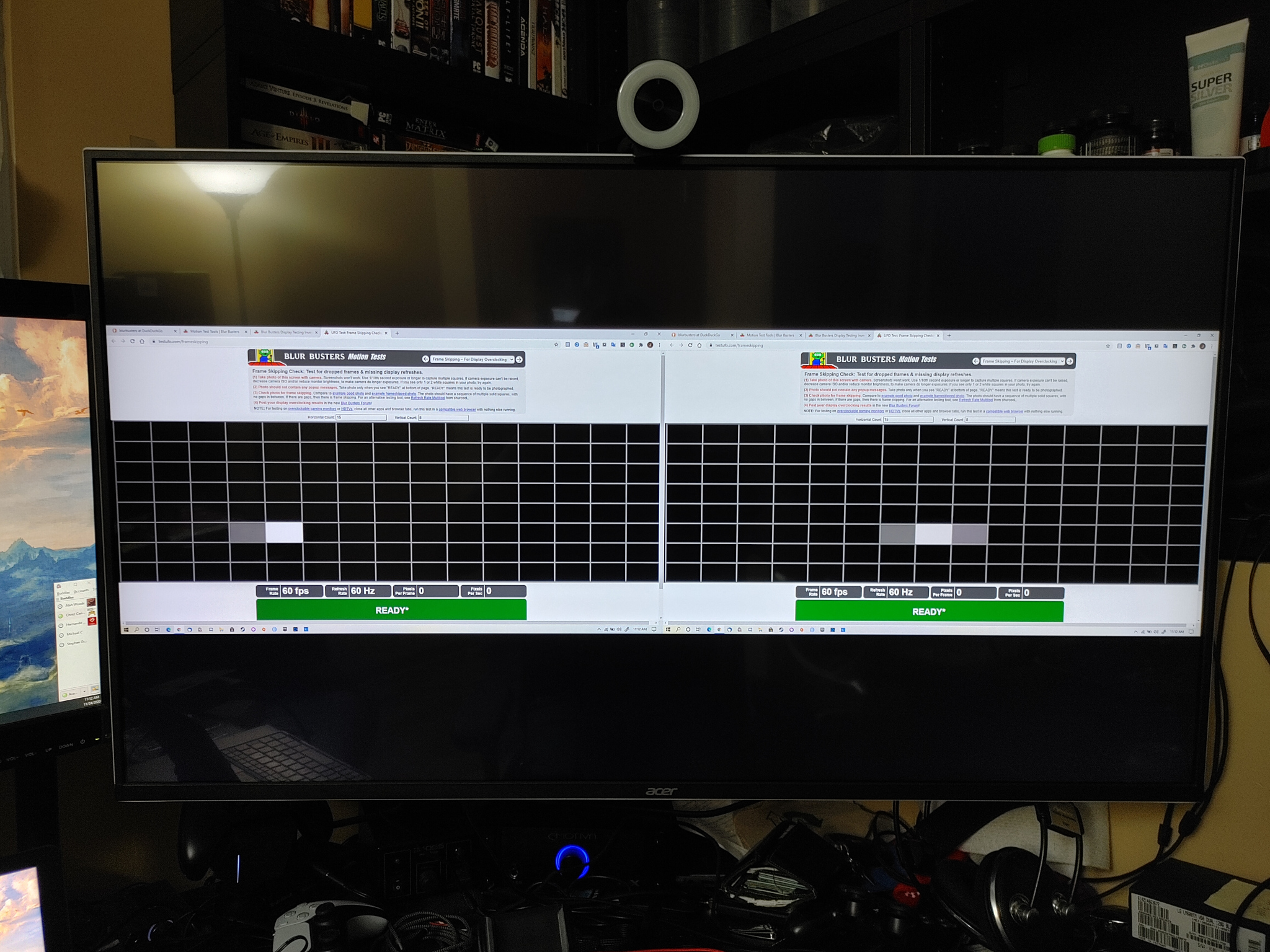 If we assume that each square box is approximately 1/60th of a second, which I believe is an accurate assumption, then the delay introduced by the capture device is between three and four frames, or about 50-67ms. This is actually a very decent result, and most games would be playable in this case, though with some handicap. Games that are turn-based, like RPGs, would be just fine.
So now that we've gotten the caveats of this device out of the way, I have to point out the many great things about it. My wife has a Vidbox, and while that one does have a rather useful HDMI passthrough port, this one is less than half of the size! (That device also requires proprietary software to operate, and it's limited to Windows only.) It's also USB-C, and even has a power delivery 3.0 port, which allows it to charge some devices (but not all; my GPD Win Max wouldn't charge, but my phone would). Speaking of which, in case your cellphone camera didn't meet your needs, you can stream video from this capture box to your phone! While I don't have a need for this, it could be insanely useful in a pinch.
It also has a microphone jack, a headphone jack, and a switch to control mixing between the mic and the HDMI audio. Both audio jacks are 3.5mm, which is great because headsets and microphones are common and easy to come by, making it easy to work with for recording, and potentially bypassing an otherwise necessary mixing step.
If you are using this device to connect it to a camcorder for live blogging, it has a pair of cold shoes to assist in mounting it to camera mounts. While I don't need this for my use case, I can definitely see the utility there.
One other thing that I absolutely love about this device is that it uses a standard UVC camera output format. What this means is that OBS and other software that supports webcams can just use this device without any drivers, software, or configuration - it just works. It works on virtually any modern operating system - macOS and Linux included. It did seem a bit finickier on some computers than others, but on my desktop PC it worked flawlessly first try. I had difficulty on one of my laptops, but once I got it figured out it worked perfectly. And I can honestly say that having a portable streaming station, with the tiny laptop I own (GPD Win Max) and the j2create that's also tiny? Well, let's just say that combination is going places.
The j5create JVA02 Live Video Capture Adapter is honestly fantastic for what it does in its tiny form factor. Yes, it stinks that video loses chroma subsampling, but that's not a problem for most video or gaming content. Yes, I do wish it had a HDMI passthrough port, so I didn't have to use a splitter. But overall, it's a super tiny HDMI recording device that makes a truly portable Nintendo Switch streaming station a reality, along with some neat audio mixing features. And for that I can't help but be grateful. If this sounds appealing to you, then I think the $89 asking price is fair. If you just want HDMI capture alone, and don't care about the mixing or the ability to mount it to larger camera equipment, connect it to Android, or various other ancillary features, then other capture devices do exist for less money, though I haven't been able to test them for quality.